29 Jul 2020 Jane Whitmoore
Over $22 Million In Stolen BTC On The Move
The Stolen Funds Are Part Of The Large-Scale Bitfinex Hack From 2016
---
Digital asset movement tracker WhaleAlert posted a series of tweets, in regards to $22,402,423 worth of Bitcoin (as of 29th Jul, 2pm GMT time), forcefully extracted in the 2016 Bitfinex hack.
Bitfinex, one of the leading digital currency exchanges, reportedly lost 119,756 BTC, which as of press time is valued over $1,3 billion. Bitfinex was hacked in 2016, with chunks of the crypto loot randomly moving from the wallet addresses, associated with the hack to "unknown wallet addresses."
The move means that stolen funds are being transferred to not-yet tied to a specific crypto exchange wallet address. Just in 2020 alone, funds were relocated from the Bitfinex hack on 35 occasions.
As WhaleAlert reported, several transactions ranging from 299.99 BTC (3,241,798 USD) to 476.32 BTC (5,147,316 USD) were involved in the transfers. However, the recent BTC relocations, combined with Bitcoin's price spiking over $11,000 had some traders and crypto experts worried about a negative price correction in the near future. Most of the crypto experts are considering the chance that a massive dump of Bitcoin's price may happen. This could happen if the individuals who possess the stolen BTC funds decide to cash them out.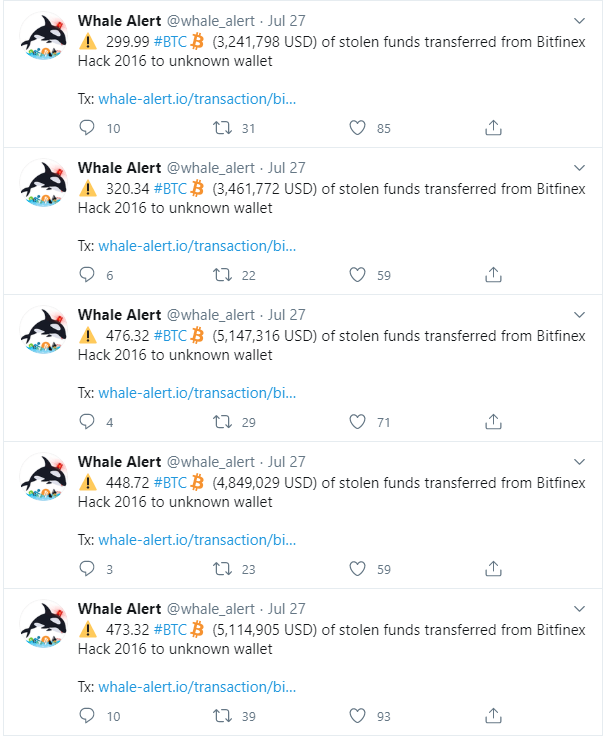 Source: WhaleAlert
However, liquidating the stolen funds may be a cumbersome task, because government agencies are massively using blockchain-based analytics services, which can track transactions and monitor illicitly acquired funds.
Meanwhile, hardware wallet provider, Ledger, announced a data breach in late June, which exposed customer information of around one million users. The attack was aimed at Ledger's e-commerce and marketing databases. The company managed to quickly patch the vulnerabilities and recover from the breach, as underlying reasons of the breach were quickly discovered by a researcher, participating in Ledger's bug bounty program.
According to the hardware wallet provider, no payment information or allocated crypto assets were revealed or obtained.
"Solely contact and order details were involved. This is mostly the email address of approximately 1mln of our customers. Further to investigation, we have also been able to establish that a subset of them were also exposed: first and last name, postal address phone number and product(s) ordered. Your crypto assets are safe and are not in peril" - Ledger stated in an e-mail to the affected users.
Ledger also took actions, filing a report with France's Data Protection Authority (CNIL), as well as with Orange Cyberdefense (OCD) to help identify the scope of the breach and the potential vulnerabilities.
The company also noted that they will keep an eye on any information, regarding Ledger's databases that are being sold on the Internet.
Bitcoin
Cryptocurrency exchange
Cryptocurrency
Scam News
Crypto Market
crypto
btc
bitcoins
bitcoin news
ledger
scam
digital asset
bitcoin news today
digital
Hacks