03 Sep 2020 Josphat Kariuki
Polkadot Rushes To Top Five Cryptocurrencies After 100x Denomination
Some Exchanges Listed The Token Prior The Redenomination, Which Resulted In Inflated Prices
---
The Polkadot (DOT) project, funded by the Web3 Foundation, quickly became among the top-five cryptocurrencies based on market capitalization after a 100x redenomination, which occurred on August 21. According to data from CoinMarketCap, after the 100x denomination, happening on block 1,248,328, the coin started to trade at $2.92. Prior the denomination, the price per DOT was $292.
However, DOT's price, trading volumes, and market cap exploded, reaching as high as $6.84 and a market capitalization of over $5 billion. The increase in market cap for DOT overtook projects like Bitcoin Cash, Litecoin, and Chainlink. CoinMarketCap further explained that the "New Dot which is 100x smaller than DOT (OLD)", and there is no difference between New DOT and DOT (OLD) except for their denomination.
Polkadot emphasized that the DOT balance after the 100x redenomination increased by 100 times, while the price per DOT token was reduced by the same amount. Тhe new DOT quantity is now 1,000,000,000, whereas old DOT total supply was capped at 10,000,000.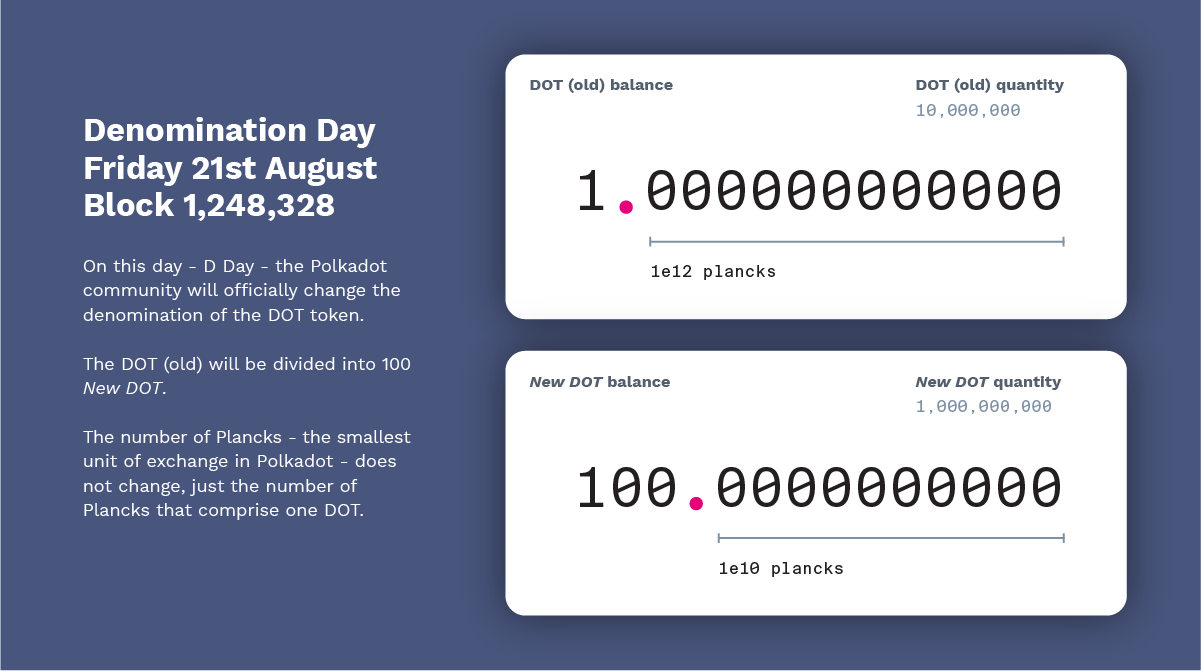 Source: Polkadot
"The percentage of the DOT you own relative to total supply will remain unchanged. This will not affect the total value of your position. DOT holders still own an equal share of the network as before.", the company wrote in a blog post.
Meanwhile, the Polkadot project received the approval of one of the leading crypto spot and derivative exchanges, OKEx. The exchange-listed DOT and provided trading support right after the denomination, which was the deadline for such listing, proposed via community vote.
"OKEx is very supportive of community-based projects and will continue to be. As the Polkadot community made its vote for a redenomination on Aug 21 clear, OKEx respected its decision and chosen date, rather than attempting to capitalize on DOT trading before the redenomination had taken place." OKEx CEO, Jay Hao, stated.
However, some of the exchanges rushed to list DOT days prior the denomination, which resulted in investors purchasing DOT tokens at inflated prices.
Litecoin
Bitcoin Cash
Cryptocurrency
Crypto Market
OKEx
crypto
crypto market monitoring
Derivative market
exchange
token
coinmarketcap
Exchanges
Chainlink