13 Sep 2021 Samantha McLauren
Polkadot Shoots 16% Amid Widespread Market Downturn
However, The DeFi Token Fell A Victim To The Crash, Dropping 10 Percent Of Its Gains
---
The crypto market seems to be going through a selling pressure stage, as most of the top-100 cryptos are recording negative price action.
Polkadot, however, managed to break the selling barrier and spiked 16% up on Monday, reaching as high as $37.93 and a market cap of over $35 billion.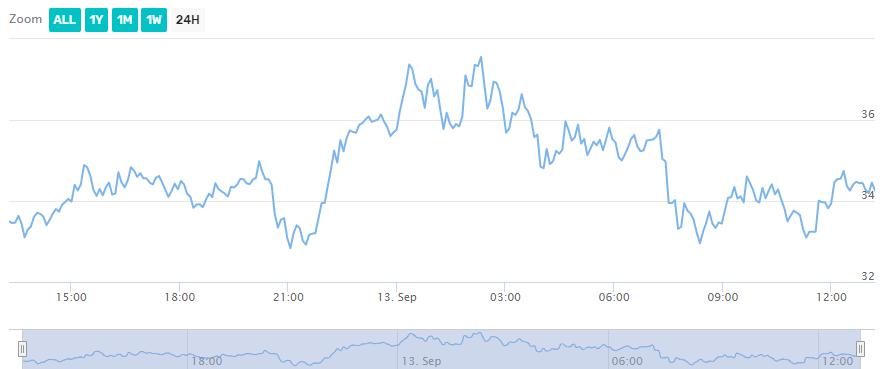 Source: CryptoBrowser
One of the main reasons for Polkadot's selling pressure-defying price actions is the parachain auction events, which created a major buzz in the crypto world in August. The Kusama parachain auctions and the KSM token sales managed to create a popularity surge for Polkadot. Parachains allow Polkadot to release its scalable multi-chain architecture and add additional features and network upgrades.
The latest parachain addition is the KILT protocol, which won the latest slot in the auctions. KILT aims to bring claim-based verifiable, revocable, and anonymous credentials to end-users, which would ensure new business models for Polkadot-running decentralized applications. The past five slots are occupied by EVM-compatible projects, which bring a wide range of DeFi applications on Polkadot, as well as better staking and liquidity provision rewards.
Polkadot's massive popularity surge made the founder of Eight Global's Michaël van de Poppe predict a price range of $100-$150 for Polkadot at the end of this bullish cycle. Van de Poppe also noted that Bitcoin may reach as much as $350,000 per BTC, while Ethereum could settle in the $7,500-$12,500 range.
Meanwhile, the Polkadot community is preparing for the seventh parachain auction, scheduled to take place on September 15.
Despite the bullish outlook for Polkadot, its native governance token, DOT, tumbled down shortly after the spike, mainly due to the market-wide selling pressure. The price per DOT reached a low of $33.18 shortly after the intraday high, but bounced back and is currently trading at $34.42 per DOT.
The selling pressure also managed to push down some of the largest crypto projects to date. Bitcoin, for example, lost 3% off its price and is currently trading at $44,664.49 per BTC. Ethereum held the position above $3,000, despite losing almost six percent daily, pushing its price to $3,255.89 per ETH.
One of last week's biggest gainers, Terra (LUNA), recorded a nearly 10% price drop, shrinking its weekly gains to 18% and a price point of $36.74. On the other hand, projects like Cosmos (ATOM) and Tezos (XTZ) are continuing their upwards trajectory, adding another 12% to their prices, making them one of the best weekly performers.
Bitcoin
Ethereum
btc
eth
Bitcoin price
cryptocurrencies
altcoins
cryptocurrency news
crypto news
Crypto Price
Ethereum Price
Tezos
Polkadot