04 Oct 2021 Morgan Hayze
Revenue For Bitcoin Miners Spiked In September
Bitcoin May Hit A Price Tag Of $288,000, According To Experts
---
Despite entering severe price turbulence in September, which dropped 20% off its price, Bitcoin is seemingly staging for a bullish Q4 trend. As October kicked in, Bitcoin's price jumped ten percent in just four days.
The steep price correction and volatility did not stop Bitcoin miners to register increased revenue in September. A report from on-chain data provider Glassnode shows that miners recorded a revenue of $40 million per day last month.
"Compared to the 2020 Halving, current USD miner revenue is – 275% higher vs pre-halving (12.5 $BTC/blk subsidy) – 630% higher vs post-halving (6.25 $BTC/blk subsidy)." the report highlights.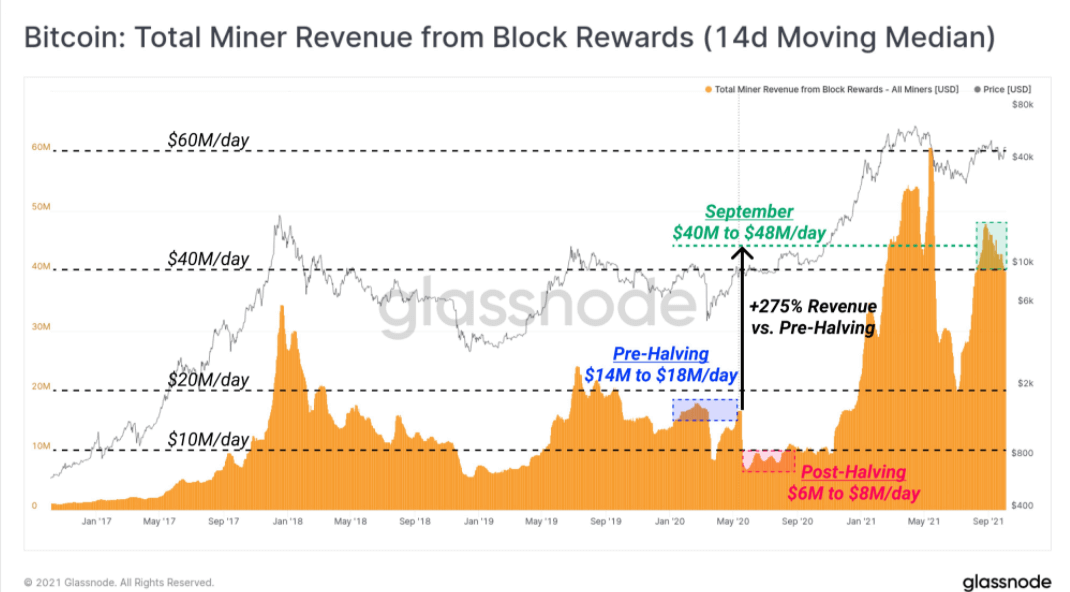 Source: Glassnode
Several market analysts echoed the bullish sentiment when predicting Bitcoin's price movement in Q4 of 2021. Some of them shouted out bold predictions for Bitcoin's price reaching $100,000 before the end of the year.
For instance, the author of the stock-to-flow (S2F) prediction model Plan B predicted a possible rally for the world's largest cryptocurrency as high as $288,000 per BTC. PlanB's model already yielded several quite accurate price predictions in the past.
Using his Twitter profile, PlanB emphasized that Bitcoin still lacks signs of weakness. Furthermore, the institutional investing veteran pointed out that the second part of the forthcoming bullish uptick would last at least six months.
"On-chain analyses finished tonight: IMO we are midway, no sign of weakness (red) yet. Note color overlay is not months to halving but an on-chain signal. My guess: this 2nd leg of the bull market will have at least 6 more months to go." PlanB tweeted, showcasing his stock-to-flow model being put to good work.
PlanB's predictions seem to be backed by fundamental indicators for Bitcoin. The Glassnode report showed that large-sized transactions have been dominating the current transaction flow.
"2021 has seen notable growth in large size transaction ($100k+) dominance as institutional capital and higher prices lift USD denominated value." the report also added, noting that entity-adjusted transaction volume has spiked in the last few weeks, ranging from between $13.8 billion and $16.0 billion.
"The bull run starting in Oct 2020 pushed the mean value for the average transaction size on an entity adjusted basis up to $68k before cooling off to around $30k in May-July. Over the last 3 weeks, mean transaction size has ranged from $65k to a new ATH of $84k." Glassnode concluded.
Indeed, data from Cryptobrowser.io shows that Bitcoin entered October at around $43,000 per BTC before skyrocketing over $48,000, with a high of $49,130.69 on October 3. After the spike, Bitcoin remained well seated just below $48,000, which is forming to be a hard resistance point. Currently, the price per BTC is $48,264.51.
Bitcoin
cryptocurrency mining
mining
btc
Bitcoin mining
Bitcoin price
bitcoin news
cryptocurrency news
crypto news
Crypto Price