02 Feb 2021 Simon Briggs
Ripple Faces Exchange Suspensions After Pump And Dump Sessions
Meanwhile, Ripple LLC Officially Responded To SEC Accusations By Claiming The SEC Did Distort The Facts About The Status Of XRP
---
The fourth-largest cryptocurrency to date, Ripple (XRP), is again under the media and community spotlight, as the currency experienced a massive wave of volatility. The price swing made crypto exchanges Coincheck and PrimeXBT either seize operations with XRP tokens or completely remove Ripple trading pairs from their platforms.
Coincheck was the first to halt Ripple operations, citing problems with the transaction status of Ripple. However, the halt did not last long as Coincheck resumed XRP operations 10 minutes after the ceasure.
PrimeXBT went a step further, announcing that the exchange would delist its XRP/BTC and XRP/USD trading pairs by Wednesday, February 10. According to the exchange, the move comes "Following recent events surrounding Ripple (XRP) as well as the delisting of the asset across our multiple liquidity providers."
Many analysts are considering the PrimeXBT move to be dictated by one of the most volatile days for Ripple in its history. A 56% price rally from $0.48 up to $0.75 managed to give Ripple enough push to overtake Tether (USDT) and reclaim the third position in the top crypto rankings based on market capitalization.
However, the two days of constant gains were stopped abruptly by a 24-hour price drop from $0.75 down to $0.39, which erased XRP's gains from the previous days. The dump put Tether back in the third spot, while traders on Twitter shared a common opinion that the price volatility happened due to a coordinated speculation effort.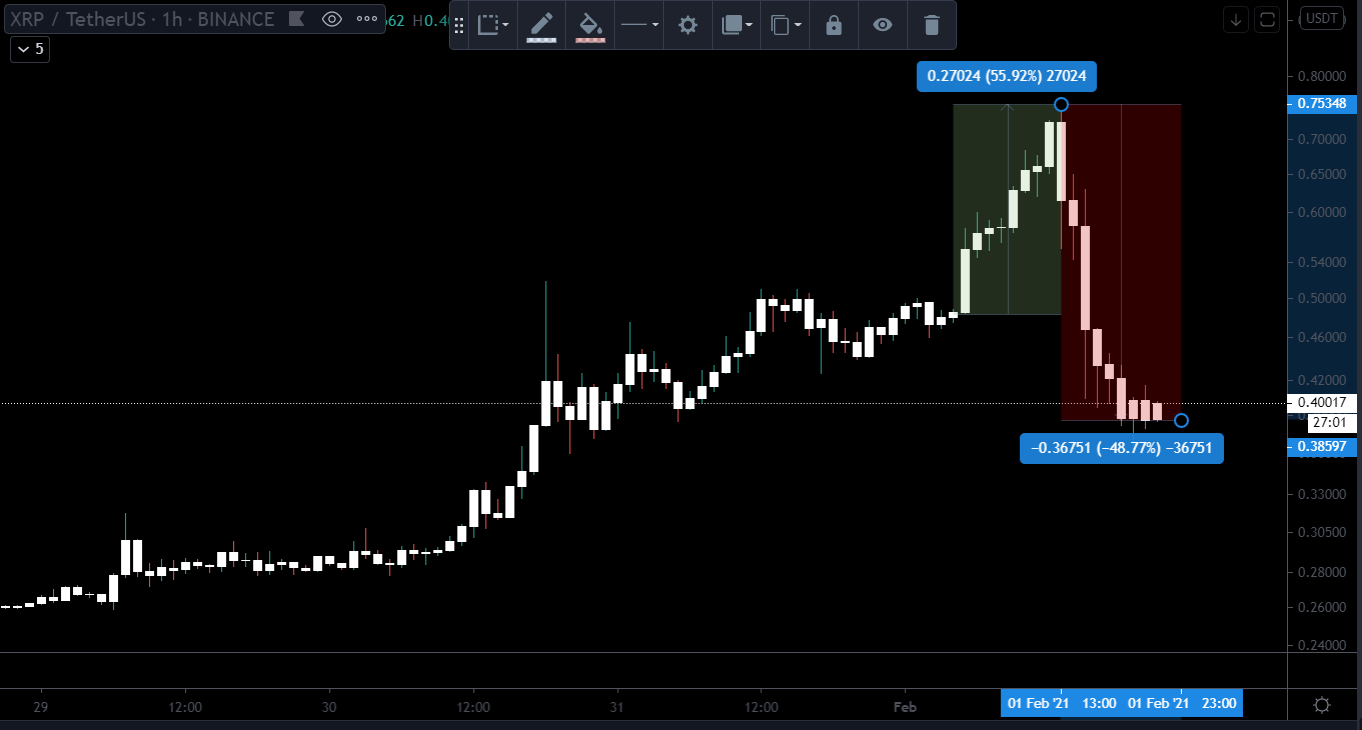 Source: TradingView
"Wrapping my head around how a pump and dump group pushed $XRP, one of the largest cryptos, from 0.25c to 0.75c. Didn't think it'd be possible but the chart checks out. No bounce yet but I think this will probably be the same as $DOGE, with vicious 30% dead cats before dying," Twitter user LomahCrypto wrote on Twitter.
The pump and dump price action comes amid Ripple LLC formally replying to the SEC accusations that the company "raised over $1.3 billion through an unregistered, ongoing digital asset securities offering." Ripple counter-accused the SEC of distorting the facts about the status of its cryptocurrency XRP.
"The SEC's case is unprecedented and ill-conceived. The SEC has ignored XRP's clear status as a virtual currency, contradicting not only the findings of other U.S. regulatory agencies but also international regulatory regimes," Andrew Ceresney, an outside counsel from law firm Debevoise & Plimpton noted.
The SEC accusations have been putting enormous stress on Ripple ever since the initial claim. Many investors cashed out of Ripple, seeking other crypto projects to invest in.
Cryptocurrency
SEC
Crypto Market
Ripple
crypto market monitoring
XRP
exchange
SEC
Ripple Price
Exchanges