06 Nov 2018 Anthony Lehrman
Ripple Reaches New Monthly Highs at $0.53
The third largest currency on the crypto market, Ripple (XRP) made a 6 percent daily surge in its price, rising up to $0.53 and a 21-percent weekly rise. Furthermore, Ripple marked a 30-day high, strengthening its momentum.
---
Today's market performance continues the trend set yesterday, when the cryptocurrency rose to $0.4950, marking an 11,13 percent gain from last week – the most significant increase among the top 10 cryptocurrencies.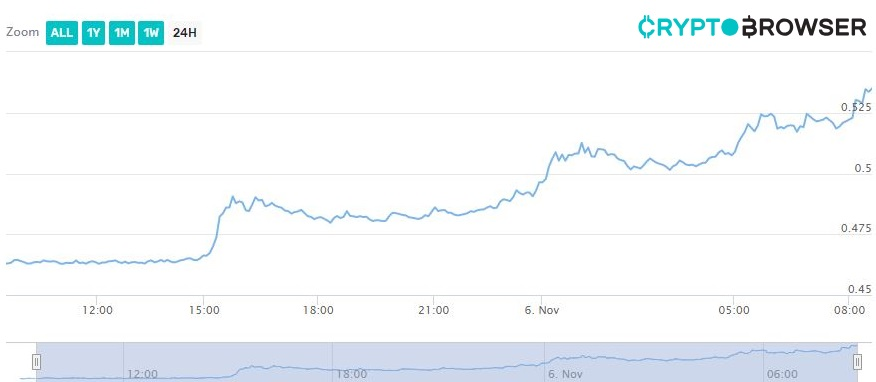 Based on market capitalization, Ripple (XRP) gained over $2,1 billion last week, covering up for the losses recorded in the past four months.
Ripple (XRP) traders should see support near the $52,00 mark. Trading volumes are skyrocketing over the past couple of days, so prices are expected to continue their upward movement.
Ripple also marked a 144-percent increase in its price from last year, rising from a yearly low of $0.20. However, Ripple (XRP) is still far away from its 2018 high of $3,95.
The coin's success in this fast and strong price increase comes as a result of the recent news related to it and the company.
Last week, Dilip Rao – Global Head of Infrastructure at Ripple, announced at the Global Islamic Economic Summit that Ripple is stepping on Middle East's land with the opening of a brand new Dubai office. This comes in perfect timing, following the UAE government's statement that 50% of the governmental transactions will be done through blockchain solutions by 2020.
Ripple is already riding the blockchain wave in the region, as financial institutions in Saudi Arabia, Kuwait, Oman, and Bahrain are already using XRP and its technology to make international payments. This is possible thanks to Ripple's partnerships with banks in the region, making it one of the fastest-growing markets for the company.
Furthermore, the crypto community welcomed the news that Ripple Labs is planning to tap into the Asian market in the near future.
Ripple isn't the only cryptocurrency that prided itself on a good performance on Monday. Brave's Basic Attention Token (BAT) and ZCash made 4-percent gains, while Bitcoin (BTC) marked a one-percent increase.
The cryptocurrencies market took a breath from Monday's trading session, increasing its total market capitalization to $213 billion, with almost $3 billion gained in just 24 hours.
cryptocurrency trading
Cryptocurrency
Crypto Market
Ripple
price
Crypto Price
Market Capitalization