07 Apr 2021 Arjun Agarwal
Ripple Won A Discovery Ruling With The SEC
The Ruling States That The SEC Has To Hand Over Internal Documents About Bitcoin And Ethereum
---
Ripple's saga with the US Securities and Exchange Commission (SEC), which started in 2018, is now making a u-turn in Ripple's favor. The fifth-largest cryptocurrency to date won a discovery ruling that orders SEC to expose internal documents about its regulatory behavior on cryptocurrencies like Bitcoin and Ethereum.
The ruling would require SEC to lift the curtain of its internal workings to the general public, which is in sharp contrast with SEC's policy of information disclosure, when it comes to crypto regulations.
The discovery motion was filed by Ripple Labs along with its co-defendants, CEO Brad Garlinghouse and Executive Chairman Chris Larsen. In the motion, Ripple Labs demands the SEC to produce documents about its internal communication about Bitcoin, Ethereum, and Ripple.
"For almost a decade, the SEC watched as XRP grew and developed, all the while issuing no formal guidance that its sales may be illegal. The SEC did, however, announce that sales of two similar digital assets — bitcoin and ether — were not securities offerings", the motion wrote in the March 15 filing to US District Court Judge, Sarah Netburn.
Ripple's claims came after public comments from both former Chairman Jay Clayton and former Director of Enforcement William Hinman about Bitcoin and Ethereum's legal status, citing numerous times that the largest two cryptocurrencies to date are not securities. However, the SEC is still not providing any guidance, explaining how the commission derived to their conclusion. According to bank laws, "A security is a type of investment contract that implies the expectation of future profits."
If Ripple Labs finds any evidence that Ripple is considered a "virtual currency" in SEC's documents, the saga may turn against the SEC. Also, the documents would allow for insight about the agency's criteria for determining when digital assets are and aren't securities, which is essential for all NFT issuers.
Ripple's motion was approved by Judge Netburn, who gave Ripple access to information such as meeting minutes and internal memos as part of the order. However, the judge denied access to internal email communications. The SEC immediately counteracted on the discovery motion, stating that "the actions of the promoter are what need to be the focus here."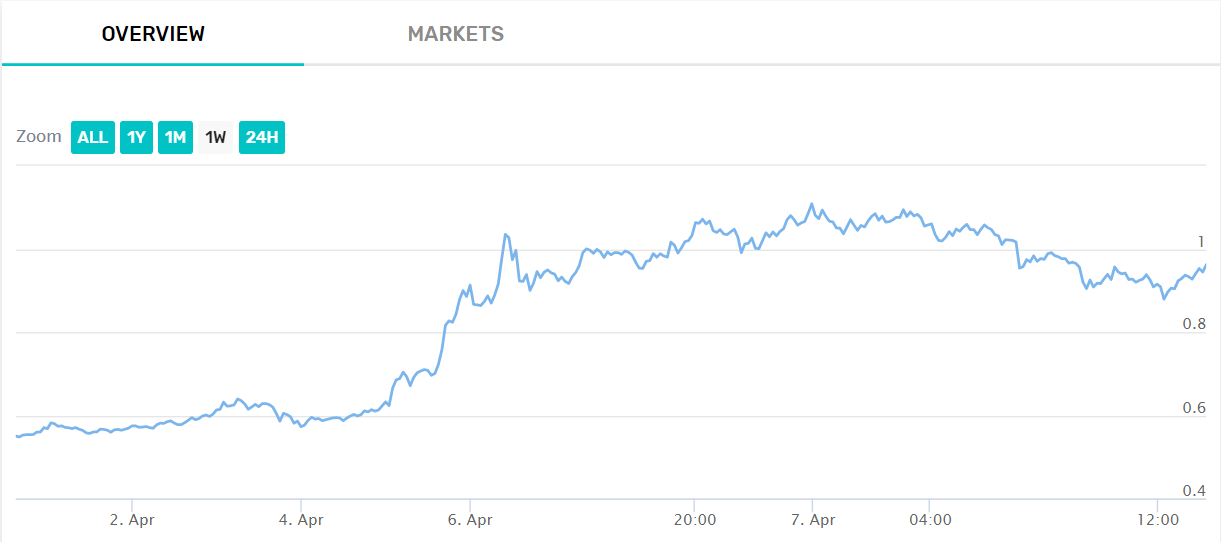 Source: CryptoBrowser.io
Pricewise, Ripple found support after the news, and streamlined to a weekly high of $1.12 per XRP token, which is XRP's highest price in over three years. Trading volumes also exploded – from around $5 billion on April 1, to a high of around $37 billion shortly after the news. Currently, XRP is trading at $0.962 with a market cap of $41,56 billion.
Cryptocurrency
SEC
Crypto Market
Ripple
crypto market monitoring
XRP
SEC
Security and Exchange Commission
Ripple Price
Regulation
Regulations