24 Mar 2022 Jane Whitmoore
Russia-Ukraine War May Provide A Boost To Crypt Adoption
Meanwhile, The Much-Anticipated Ruble-Crypto Migration Is Still Not Happening, Despite The ECB Making Another Call For Sanctions
---
Crypto adoption worldwide may speed up, according to Larry Fink, CEO of investment management firm BlackRock. The reason, according to Fink, is that digital currencies, such as Bitcoin and other cryptocurrencies, could be used as a tool to settle international transactions in a cleaner, faster manner.
The war conflict between Russia and Ukraine has pushed countries to rethink their dependencies on fiat currencies, especially when considering war conflicts like the ongoing ones.
"A global digital payment system, thoughtfully designed, can enhance the settlement of international transactions while reducing the risk of money laundering and corruption," Fink noted in a letter to BlackRock's shareholders.
Fink's statement comes amid global supply chain disruption, a rise in inflation pushing countries to tighten their monetary policies, and a rise in energy and oil prices. Furthermore, since the start of the Russia-Ukraine war conflict, crypto trading volumes are on a steady rise, which further speaks of crypto adoption happening.
The top-performing cryptocurrencies are experiencing positive sentiment, with Bitcoin reaching almost 5% of weekly price increase, while Ethereum is close to an 8% price gain. Cardano is among the top gainers over the past seven days, with the seventh-largest crypto adding 36.64% to its price.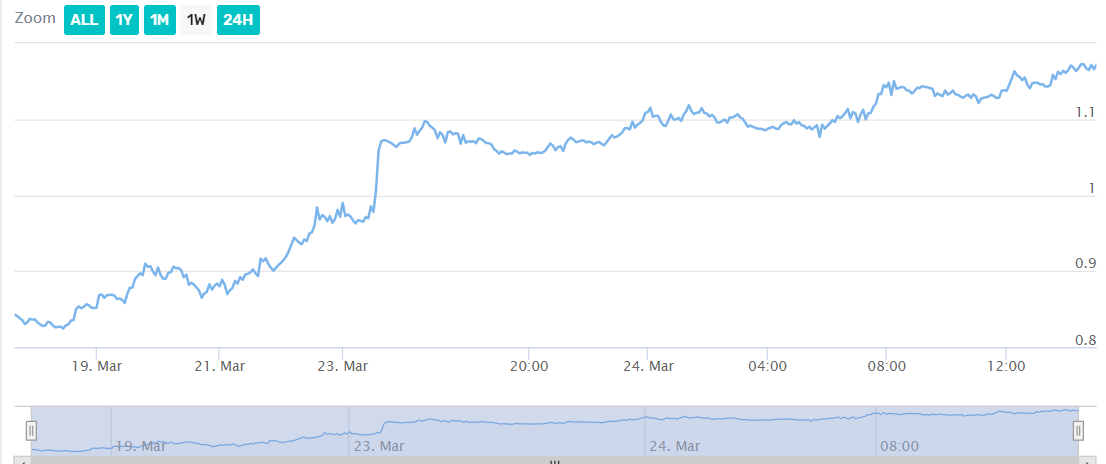 Source: Crypto Browser
Meanwhile, most of the speculations about whether or not the latest positive sentiment in the crypto sector is due to Russians seeking cryptos as an exodus to the imposed sanctions by the West. However, it turns out the daily ruble-denominated crypto trading volume was sitting at just $7.4 million, which is a 50% drop from the week before. In comparison, the ruble-denominated crypto trading reached a peak of $70 million on March 7, according to Chainalysis.
The figures are tiny when compared to the broader crypto market, as only Bitcoin's total daily volume shifts anywhere between $20 billion and $40 billion.
The small amount of Russian-denominated crypto trading, however, did not stop European Central Bank president Christine Lagarde to issue a new set of warnings that Russian individuals and businesses use cryptocurrencies to skirt sanctions.
According to Lagarde, European financial authorities said that "volumes of rubles into stable, into cryptos, at the moment [is at] the highest level that we have seen since maybe 2021."
It seems that Lagarde's skepticism moves further from Russians trying to bypass sanctions via the use of crypto.
"So is it [crypto] a threat? Yes. Has it […] been a threat in the past? Yes, because when you look at a lot of the dubious transactions that are taking place, a lot of the criminal activities payments that are taking place, very often you find some crypto assets." Lagarde noted, adding that despite the small scale of Russian crypto trading, cryptos "are certainly being used as a way to try to circumvent the sanctions."
Despite Lagarde's warnings, a scenario of using cryptos as a method of circumventing Western sanctions is unlikely to happen, according to The Blockchain Association's Jake Chervinsky. His statement is backed by data from crypto analysis firm Kaiko, which showcased that ruble to Tether (USDT) volume is down 86% to less than $5 million on March 22, from a peak of $38 million at the start of the war conflict.
However, cryptos may be a perfect tool for Ukrainian refugees to escape the country. According to a Ukrainian refugee, dubbed "Fadey", owning Bitcoin makes it much easier to access foreign fiat currencies.
Indeed, withdrawing money from Ukrainian banks is much more difficult, especially when most refugees are trying to withdraw funds from other countries.
Bitcoin
Ethereum
btc
eth
Ethereum news
Bitcoin price
Cardano
Cardano Price
cryptocurrencies
bitcoin news
cryptocurrency news
crypto news
Crypto Price
Ethereum Price
Adoption
Russia