20 Jul 2021 Jane Whitmoore
Shiba Inu Price Set To Drop 50% If Bulls Fail To Hold Support
А 12-Hour Chart Suggest Doge`s Offspring May Plunge If Failing To Retain $0.00000550 Levels
---
Shiba Inu (SHIB), the dog-themed cryptocurrency, tried to break from the meme token graph and evolve into something more than a cryptocurrency. However, its price fell drastically from SHIB's all-time high in mid-May. The 85% drop has put immense pressure on the crypto, as Shiba Inu's price has been building a descending triangle pattern on the 12-hour chart.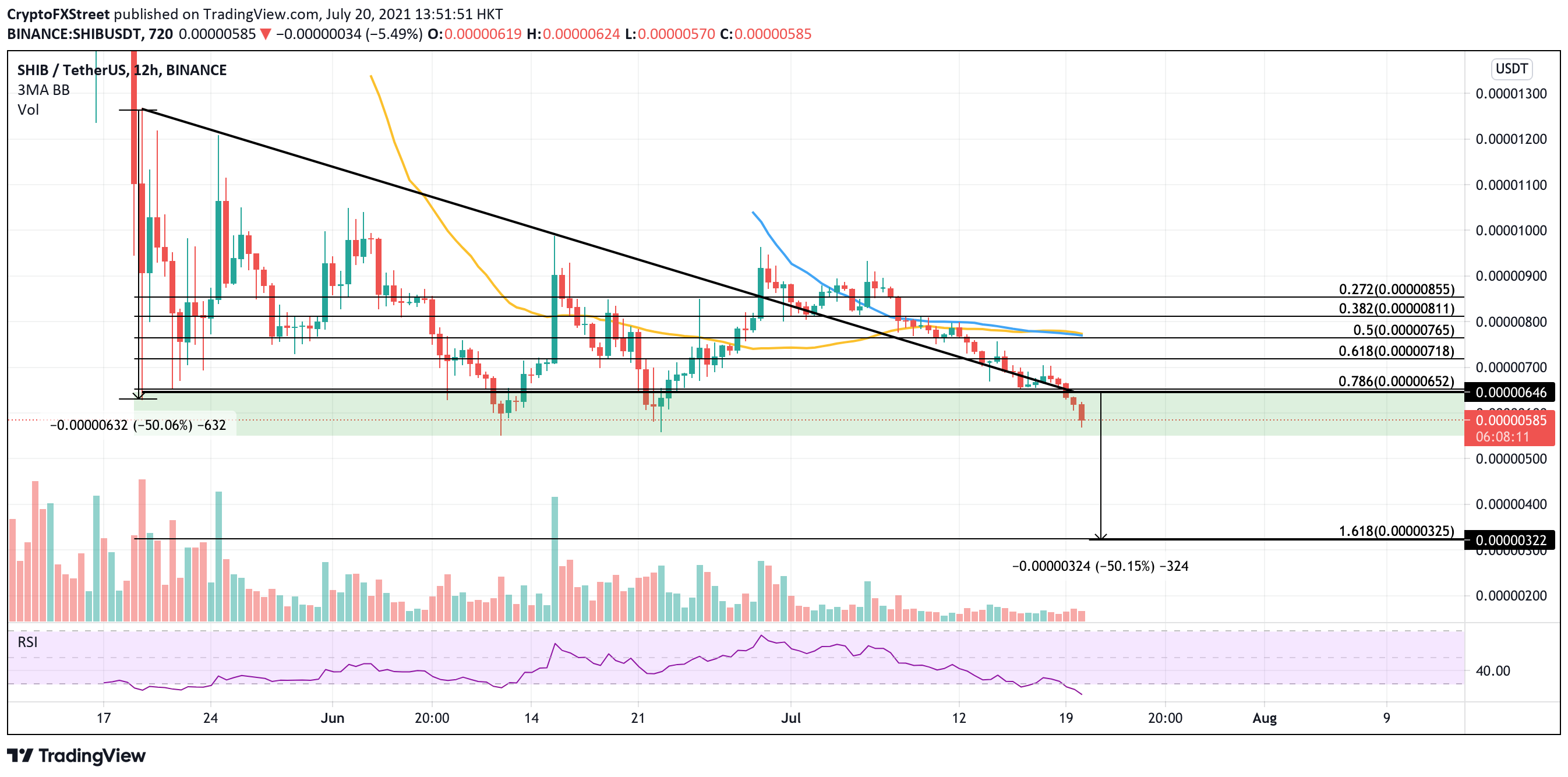 Source: TradingView
The bearish outlook comes despite SHIB being able to slice above the hypotenuse of the chart pattern on June 29. The canine-themed token, according to the charts, appears to be headed for a sharp drop.
Analysts can pinpoint exactly how much of a drop SHIB is expected to make by measuring the height of the triangle and subtracting it from the base of the triangle. The steep decline, if it occurs, would push SHIB's price to $0.00000322.
The 161.8% Fibonacci retracement level adds yet another bearish hint, coinciding with the rest of the technical indicators and the drop level.
However, despite the massive fall to the downside to be just a possibility for Shiba Inu price, it would be plausible if SHIB plunges below the lower boundary of the demand zone at $0.00000550, mainly due to a spike in selling pressure.
The June 12 low at $0.00000550 should be considered as strong support for Shiba Inu's price. If SHIB bulls and meme token enthusiasts manage to push SHIB into a recovery mode, the dog-themed token could find its way up from this level and reach the horizontal trend line corresponding to the 78.6% Fibonacci retracement level at $0.00000652.
If the bullish momentum continues, Shiba Inu may head towards tagging the 61.8% Fibonacci retracement level, before pushing further toward the 50% Fibonacci retracement. The latter push coincides with the 50 and 100 twelve-hour Simple Moving Average (SMA) values.
Meanwhile, Shiba's big brother, Dogecoin (DOGE), is too heading south in terms of price performance. DOGE lost yet another 5% daily, marking a 17.67% decrease in the price per token on a weekly basis. The lower price of DOGE, however, pushed trading volumes up 17.84% in the past 24 hours, which is a bullish sign.
Cryptocurrency
Crypto Market
dogecoin
crypto market monitoring
cryptocurrencies
doge
price
cryptocurrency news
shitcoin
Prices
cryptocurrency market