13 Nov 2018 Jane Whitmoore
Stellar Joins The Top 5 Crypto Currencies
Stellar' Lumens (XLM) gained momentum and managed to surpass EOS to become the fifth best cryptocurrency by market capitalization.
---
Stellar made a 4% increase to reach $5 billion, overtaking EOS, which fell under the $5 billion mark to $4.8 billion.
Stellar's excellent performance comes as a result of XLM's listing on the crypto exchange giant Coinbase and the wallet provider Blockchain.
Coinbase has been talking about listing five cryptocurrencies – Cardano, Basic Attention Token (BAT), Stellar (XLM), ZCash and Ox, since July. The crypto exchange listed Ox in October and BAT in November, giving speculations that Stellar's lumens (XLM) could be the next in line. Stellar's price has been moving around the $0.26 mark, as reports from Cryptobrowser.io's database shows below.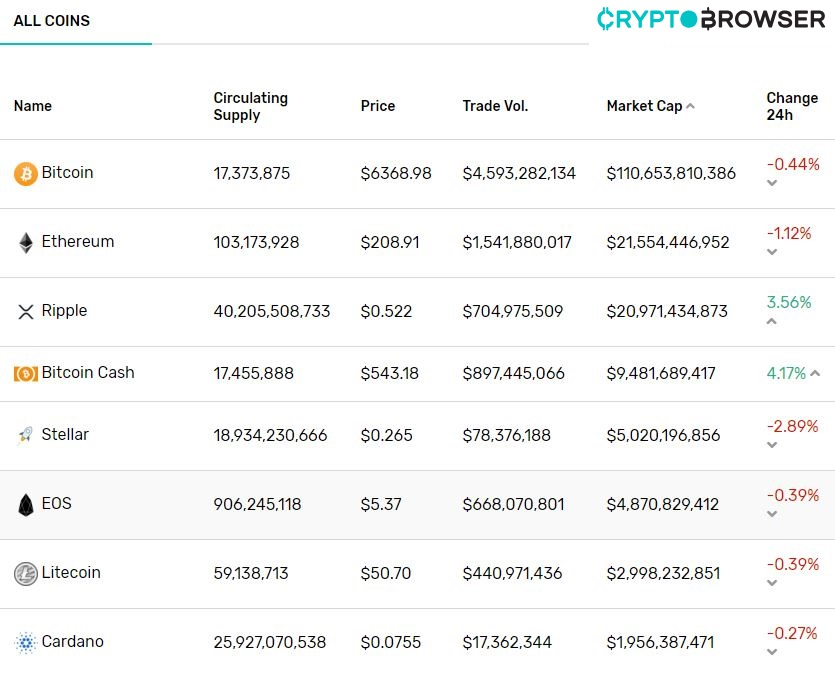 Blockchain further announced earlier that the company is giving $125 million of XLM tokens in the largest airdrop in history. The airdrop started on November 6th and will continue until the end of April.
The cryptocurrency wallet provider stated that Blockchain would give away XLM tokens to its 30 million user base, celebrating the addition of Stellar (XLM) to its list. Stellar's trading volumes jumped over 100 percent, reaching $109 million, Cryptobrowser.io reports.
It could also be stated that Stellar's success is further boosted by the recent EOS RIO wallet scam attempt, as reported last Sunday on CryptoBrowser. The SimplEOS wallet was claimed to be developed by EOS RIO, but developers warned users that SimplEOS is a scam, as the app hasn't been released officially, yet.
The co-founder of GlobalBlock David Thomas commented on the recent events in the cryptocurrency market. According to Thomas, the tight trading of the top-3 cryptocurrencies by market cap gave momentum to the lower part of the top 10 list to make gains based on volatility. Thomas expects the market to go back to a healthy state once the hype has settled.
Coinbase
Cryptocurrency
Crypto Market
EOS
Stellar
XLS