27 Feb 2019 Josphat Kariuki
Stellar (XLM) On The Rise After HTC Exodus 10 Announcement
The most recent XLM price gains are mainly due to the news that HTC Exodus 10 will come with a Stellar-based application.
---
The bearish trend that has been casting a negative price shadow over the cryptocurrencies sector almost vanished, as the overall market capitalization of cryptocurrencies remains around the $130 billion mark.
And while major crypto players are not yet receiving the boost needed to overcome the negative consequences of the bearish trend, Stellar (XLM) is one of the projects that continue to climb up price-wise. In just 24 hours Stellar managed to recover and increase its price to $0,0868. Trading volumes are also up - $127, 27 million, meaning the XLM might increase its price even further.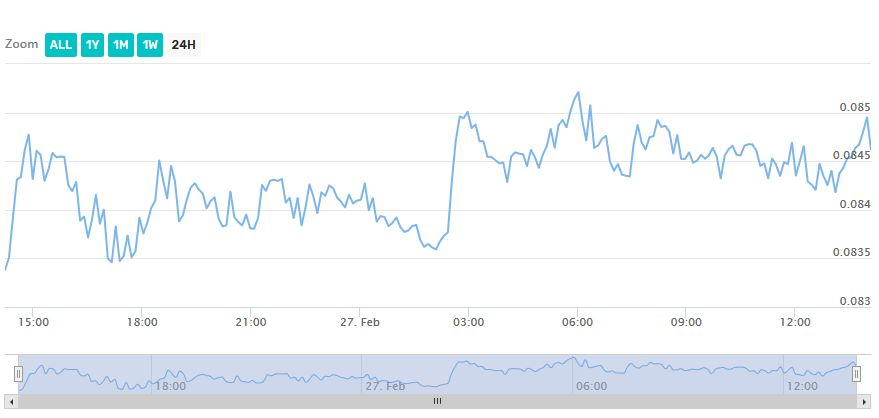 XLM price (source: https://cryptobrowser.io/coins/stellar-xlm/)
The most recent XLM price gains are mainly due to the news that HTC will launch the first-ever blockchain phone. The phone will use a Stellar-based application straight from the factory. The app will allow users to receive NODL coins when they use the software. Users will also have the ability to store Stellar seed information into the built-in hardware wallet.
Stellar has another ace up their sleeves, and that's the cooperation with IBM. Monk, one of the most influential names in the crypto realm, stated in a Twitter post that the partnership is one of the most promising joint ventures in the entire crypto industry.
Another Twitter crypto influencer, Kaizen, also did a Stellar review, emphasizing on the slight ascending pattern forming at current price levels.
The market movements usually follow unpredictable patterns, but the slow and steady growth may give cryptocurrencies long-term sustainability over a short-term rally. Stellar may surpass its resistance levels and settle at $0,09, but this means another 5% increase over the current prices.
Cryptocurrency
HTC
Stellar
cryptocurrency news
Crypto Price