26 Apr 2022 Marsha Tusk
"SUCH DOGE, MUCH WOW" After Twitter Accepted Musk's Offer
In Just Several Hours, The Memecoin Recorded A 35% Price Increase, Following The News That Elon Musk May Actually Buy Twitter
---
Last week in crypto was relatively calm, but after Elon Musk reportedly placed his "final" quote for acquiring Twitter, the social media giant, prices of both the Musk-backed Dogecoin (DOGE), and Twitter's stocks exploded.
Dogecoin saw a bearish last week, with prices reaching as low as $0.1239, which also doubles as a monthly low. Just after hitting the bottom on April 25, the memecoin skyrocketed and reached $0.1677, increasing its value by 35%. After the spike, DOGE's price normalized, just below $0.16.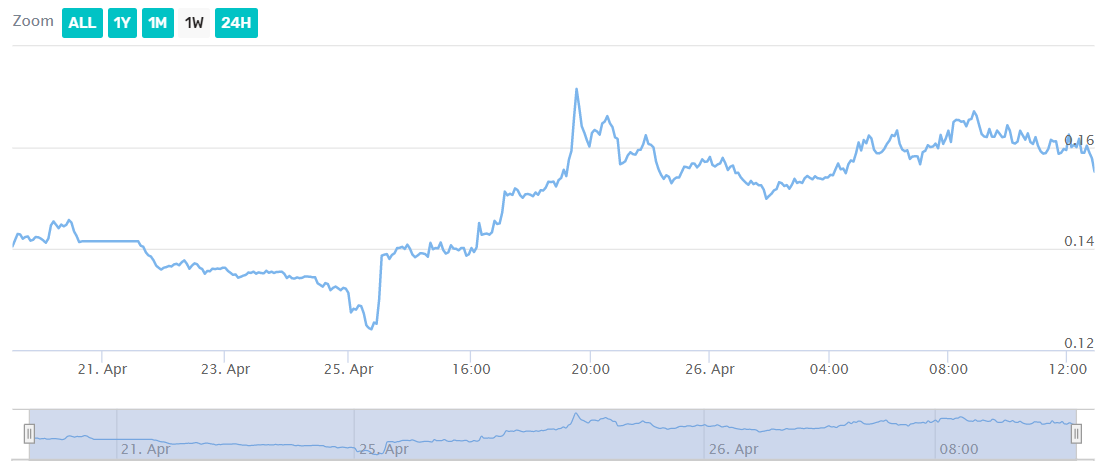 Source: CryptoBrowser
Twitter's shares, in the meantime, increased by 6% immediately after the confirmation from Twitter that they reached a "definitive agreement to be bought by an entity entirely owned by Elon Musk for $54.20 per share in cash, in a transaction valued at about $44 billion".
Dogecoin – Twitter's official crypto?
Twitter's acquisition and Musk's clear support for the memecoin may find a common route, according to some experts. Furthermore, recently Musk advised the Twitter board that they should start accepting the memecoin for Twitter Blue, their first-ever subscription service.
"Free speech is the bedrock of a functioning democracy, and Twitter is the digital town square where matters vital to the future of humanity are debated." Musk noted on Monday.
What's next for Twitter?
Musk seems to be really enjoying stirring up the crypto world on several occasions, including Tesla's $1,5 billion Bitcoin buyout, which enabled the car manufacturer to accept Bitcoin payments. However, the option was stopped, due to "environmental concerns", associated with Bitcoin mining.
And to top it all off, Musk tried and proposed many methods to improve the microblogging site. He even urged Twitter to use Dogecoin as a payment method on the social networking site.
However, despite the deal being closed successfully, Twitter's current Chief Executive Parag Agrawal expressed his concerns about the uncertainty that his team feels.
"Once the deal closes, we don't know which direction the platform will go," Agrawal added.
Interestingly, Twitter's ex-CEO Jack Dorsey backed up Elon Musk, citing that the entrepreneur is the only option for Twitter to go privately owned, despite Dorsey's beliefs that no one should own or run Twitter.
"It wants to be a public good at a protocol level, not a company. Solving the problem of it being a company, however, Elon is the singular solution I trust. I trust his mission to extend the light of consciousness." Dorsey tweeted.
Risks ahead
The massive price spike may in turn lead to a heavy correction for the memecoin. Dogecoin faces interim selloff risks. It turns out that some experts predict a 30%-40% price slippage due to Dogecoin being in a descending channel pattern, which raised the possibility of DOGE extending its pullback move by another 35%-40% by the end of Q2.
Experts added that the 200-day exponential moving average (EMA) value is keeping Dogecoin from climbing above $0.16 since November 2021.
Cryptocurrency
dogecoin
doge
cryptocurrency news
crypto news
Crypto Price
Twitter