15 Oct 2021 Anthony Lehrman
"The Big Three" Of Cryptos Is On The Rise
Bitcoin's Short Rise Above $60,000 On Some Exchanges Is Primarily Due To Reports Of Imminent ETF Approval
---
The crypto sector received yet another bullish wave of price action, pushing Bitcoin's price above $60,000, which is a six-month high for the crypto leader.
The $60,000 milestone was reached on Bitstamp, but fierce resistance dropped the price per BTC to a current level of $59,881.769. Nevertheless, the milestone indicates that Bitcoin doubled its price from its 90-day low of $29,360.96, which happened on July 20, 2021, and doubles as a year-to-date increase.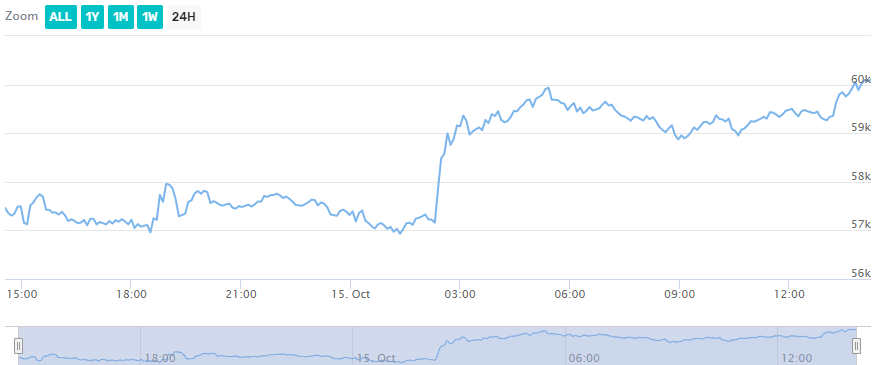 Source: CryptoBrowser
Bitcoin's price action comes amid several outlets reporting positive indications that the Securities and Exchange Commission may approve several Bitcoin futures ETFs to begin trading next week.
The rumors pushed Bitcoin 13% up from a weekly low of $53,735.14.
Meanwhile, the increase in Bitcoin's price pushed its market capitalization past the $1.1 trillion mark, increasing its market dominance to 46.1%.
The market cap milestone is a combination of several other factors, apart from Bitcoin's latest price rally. According to data from Glassnode, a crypto analytics platform, long-term Bitcoin holders are starting to yield record profits.
"As Bitcoin breaks above $59k, Long-Term Holders have returned to impressive unrealized profits. The LTH cohort currently holds 70% of the market cap in unrealized gains. If this metric rallies above 75%, it would start to resemble the 2013 double rally scenario," Glasnode tweeted.
And, despite the July lows, Bitcoin's network activity remained high, which is an indicator of long-term Bitcoin holders refusing to sell under the pressure. The result - long-term BTC holders accumulated nearly 2.35 million coins in the last 7 months.
Also, Bitcoin held on exchanges tumbled to its lowest level in nearly 3 years. Currently, BTC held on exchanges is around 2.45 million, compared to 3.11 million in March 2020.
"Bitcoin balances on exchanges have plateaued throughout October. The total exchange balance in those we track is at around 2.45M BTC, which is equivalent to Aug 2018 levels from the 3.11M BTC ATH in March 2020, a total of 657k BTC have flowed out, equal to 21% of the ATH balance," Glassnode added.
Meanwhile, Bitcoin's uptick echoed across the sector, with Ethereum's price breaching above $3,800 after consolidating around $3,300.
Ethereum's on-chain fundamentals remain strong as the total ETH supply on the exchanges continues to drop. Furthermore, Ethereum's long-awaited 2.0 deposit contract went 8 million, which is a little over $30 billion, given Ethereum's current price point of $3,805.39 per ETH.
Binance Coin (BNB), currently the third-largest crypto to date, is also on an upwards price trajectory in the past seven days, despite experiencing a 4.45% price correction, pushing its price down to $463.13, as of press time. However, looking at the three-month graphs, BNB falls in the same price action movement pattern as Bitcoin and Ethereum.
Bitcoin
Ethereum
SEC
btc
eth
Bitstamp
Ethereum news
Bitcoin price
binance coin
bnb
bitcoin news
cryptocurrency news
crypto news
SEC
Security and Exchange Commission
Crypto Price