09 Dec 2022 Josphat Kariuki
The Crypto Market Is Maturing, The United States Leads The Way
According To A Recent Report, The United States And Vietnam Score The Best On "Crypto Maturity" In 2022
---
The crypto sector is seemingly maturing, despite the recent liquidity issues and market volatility. Furthermore, as the sector is going through one of its pivotal moments in history, it turns out that a couple of countries are showing extreme "maturity" when comparing them to others.
Indeed, a report from Huobi Research shows that the United States is the most "mature" cryptocurrency market – despite crypto being used by only 13.7% of Americans, they generate more exchange volume than anyone else in the game.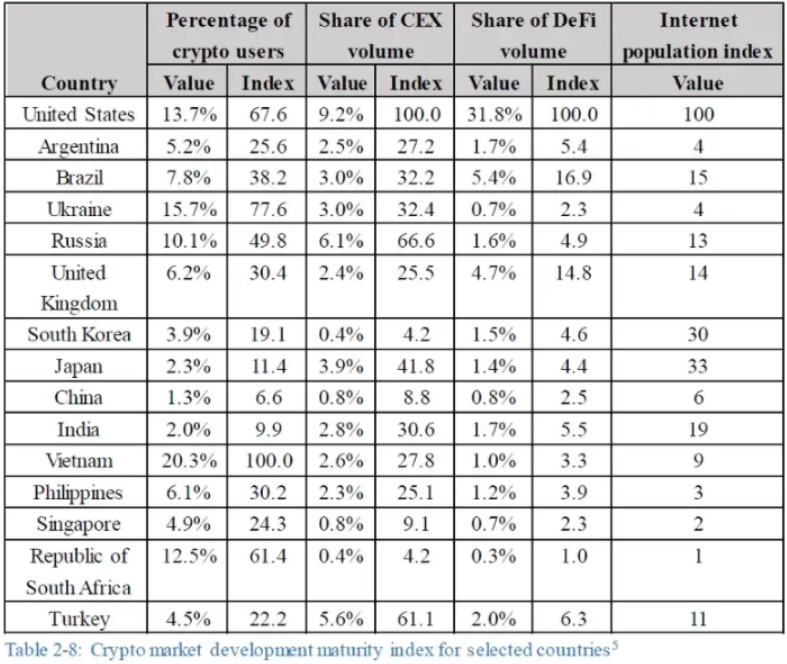 Source: Huobi
How are different nations compared to each other?
It turns out that Huobi Research placed the United States and Vietnam at the front line of crypto adoption, citing 13,7% and 20.3% crypto users, respectively.
Interestingly, the Russian invasion of Ukraine spawned a great opportunity for crypto usage, with over 15% of Ukrainians using cryptos. However, the percentage of users in both centralized and decentralized exchanges is relatively low, as the U.S. is dominating across the board.
The Republic of South Africa is also showing signs of maturing with 12,5% of its population using cryptos, but only a mere 0.4% come in contact with centralized exchanges, while Vietnam accounts for 2.6% of the total centralized exchange volume.
Russia also has its fair share in the crypto maturity chart, with 10% of Russians owning cryptos, accounting for 6% of global centralized volumes, despite the sanctions against Putin's regiment.
What about Asia?
Vietnam, at least according to Huobi Research, can be considered as the country with the "highest adoption rate in cryptocurrency", while South Korea and Japan are also showing signs of extreme crypto activity
"Japan and South Korea have contributed tremendous traffic to exchanges. Specifically, South Korea ranked second with 7.4% and Japan ranked sixth with 3.85% in Asia," the report noted.
However, not all Asian countries are utilizing crypto to that extent. China, for instance, with its restrictive policies on crypto usage and ongoing CBDC development, ranks last in Asia with a maturity score of only 5.9. Singapore is also low on crypto maturity, while South Korea managed to rank close to Argentina and the Philippines with a maturity score of 14.5.
"Singapore has become the best destination for technology startups, luring a large number of innovators and unicorn companies, which naturally includes the crypto players. Singapore maintains high tolerance and openness for the crypto industry: regulations are enforced, but there is still plenty of room for innovation." Huobi added.
Crypto regulations still needed
Meanwhile, the Huobi Research report stressed that the regulatory situation is tenuous for crypto, especially when the crypto sector is still feeling the pressure after the FTX scandal. However, the report notes that FTX is not actually the biggest blow for 2022. It turns out that the Terra collapse and the Three Arrows Capital insolvency were the biggest culprits for the performance of cryptos in 2022.
"The main issues of the FTX case are the misappropriation of funds, affiliate transactions with Alameda Research, etc. At the time, some U.S. regulators expressed that they were investigating or had already started investigating the issues a few months ago." the report concluded, highlighting that another "FTX incident will not happen if regulations of crypto assets in various countries are appropriately in place."
Huobi
Crypto Market
crypto market monitoring
cryptocurrencies
cryptocurrency news
crypto news
vietnam
Exchanges
Adoption
US
Russia