26 Jul 2022 Simon Briggs
The Crypto Sector Retreats In Anticipation Of Another Fed Interest Rate Hike
Meanwhile, Both Ethereum And Bitcoin Are In For Some Turbulence After The Fed`s Decision
---
The crypto sector`s volatility continues to remain very high with two of the largest coins - Bitcoin (BTC) and Ethereum (ETH) suffering from another price swing. This is a result of the expected interest rate hikes by the U.S. Federal Reserve which аre going to happen on Wednesday, 27th July.
Тhe Federal Reserve is preparing to push interest rates higher by another 0.75% on Wednesday after increasing them previously in June, which marks the largest interest rate increase since 1974.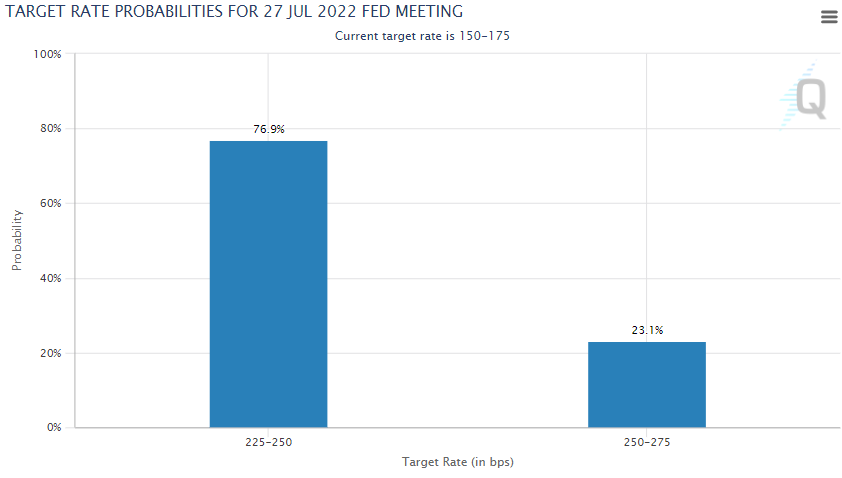 Source: CME FedWatch
The interest rate hike come just as the crypto sector managed to climb back above $1 trillion with Bitcoin and Ether rallying 26% and 65% respectively from their June lows.
Why the Fed Increases interest rates?
Interest rate hikes are a common tool for regulators to fight inflation. However, the battle to push consumers back into spending less and saving more, especially on big purchases like homes, is also leading to reduced revenues by corporations.
The crypto sector is also reacting to interest rate hikes, as the "more to save, less to spend" mantra directly hits investments in digital assets like Bitcoin and Ethereum.
SEC goes after Coinbase
Meanwhile, the Securities and Exchange Commission (SEC) is already on the move to enforce regulations on the crypto sector, with a primary target being Coinbase, which has been rumored to be having difficulties with offering unregistered securities.
In turn, market shares for the publicly listed exchange fell 5.3% on Monday, leaving the exchange with a market capitalization of just under $15 billion.
Furthermore, the price tags of the largest cryptos to date crumbled due to market pressure.
Ethereum falls, will the market recover?
Data from cryptobrowser.io shows that the second-largest crypto to date failed to hold above the $1,550 mark and plummeted to a current price point of $1,384.49, breaking the $1,460 resistance, which means its price could continue to fall.
Technical analysis indicators like the 100-hourly simple moving average (SMA) are also suggesting Ethereum holders are in for a bumpy ride, as Bitcoin's runner-up already lost around 10% of its market cap in just 24 hours.
If Ethereum bulls manage to secure the $1,400 levels, ETH could bounce back to the $1,460 resistance zone. However, if the price action continues to plummet, Ethereum is anticipated to fall down to the $1,375 support zone. If market pressure continues to act on Ethereum, the crypto sector might see ETH's price tumble down to the $1,300 support.

Source: Cryptobrowser.io
Bitcoin is joining Ethereum in the move downwards, as the largest crypto to date currently fights the $21,000 support zone, trading just a few dollars above it. The latest downwards push eradicated any gains Bitcoin made in the late July rally, reverting its price back to July 17 levels.