12 Apr 2022 Marsha Tusk
Top Centralized Crypto Exchanges Increase Their Market Dominance
The Consolidation Around Top Tier Centralized Exchanges Reached 96%
---
Top centralized cryptocurrency exchanges seem to leverage the overall crypto consolidation and reach a new all-time high in terms of trading volumes. The so-called "top-tier" centralized crypto platforms managed to increase their market share by 7 percent from August 2021 to February 2022, according to data from CryptoCompare.
The report, published on Monday, evaluated 150 of the biggest crypto platforms and ranked them across 8 categories of evaluation, such as data provision, security, asset quality, market equity, and KYC policies. CryptoCompare graded the exchanges from a top score of AA to a low of F, with "top tier" receiving a grade of B or above.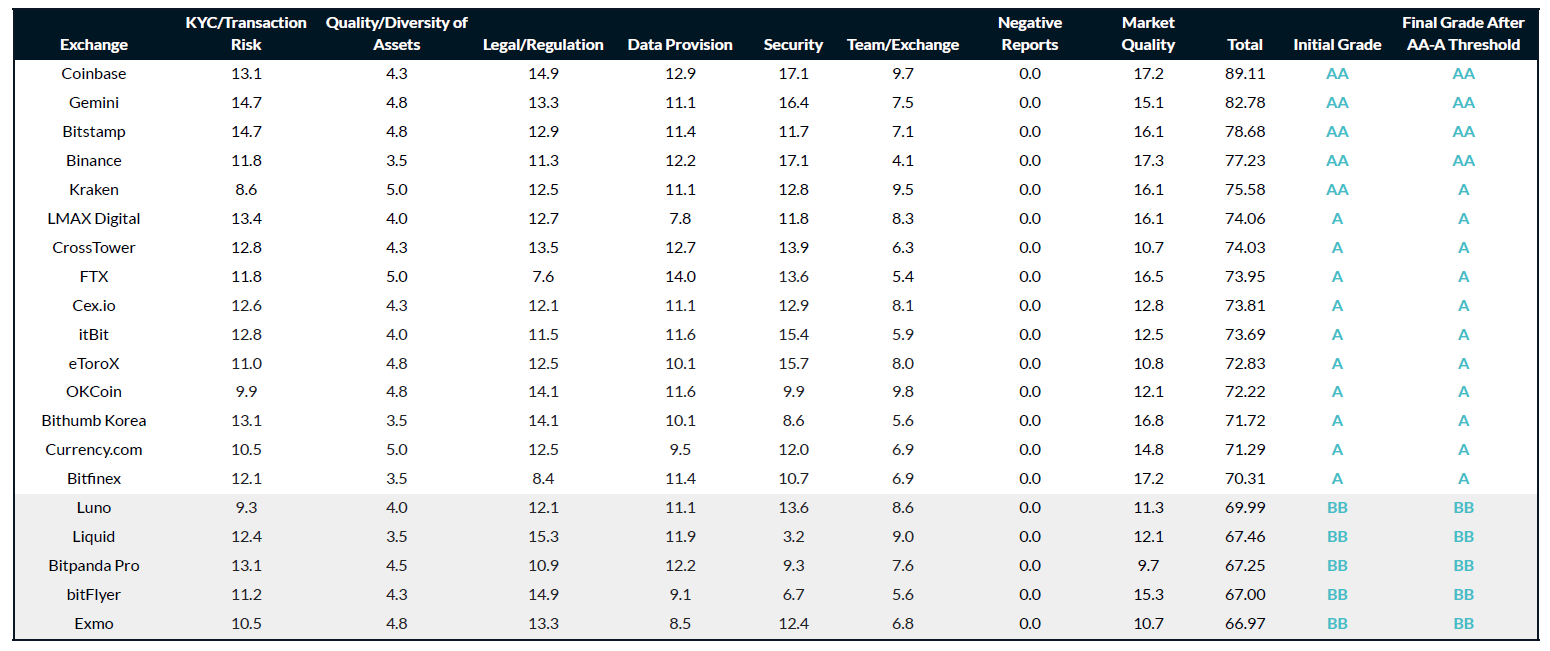 Source: CryptoCompare
This time, due to stricter benchmark standards, only 78 exchanges met the threshold for Top-Tier status in the report, as opposed to 87 in August 2021 and 84 in February 2021.
Report results
It turns out that 35% of exchanges were rated as having poor or inadequate KYC programs, which is a slight increase since August 2021, while 27% of exchanges were found to send funds to higher risk entities for more than 4% of their transactions. However, data transparency increased, with 71% of all surveyed exchanges now providing historical candlestick data, which is an 18% spike, when compared to February 2021.
Another common point of crypto exchanges was the regulation standards improvements, as 11% of exchanges formally offer some form of cryptocurrency insurance, while the licensed or registered exchanges reached a level of 42%.
Report rankings
Coinbase got the highest rank of all exchanges, gathering a total of 89.11 points out of 100. Gemini ranks second, while Bitstamp closes the top three list of crypto exchanges. Interestingly, Binance closes the list of exchanges that received the highest AA grading but happens to have the lowest score in the Team/Exchange metric.
The report also revealed that top-tier exchanges traded a total of $1.5 trillion in February 2022 while in the "lower-tier" exchanges, the trading volumes reached $62 billion. The metrics suggest that crypto users worldwide, both retail and professional, are massively migrating to lower-risk exchanges.
Crypto exchanges consolidated further via exchange closure and acquisitions from other, larger exchanges. For instance, FTX acquired the Japanese Liquid Group exchange on February 2, 2022, in order to use Liquid's Japanese trading license.
"As we have seen, volumes have started to become concentrated amongst the top tier exchanges, and this is a trend which is bound to continue into the future. As the industry matures, we expect there to be an oligopoly of exchanges dominating trading volumes as their traction accelerates and smaller players are left behind." CryptoCompare noted, adding that since June 2019, 54 exchanges have closed due to being uncompetitive in the market, which boosted the consolidation.
Trouble ahead
The report also laid down some challenges for the crypto exchanges, as political pressure around the Russia-Ukraine war and the imposed sanctions against Russia may escalate, leaving crypto exchanges as an option for evading the sanctions.
"While many exchanges have resisted this pressure," the analysts wrote, "this political factor is an important risk to consider for the future of exchanges."
Furthermore, self-custody is also a cause of concern, as the "mantra of 'not your keys, not your coins' is growing stronger amid the political pressure received by exchanges," emphasizing that such a move "could hinder the business model of exchanges."
Cryptocurrency exchange
Coinbase
Binance
Exchanges News
Gemini
Bitstamp
Binance Exchange
cryptocurrency news
crypto news
Exchanges