23 Apr 2021 Jane Whitmoore
Total Crypto Market Cap Down By $300 Billion In A Day As Bitcoin Hits A 7-Week Low
Meanwhile, Coinbase Pro Makes A Historical Progression By Finally Listing The Number One Stablecoin, Tether (USDT)
---
The bullish momentum from the past several weeks seems to have evaporated, as the entire crypto sector is recording negative price changes. The total market capitalization of the crypto ecosystem slumped from $2.28 trillion on April 17 to a current value of $1.82 trillion with over $300 billion lost in just 24 hours.
The main culprits for the market crash are Bitcoin and Ethereum, as they compose 67% of the entire market capitalization of the sector. Bitcoin, for example, is down 9 percent daily and 18% on a weekly basis, while the altcoin leader, Ethereum, wiped its gains from the beginning of the week and is now 8% down in the past 24 hours.
However, Bitcoin's downfall may continue, as the industry leader lost a vital support zone - $50,000, as currently, Bitcoin trades at $49,418.20 per BTC. The crash came after Bitcoin recorded another all-time high in 2021, reaching $64,863.10 per BTC. The massive volatility swing came with Bitcoin losing $9,000 off its price in hours on April 18. And despite an attempt for a market recovery, the massive support zone loss may indicate Bitcoin as well as the largest crypto projects, are set in for a bearish period.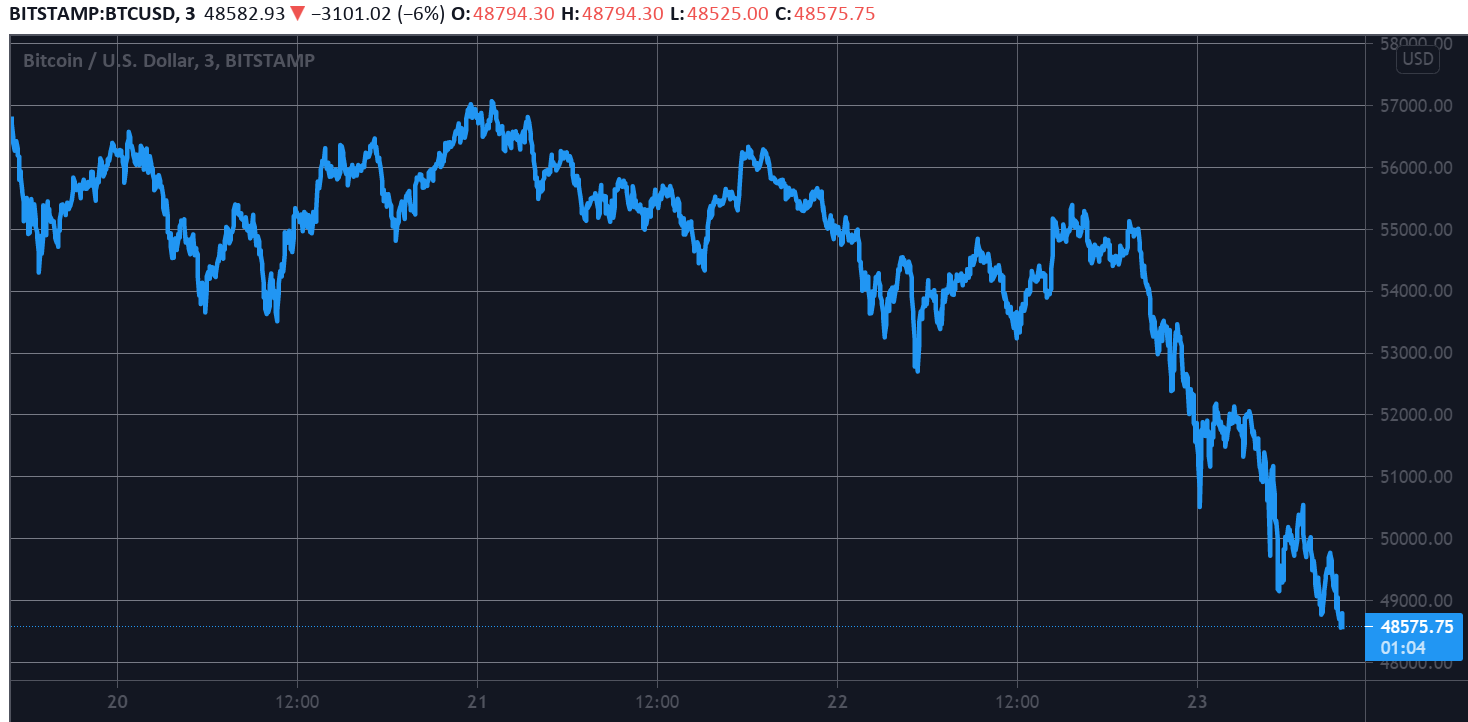 Source: TradingView
Ethereum also suffered from a substantial price hit, but projects like Binance Coin (BNB), Ripple (XRP), Cardano (ADA), Polkadot (DOT), Uniswap (UNI), Litecoin (LTC), Chainlink (LINK), and Bitcoin Cash (BCH) also made price losses, losing between 15% and 25%. The big hit took smaller projects by a storm, too, as double-digit losses were recorded by entities like DigiByte (-31%), IOST (-30%), Holo (-30%), Siacoin (-29%), Verge (-28%), BitTorrent (-27%), Ontology (-25%), Ravencoin (-25%), Theta Fuel (-25%), Chiliz (-25%), and many more.
Meanwhile, the NASDAQ-listed Coinbase crypto exchange made a surprising move by listing Tether (USDT) on its Pro platform. Until the listing announcement, Coinbase was anti-Tether oriented and was the only major crypto exchange not to include it in its listings. Until the listing announcement, Coinbase opted for its native stablecoin, USDC.
However, Coinbase announced that as of April 26, trading with Tether would be available in all Coinbase supported jurisdictions, with the exception of the New York State. If liquidity conditions are met, Coinbase plans to push out several trading pairs, including BTC/USDT, ETH/USDT, USDT/EUR, USDT/GBP, USDT/USD, and USDT/USDC.
The news quickly boosted Tether's circulating supply, as the numbers are approaching a new milestone with a high of $50 billion USDT stablecoins. Trading volumes for the stablecoin skyrocketed with an increase of 57% daily.
Coinbase's move may turn out to be beneficial for Bitcoin, as Tether is commonly known as "a gateway" for entering Bitcoin trading. Also, Tether is pegged to the U.S. dollar and may give direct exposure to Bitcoin trading to Coinbase's customers.
Bitcoin
Coinbase
Exchanges News
Bitcoin price
exchange
bitcoin news
market
bitcoin news today
Markets
Market Capitalization