16 Apr 2021 Morgan Hayze
Turkey Bans Crypto Payments, Bitcoin's Price Plummets
The Turkish Central Bank Cited "Irreparable" Damage And Significant Transaction Risks As Main Reasons For The Ban
---
Despite the crypto industry receiving more and more recognition and adoption, some national banks are still negative about the new technology. Turkey, for example, passed legislation which states that cryptocurrencies and other digital assets based on distributed ledger technology cannot be used, regardless if the usage is direct or indirect, or as an instrument of payment.
This means the growing Turkish crypto market which gained momentum in the past several months, now faces a crisis. Investors in Turkey, both institutional and retail, joined the crypto race and saw Bitcoin as a perfect tool against inflation, as inflation in Turkey reached 16% in March.
Shortly after the Turkish crypto ban, Bitcoin's price slipped 3%, with a current trading price of $60,907.88.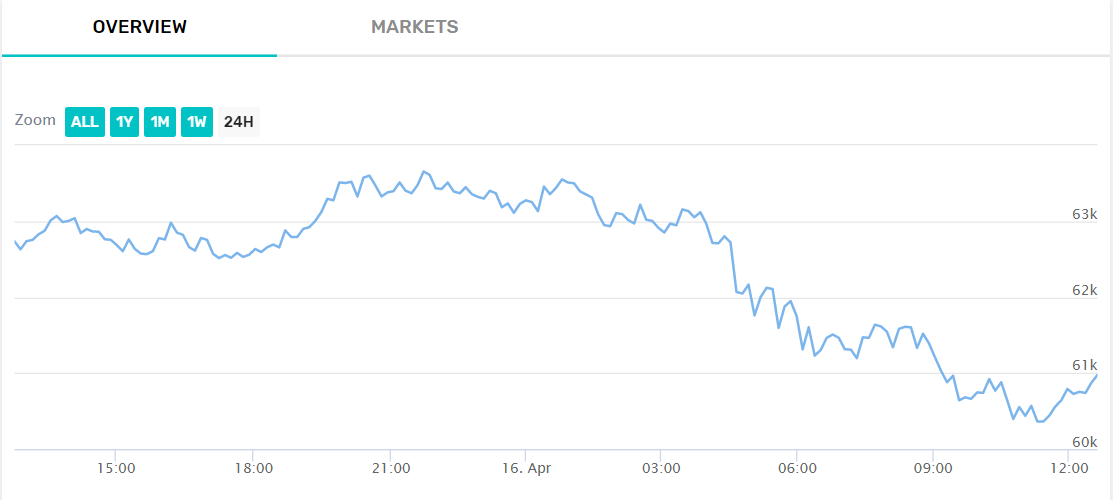 Source: CryptoBrowser.io
The central bank of Turkey explained their moves by noting that crypto assets are "neither subject to any regulation and supervision mechanisms nor a central regulatory authority."
"Payment service providers will not be able to develop business models in a way that crypto assets are used directly or indirectly in the provision of payment services and electronic money issuance," Turkey's central bank stated, adding that crypto payments may cause non-recoverable losses.
Meanwhile, Turkey's crypto payments ban comes just several days after Royal Motors, the company that distributes automotive brands like Rolls-Royce and Lotus, announced it would accept crypto payments.
Opponents of the Erdogan regime in Turkey described the decision as "midnight bullying", making correlations with Erdogan's March midnight decree, which resulted in the firing of the central bank governor.
"It's like they have to commit foolishness at night", main opposition leader Kemal Kilicdaroglu noted on Twitter.
Meanwhile, Turkey suffers from one of its worst inflation crises, as the annual inflation is at a six-month high of 16.19%, well above a 5% target, and unemployment remains high at 13.4%. In contrast, crypto trading volumes in Turkey exploded to 218 billion lira, or $27 billion as of March 24. Compared to the same period last year, crypto trading recorded a mere 7 billion lira, according to Chainalysis.
"Any authority which starts regulating (the market) with a ban will end up frustrated (since this) encourages fintech startups to move abroad," economist Ugur Gurses noted on Twitter.
Bitcoin
Cryptocurrency Regulations
Crypto Market
btc
crypto market monitoring
Bitcoin price
Regulation
Banks
Regulations