08 Mar 2021 Morgan Hayze
UNI Gets Among Top Ten Cryptocurrencies Following a 50% Weekly Rally
Uniswap's Native Token Reached A Market Capitalization Of $17 Billion Surpassing Litecoin (LTC) And Chainlink (LINK)
---
The DeFi sector continues its bullish run, especially with Bitcoin still "holding strong" and reclaiming a price above $50,000. The decentralized exchange`s (DEX) native token became the eighth-largest crypto asset by market capitalization, climbing to $17.7 billion in terms of market cap. This happens in times of speculation for Uniswap's V3 protocol upgrade.
Furthermore, Mesarri ranked UNI as the second-largest Ethereum-based crypto asset, only trailing behind Tether (USDT). Uniswap's governance token broke into the top-ten on March 5, with a massive increase in market capitalization – from $8.8 billion on March 4, to $14.7 billion just 24 hours later.
The token's price found support around $32 after reaching an all-time high of $34 on March 7. The all-time high, combined with UNI entering the top-ten list of cryptocurrencies skyrocketed trading volumes.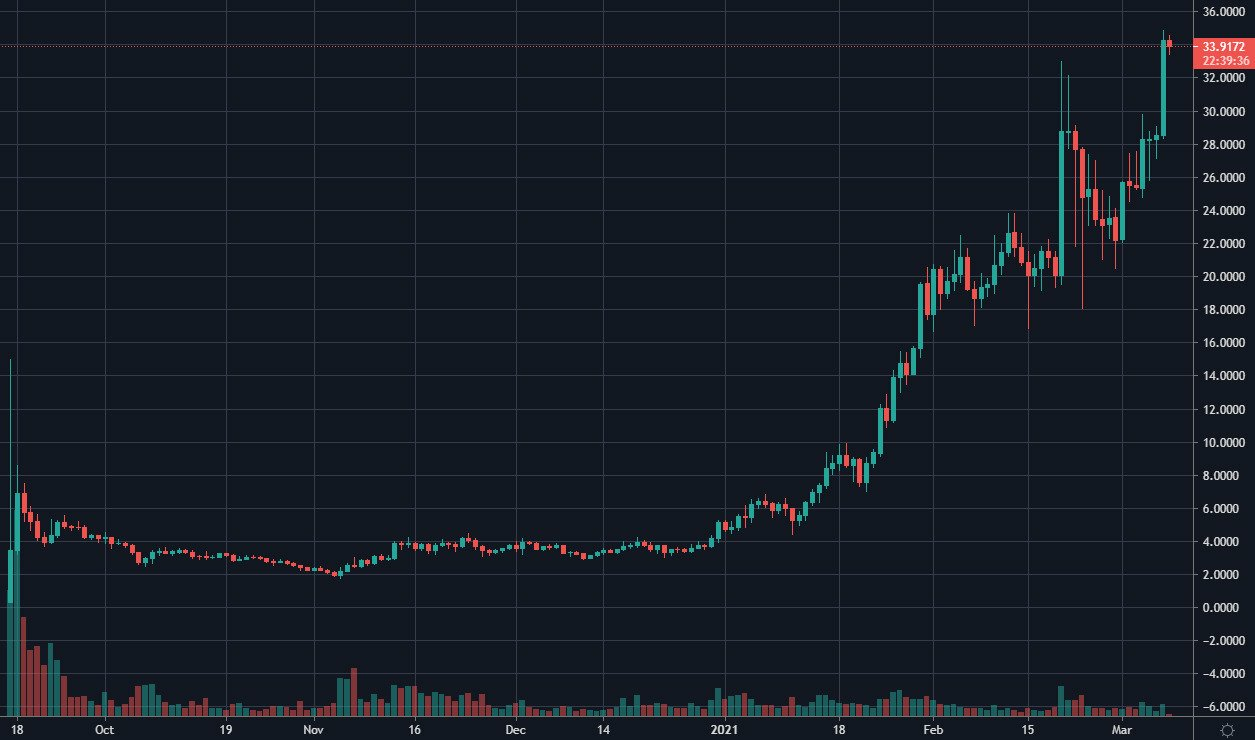 Source: TradingView
In February, Uniswap recorded four consecutive weekly trading volume records, making its monthly trading volumes hit an all-time high of $31.9 billion. However, the second week of March showed a weekly trading volume of $6.4 billion, which is 25% down from the $8.6 billion which Uniswap recorded at the beginning of March. Nevertheless, Uniswap still has a 50% share in all trading done on Ethereum-powered DEXes.
Meanwhile, rumors about Uniswap's V3 protocol upgrade, which would incorporate new features and functionalities, are maybe not very far away in time, according to Yearn.Finance developer Andre Cronje. The developer noted that increased social media activity from Hayden Adams – Unispwap's lead developer, is a sign for V3 coming out soon.
"When founders/core contributors start posting more actively on Twitter, it normally means they finished a milestone and are waiting for the release, this is the "limbo time" where they don't want to start something new yet. I've noticed Hayden Adams' post frequency increase", Cronje tweeted.
As the DeFi community is experiencing an increase in popularity, crypto exchange OKEx published a report, explaining some of the possible reasons behind the upwards motion.
"The DeFi market is doing well, despite a wider cryptocurrency market pullback. The total value locked in DeFi remains above $40 billion, thanks to Curve Finance, SushiSwap, and Balancer. At the same time, Bancor has added more than 11% to its total value locked," the report noted.
However, according to OKEx, Uniswap's UNI token remains the "shining star" of cryptos, with almost $4 billion in total value locked (TVL) and a weekly price rally from $24.64 to its all-time high of $34.87. The total value locked in DeFi apps has fallen below $40 billion to a level of $38.9 billion as of press time, which is a $2,5 billion increase since the March 1 low of $36,4 billion.
Cryptocurrency
Crypto Market
cryptocurrencies
cryptocurrency news
decentralization
dex
decentralized
Defi
Decentralized Finance
Uniswap