17 Mar 2021 Marsha Tusk
VeChain Reached A New All-Time High Amid Profit Generation Sessions
Despite The Profit-Taking By Investors, VeChain Continues Its Stride Towards $0.56 And Tests A New PoA 2.0 Consensus Mechanism
---
The crypto market started the week with mostly negative results, while the eighteenth-largest crypto to date, VeChain (VET), saw a positive price swing, bringing its price to a new all-time high of $0.08333.
VeChain broke from a two-year consolidation period, with prices ranging from $.002 to $0.2 per token. However, after reversing the head and shoulders configuration on February 15, the token is in a continuous upwards momentum, with trading volumes following suit.
At the end of February, VET retested the head-and-shoulders configuration only to bring another bullish cycle and increase its price over 100% in just 20 days. Technical indicators are on VET's side, as the retest shows a possible 660% price increase to $0.56 per VET.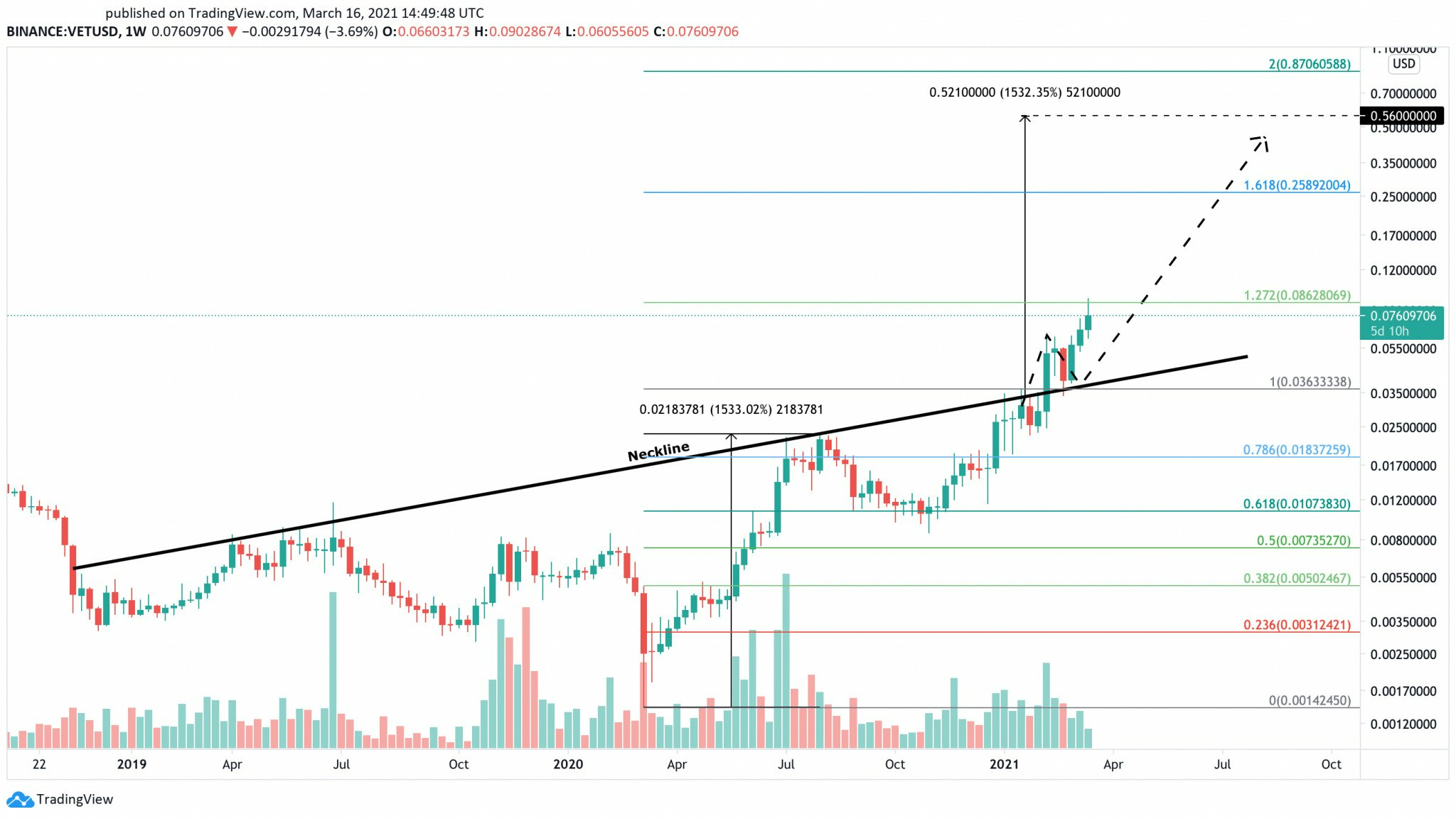 Source: Trading View
However, in order to accomplish that, VET still needs support to get past the 127,2% Fibonacci retracement level in order to ensure the upwards momentum continuation. Also, resistance above current levels would be significant, despite the recent bullish push.
Price data suggests that VET is in an ascending parallel channel – a pattern, which occurred in December 2020. Since then, when VET rises to the channel's upper limit, the token corrects itself to the lower limit. When VET hits channel bottom, the token usually rebounds, retaking high positions, which is in line with the channel's width.
In order for VeChain to break from the channel is to overcome the 127,2% Fibonacci retracement level, which could boost VeChain up to around $0.26 per token.
Market players started selling VeChain tokens immediately after the all-time high, which put strong selling pressure and pushed its price down to the current level of $0.0721. Traders are confident that if VeChain holds above $0.07, an upside push above $0.09 is possible before a major correction strikes.
However, if the token fails to hold the vital support zone, VeChain could go into a downwards spiral, reaching lows of $0.058, which is the ascending channel's lower price limit.
Meanwhile, VeChain announced its new Proof-of-Authority (PoA) 2.0 consensus mechanism on its testnet. The upgrade claims to be capable of achieving faster transaction confirmations, higher security, transaction finality, and enhanced capacity for new partners to enter the Thor blockchain.
Blockchain
cryptocurrency trading
Cryptocurrency
Crypto Market
Blockchain Development
Blockchain Application
crypto
crypto market monitoring
VeChain
VeChain Thor
cryptocurrencies
cryptocurrency news