17 Feb 2021 Anthony Lehrman
Vitalik Buterin Predicts China-US Conflict To Open Doors For Crypto
According To Ethereum's Co-Founder, The Ongoing "Cold War" Between China And The United States Provides Ideal Conditions For Cryptocurrencies To Bloom
---
China and the United States are in an ongoing technology "cold war" as the US is imposing further bans for Chinese technology implementation. The battle, however, is leaving the door wide open for other countries to enter the dispute.
Meanwhile, according to the co-founder of Ethereum - the second-largest cryptocurrency to date, Vitalik Buterin, the fight might end up as beneficial for the crypto industry.
"It's definitely true that a lot of the conflict, even if it's a negative-sum for humanity overall, is good for crypto," Buterin commented on a conversation with Morgan Beller of NFX.
The battle between China and the United States escalated when former U.S. President Donald Trump imposed a series of bans for Chinese tech companies, arguing that the technology behind them is used by the Chinese government as a form of a Trojan horse. Trump also tried to ban WeChat and forced the sale of video-oriented social media TikTok.
Trump also imposed a tariff on Chinese-manufactured graphic cards.
"Basically, if your strategy for handling the scary things that you're worried about in a Chinese tech company is to go after China, then you're going to be very vulnerable to any non-Chinese tech company, or anyone from any other part of the world that's trying to do exactly the same thing," Buterin added.
Buterin gave out a suggestion that in a conflict of such extent, the crypto sector may be "the winner of a great conflict - whether it's one state versus another state or states versus corporations."
At the same time as Buterin's predictions, Ethereum reached yet another milestone – surpassing $200 billion in market capitalization. Bitcoin's runner-up is now larger than companies like Novartis and AT&T.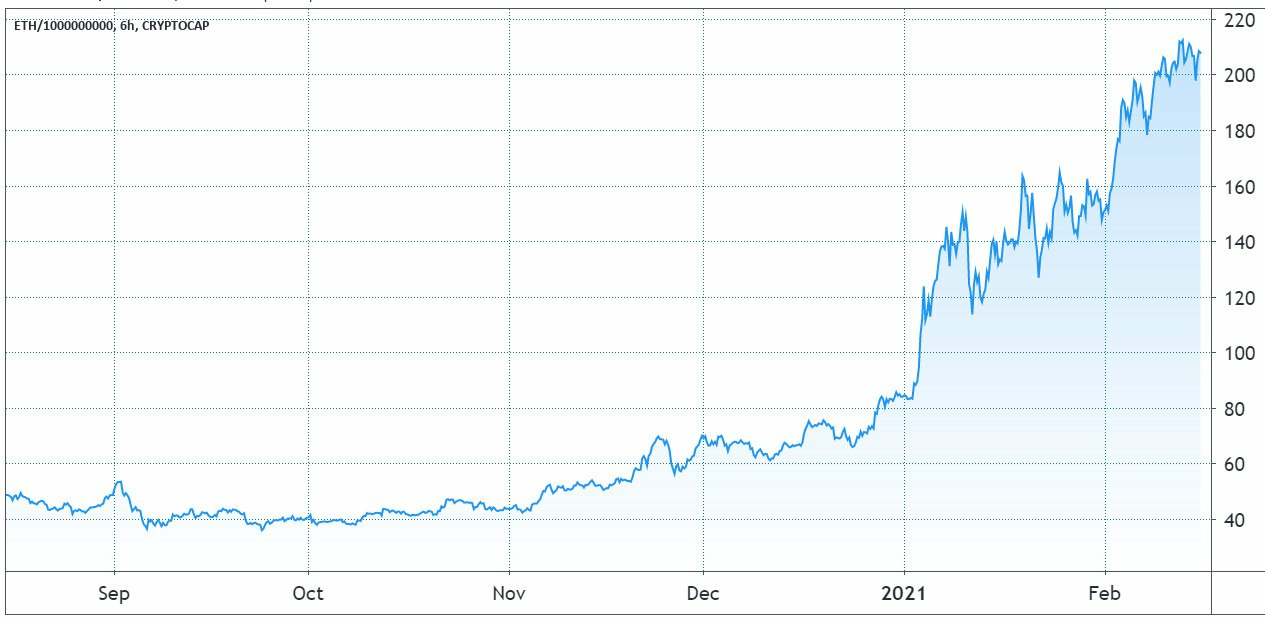 Source: TradingView
The market capitalization boom happened due to Ethereum making a 150% since the beginning of 2021. However, the price movements alone are still not enough justification for large investors to come aboard, as investors coming from traditional sector are often seeking to compare earnings, sales, and market share before investing.
Market capitalization, on the other hand, is becoming a #1 asset measurement tool, as it works for all types of assets whether it would be commodities, stocks, or crypto.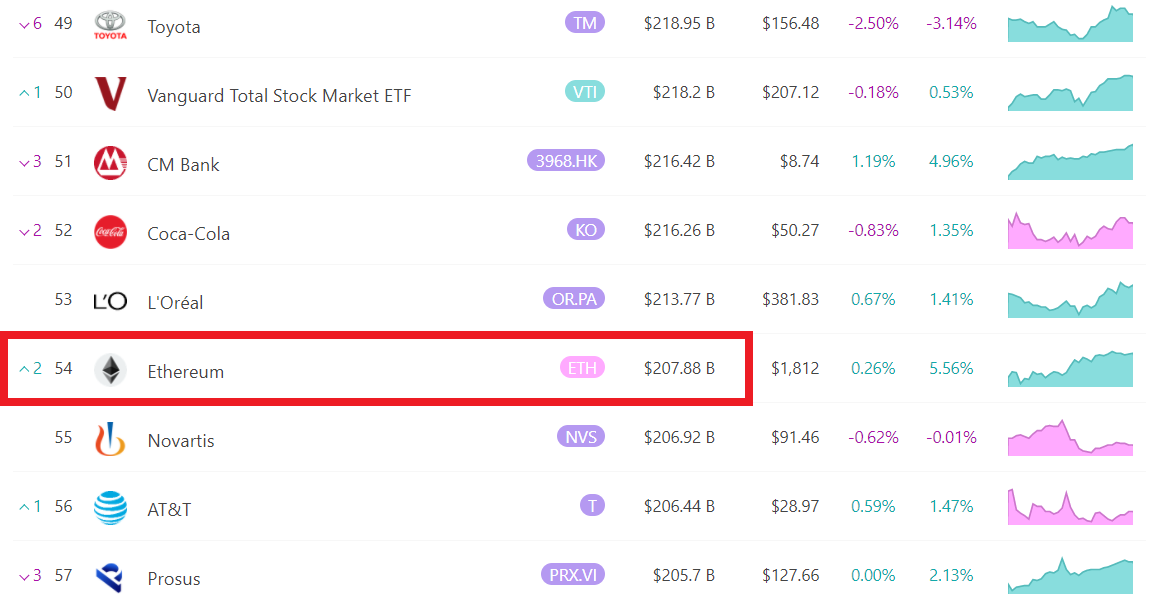 Source: 8marketcap
According to data from 8marketcap, Ethereum sits 54th in the global market cap rankings, with rivals like L'Oreal and Coca-Cola only $6 billion and $9 billion apart, respectively. The top cryptocurrency, Bitcoin, is currently eight, with a total market capitalization of $949.32 billion. Gold is the biggest asset by market capitalization, clocking in at $11.3 billion, followed by Apple with $2.236 trillion.
Ethereum
Cryptocurrency
Crypto Market
crypto market monitoring
china
Markets
Market Capitalization
USA
US
us-china trade war