29 Dec 2020 Jane Whitmoore
Why Bitcoin Could Set Fresh Highs of $30,000 Before 2020 Closes
Bitcoin Closes The Year With A Strong Bullish Race
---
The first and largest cryptocurrency, Bitcoin (BTC) has shown signs of strength over the last few days, climbing from lows of $22,852 on Christmas Eve to highs of $28,052 on December 28th.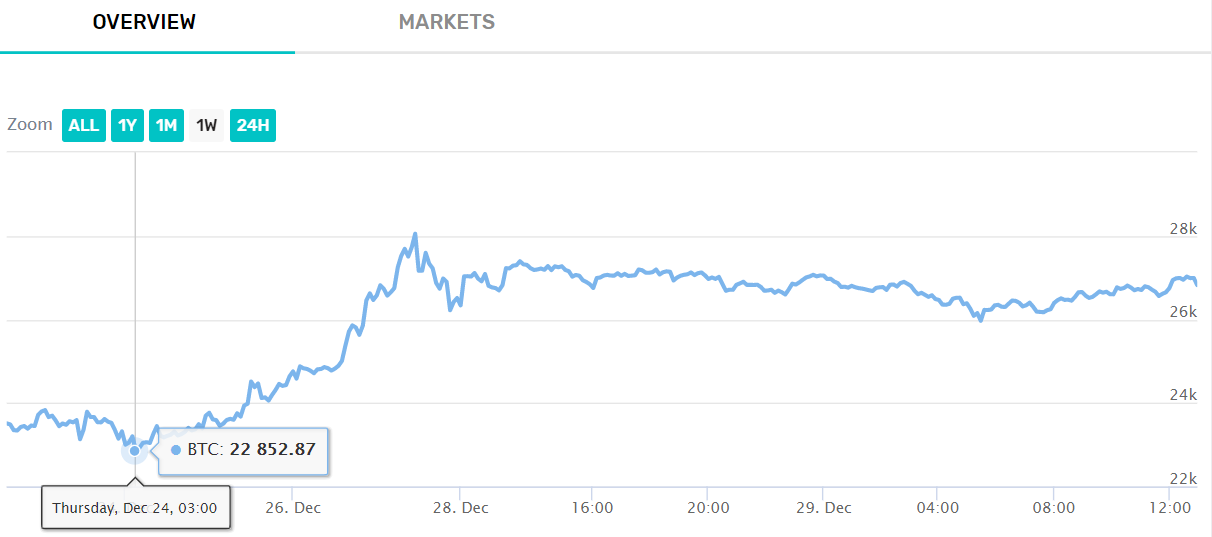 Source: Cryptobrowser.io
Although the price met selling pressure above $28,000, it is still remarkably up from where it traded four days ago and may continue to rally higher.
At the time of this post, Bitcoin is trading around $27,000 as the bulls refuse to give up ground while absorbing intense selling pressure.
Technically, Bitcoin's outlook remains optimistic as several analysts believe in a continuation of the rally with the next major aim at $30,000. Some noted that Bitcoin is forming a bull Pennant pattern on the shorter-timeframe charts during its recent consolidation journey.
Recently, analyst and traders came to the conclusion that two possible price targets exist for Bitcoin - $30,000 and $36,000. But what chances does the flagship asset has to get to these levels?
Bitcoin On The Way To $30,000
A continuation of the Bitcoin rally to $30,000 may seem technically favorable for the currency, except if the outlook is flipped. Fundamentally, Bitcoin's rally to $30,000 before 2020 ends is buoyed by several factors, which are listed below. The $30,000 target outlook is also supported by CryptoHamster, as seen in the graph.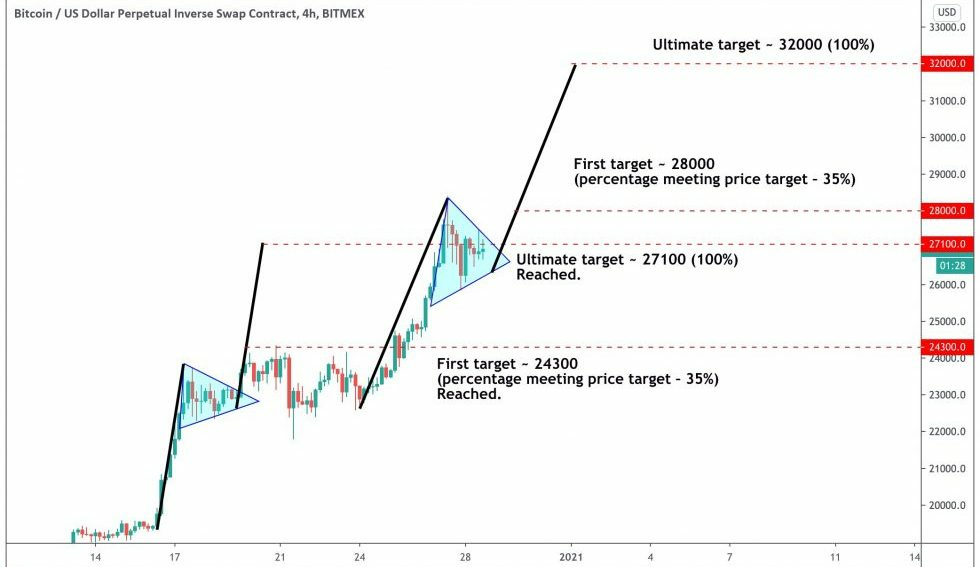 Source: CryptoHamster/TradingView
Recent Legislation Increasing US Stimulus Checks
On Monday, the U.S. Congress passed legislation increasing direct economic aid to millions of Americans. The move proposed increasing the amount of incentive checks from $600 to $2,000. On Sunday, December 28, Bitcoin followed gold and climbed higher after President Trump signed an earlier stimulus bill that Congress has been working on for months. Bitcoin has been moving opposite against the US dollar in recent months, therefore this recent move marks positivity for BTC.
Growing Institutional Demand Base for Bitcoin
In a broader sense, Bitcoin's recent rally was spearheaded by institutional demand which keeps growing. The latest addition to BTC institutional investors is Greenpro Capital, a business intelligence company situated in Hong Kong. Recently, the firm touted Bitcoin as "a reliable future store of value" while making known its bid to raise $100 million offerings worth to purchase Bitcoin.
Google Trends Indicator at a Year High
Google trends have been used as an indicator in the past to gauge market sentiment. An analyst noted that after BTC's rally was spurred by institutional investors, which is very likely to turn retail investors to spearhead BTC's next move with a $30k target objective.
A google search for the keyword "how to buy Bitcoin" reached the highest score in 12 months, indicating that the mainstream interest in the Bitcoin market is growing. It also signals a spike in retail interest. The 2017 Bitcoin rally was traced mainly to retail buyers as there were no institutional players then as it is now.
Bitcoin
Cryptocurrency
Crypto Market
btc
crypto market monitoring
Bitcoin price
trading
cryptocurrency news
digital asset
us economy
USA
cryptocurrency market