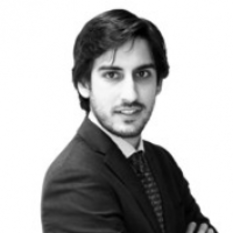 Alejandro Gómez de la Cruz
Blockchain Lawyer. CEO at Icofunding.
Alejandro is the CEO and cofounder of Icofunding. He is also a lawyer specialized in blockchain and smart contract. In the past, Alejandro founded and has been managing Grant Thornton Blockchain Lab, coordinating the development of blockchain prototypes through a multidisciplinary blockchain team with developers, economist and lawyers. He has been involved in the blockchain environment since 2011. He is also the Founder of Octopocket and has previously worked as a Lawyer at Allen & Overy and KPMG. In addition, Alejandro has advised several blockchain companies and individuals in regulatory and tax matters (such as cryptocurrencies exchanges, miners or traders). Alejandro holds a degree in Law at Comillas Pontifical University (ICADE) and a certificate in Business Law and a Master's Degree (LLM) at IE Business School. Among other things, Alejandro is/has been involved in the following projects: - Professor and Speaker of blockchain subjects at different Public and Private Universities (Such as IE Business School Universitat Pompeu Fabra, Universidad Rey Juan Carlos or IEB). - Member of the Spanish ISO Blockchain Standardization Committee (ISO/TC 307: Blockchain and electronic distributed ledger technologies) and has been involved in the blockchain and cryptocurrencies environment since 2011. - Member of the Accounting Blockchain Coalition (ABC) established by Consensys. - Alejandro launched the first legal site related to blockchain and cryptocurrencies -Law & Bitcoin-. - Organizer of the First Blockchain Legal Congress -San Simón Blockchain Forum-.