09 Nov 2020 Jane Whitmoore
5 Bitcoin Price Factors To Consider This Week
Bitcoin Prepares For A Republican-To-Democrat Transition, Which May Be Coupled By A Severe Volatility
---
Bitcoin, the cryptocurrency leader, may enter in a hectic week, following the U.S. Presidential elections, as news outlets declared Joe Biden as the 46th U.S. President. Shortly after the news, Bitcoin's price went downhill only to bounce and surpass the $15,000 resistance mark.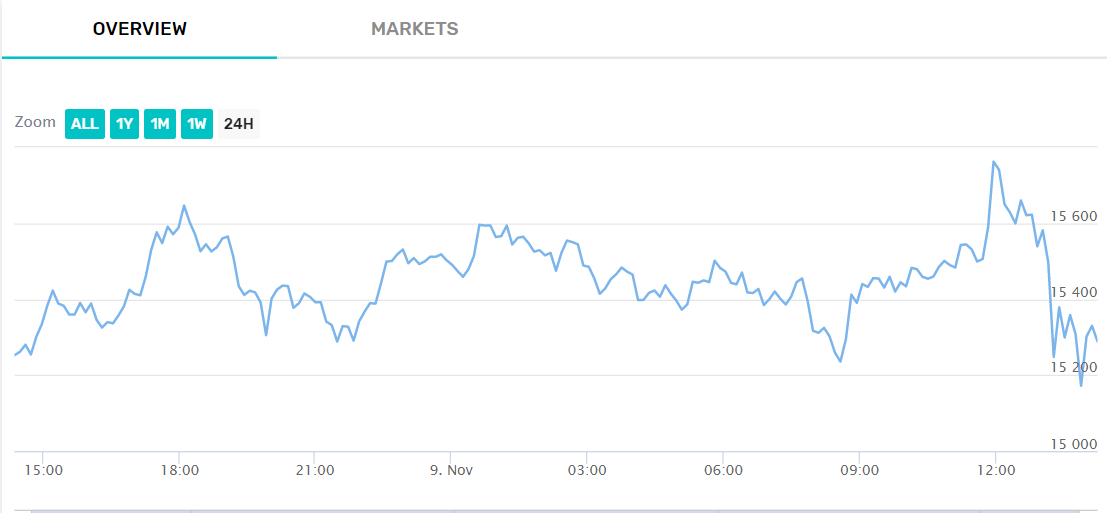 Source: Crypto Browser
Bitcoin's price surges amid presidential elections outcome news
Bitcoin's price surge is considered to be a direct follow-up to the election results. Japan already felt investor interest as major Japanese indices scored a 29-year high, causing Japanese media outlets to call the surge "the Biden bounce".
However, despite the recent volatility, crypto experts consider Bitcoin to be a safe-haven asset, much like gold, and those assets would increase in price, regardless of the Presidential election's outcome.
Michael Saylor, CEO of MicroStrategy, emphasized that "Bitcoin is the dominant crypto network - engineered to host the ideal safe haven asset & preserve monetary energy over long periods of time without power loss."
"That makes BTC the solution to every investor's store of value problem. Few understand this," Saylor added.
COVID-19-induced mayhem may help Bitcoin
European economy may suffer, as most of the countries are introducing a new set of lockdown measures – measures that face strong pushback from the population. Despite the Q3 reports of buoyant recovery, the new lockdown measures may result in economic activity slump, which is good news for Bitcoin.
After the March COVID-19 market crash, Bitcoin recovered from $3,600 to over $10,000 in just two months. The price bounce, combined with the controversial responses to the COVID-19 crisis made market analysts consider 2021 as a potentially strong year for the top cryptocurrency. Gemini exchange co-founder Tyler Winklevoss joined Real Vision CEO Raoul Pal's opinion, that Bitcoin would reach a new all-time high by the end of Q1 2020.
Bitcoin enters a danger zone based on the Fear and Greed Index
Despite the bullish sentiment across investors, Bitcoin may face a vast wave of sell-outs, as the Fear and Greed Index reached a score of 90. The Fear and Greed index is a cumulative measure of market sentiment. The current levels are close to Bitcoin's all-time high score of 95, recorded on June 26, 2019. The higher the number, the more likely it is for Bitcoin to suffer from a heavy correction, due to selling Bitcoin.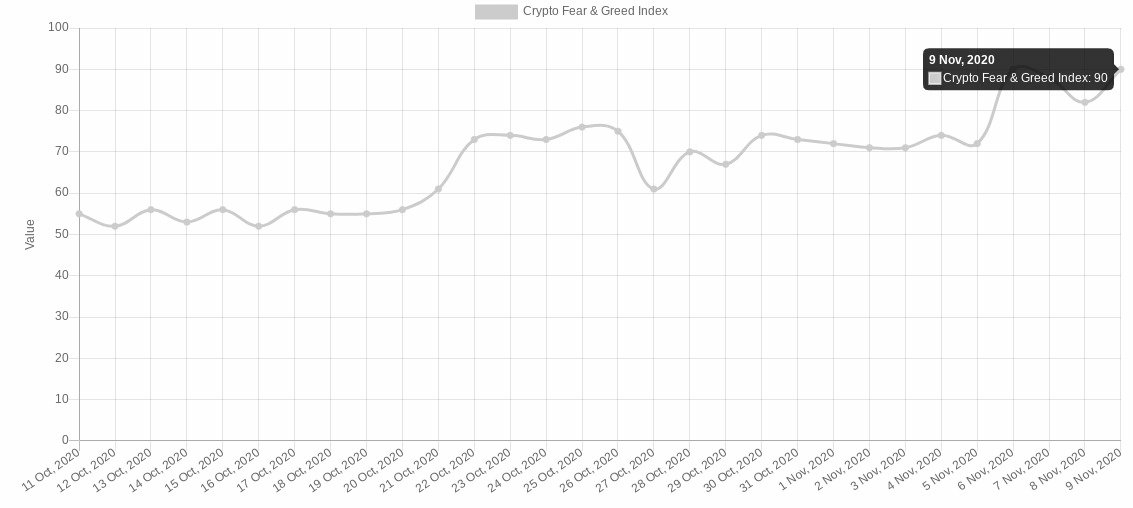 Source: Alternative.Me
Record in long positions from institutional investors
Most institutional investors use derivatives such as Bitcoin futures to participate in Bitcoin's price movements. However, despite an increase in volatility from last week, Bitcoin futures managed to avoid a "gap" forming when Bitcoin futures markets open. The "gap" is created when there is a substantial price difference between a closing and an opening price of two different futures sessions.
CME's open interest, on the other hand, recorded an all-time high, reaching $934 million on Friday. However, the latest commitments of traders (COT) report shows a huge wave of short positions in Bitcoin hedge funds, which may lead to price turbulence.
Bitcoin scarcity may boost prices up
The recent price pump for Bitcoin resulted in a shortage of Bitcoin to meet the rising demand for it. However, the shortage may be induced by PayPal, which already established a waiting list for Bitcoin buyers when the company begins to offer crypto services. The crypto support is scheduled for early 2021.
Bitcoin
Cryptocurrency
exchange
price
bitcoin news
cryptocurrency news
market
digital asset
bitcoin news today
Prices
Markets
Coronavirus