23 Oct 2020 Anthony Lehrman
Bitcoin Futures Open Interest On CME Surge, Surpassing Binance
The Open Interest Increase Is Mostly Due To Institutional Investors Joining In Throughout The Week
---
Crypto data analytics provider Skew announced that open Interest on the Chicago Mercantile Exchange (CME) managed to surpass one of the leading crypto exchanges, Binance, for the second spot, with OKEx still in the lead.
According to Skew, OKEx leads the open interest race with almost a billion dollars locked in Bitcoin futures contracts. CME ranked second with $780 million, while Binance trails third with $720 million. However, Binance still keeps the lead in 24-hour futures volumes with $4,7 billion, while Huobi and OKEx are occupying the next two spots with $3.5 and $2.9 billion, respectively.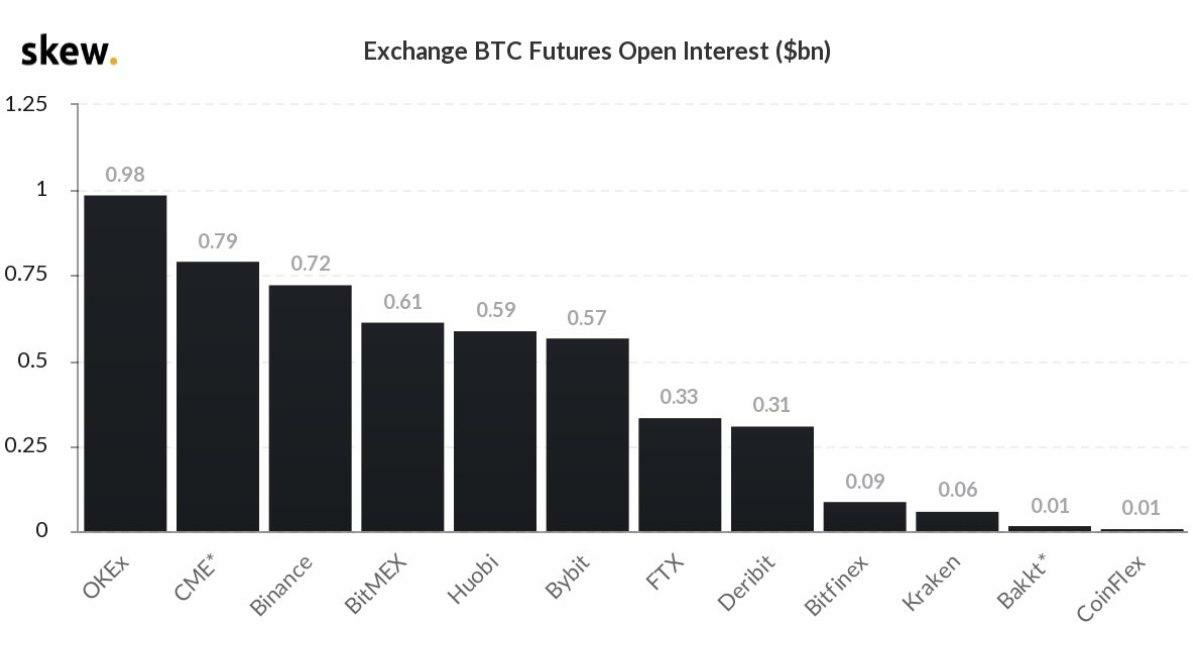 Source: Skew
Open interest measures the total number of open futures and options contracts, not yet settled for a given asset. Crypto exchanges like BitMEX, for example, which was once a leader in the crypto derivatives sub-sector, made investors flee from the platform due to legal actions taken against the exchange's executives.
Skew also noted that total aggregated open interest across major exchanges marked a monthly high of little over $5 billion.
The massive CME open interest surge is considered by crypto experts to be a sign of massive institutional interest in Bitcoin. Crypto veteran Nick Cote commented that the crypto sector is experiencing an "institutional takeover."
"Remember when it was crypto vs institutions? Those sure were the days. The institutional takeover of crypto going as planned", Cote wrote on Twitter.
Cote's opinion was backed by crypto trader Peter Brandt, who connected Bitcoin's price rally to the ever-increasing interest from institutions.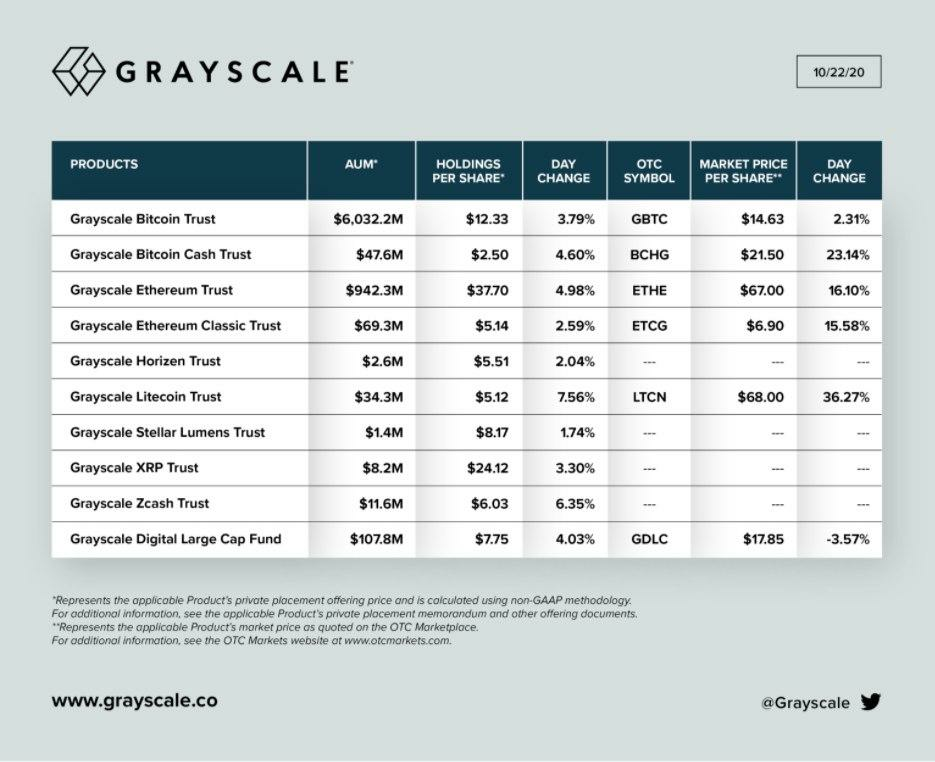 Source: Grayscale
Meanwhile, Grayscale, which is one of the most prominent institutional crypto-trust provider, announced that its total assets under management (AUM) value reached $7,3 billion. Interestingly, over $6 billion of the entire portfolio is Bitcoin, with the figure larger than the total AUM from just two weeks back. Also, Grayscale noted that Q3 of 2020 is one of the asset manager's best quarter, with over $720 million of Bitcoin inflow.
Bitcoin
Huobi
Cryptocurrency
Binance
Crypto Market
Exchanges News
OKEx
btc
crypto market monitoring
bitcoin news
data