08 Feb 2023 Simon Briggs
AI-Focused Cryptos Are Outperforming Bitcoin, Here Is Why
It Turns Out That Some AI-Related Cryptos Added 20 Times Their Values
---
Narratives are known to drive cryptocurrency markets, and artificial intelligence (AI) is the newest addition to the hype train.
On Crypto Twitter, well-known traders are hailing AI-based tokens as the trend that may be in charge of the upcoming bull market cycle. So far, AI-based cryptos live up to the hype, as CryptoSlate statistics show that these coins have increased by an average of 80% within this last week.
Tokens like Artificial Liquid Intelligence (ALI), Fetch AI (FET), and Singularity Net (AGIX), which have increased by as much as 220%, are among the top gainers over the past seven days.
Over the course of two weeks, the value of the tokens of AI-based startups like Image Generation AI (IMGNAI) has increased four-fold. The protocol allows users to create artwork using text disturbances on social media sites like Discord.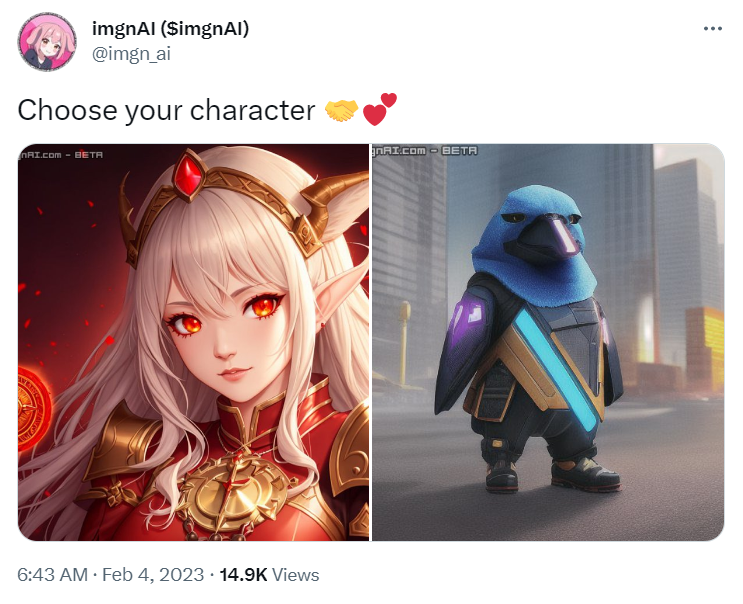 Source: Twitter
Meanwhile, Big Data Protocol (BDP) and Measurable Data (MDT), two once well-known tokens from 2018 and 2021, appear to have jumped on the buzz with tweets that seem to remind investors of how they use AI technology within their blockchain applications.
According to CoinGecko statistics, BDP has increased by 2,100% over the last week and MDT has increased by 150%. Both systems commoditize data using their respective tokens, enabling suppliers and consumers to trade data both privately and securely.
Despite the fundamental triggers, top cryptocurrencies like Bitcoin (BTC) and Ethereum (ETH) have lagged behind, increasing their value by only 30% in the last month. However, the market capitalization of the top tier is over $300 billion, which indicates that investment and public attention must be enormous in order for Bitcoin, for example, to record massive gains.
The reasons behind the surge
Currently, AI emulates human intelligence in robots that have been designed to think and act like people. Although chatbots, self-driving vehicles, improving search in online markets, and image-generation software have been the most widely used uses of this technology so far, potential use cases include fully autonomous cities, cyborg humans, and interplanetary travel.
After the public releases of the image-creation software Dall E and the chatbot ChatGPT in mid-2022, the current spike in AI tokens followed. Both software products were introduced by OpenAI, which recently secured $10 billion from Microsoft to a total valuation of $29 billion.
Such institutional interest has contributed to the development of use cases for cryptocurrency traders to back AI-focused tokens as the next big growth area.
"The growth opportunity around the AI and Web3 space combines early interest, potential, and hype. While it's true that there may be some hype surrounding AI intervention in the crypto space, we are seeing the emergence of innovative and compelling use cases." Ravindra Kumar, founder of crypto wallet Frontier noted.
Others perceive AI as a speculative area, as Aditya Khanduri, head of marketing at Biconomy, considers the current AI frenzy lacking momentum due to many unanswered challenges ahead.
"Some of the tokens with more buzz and followings have pumped and it's less about the actual tech behind it," Khanduri added.
Bitcoin
Ethereum
Blockchain
Crypto Market
btc
eth
crypto market monitoring
Ethereum news
tokens
bitcoin news
cryptocurrency news
ai
crypto news
Crypto Price