16 Jan 2023 Josphat Kariuki
Bitcoin Out Of The "Fear" Territory For The First Time In Nine Months
The "Fear And Greed" Index Tracks Market Sentiment For The Biggest Crypto To Date
---
2023 is so far turning out to be positive for Bitcoin, as the number one crypto managed to stay afloat at $20,000 for the first time since November 11, 2022. The three-month price hiatus pushed the biggest crypto to date into a state of "fear", according to the "Fear and Greed" index by Alternative.
Interestingly, after reaching a value of 25 last week, which is considered as an "extreme fear" value, now Bitcoin managed to steer out of the fear zone and settle in the neutral zone.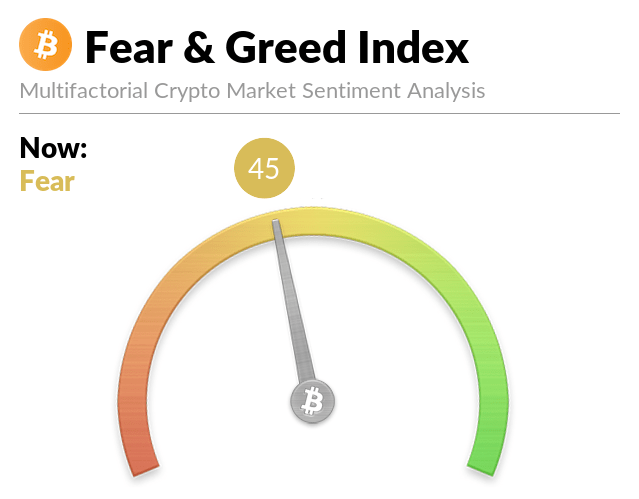 Source: Alternative
Bitcoin and the fear index
The world's largest crypto to date had its fair share of dancing within the index, as the latest pump is actually a 24% gain for Bitcoin (BTC) over the past seven days. However, in June 2022 Bitcoin reached a multi-year low of just nine points and registered its longest-ever streak of extreme fear.
Now, as the crypto society is getting some breaths of fresh air, the market sentiment figures also change. The fear and greed index uses "motions and sentiments from different sources." Such sources are Google trends data, social media hits, market momentum, volatility, and trading volumes, with the data being compiled into a specific number to represent all of the data.
The index has five categories, reaching from extreme fear to extreme greed, but the Bitcoin world saw extreme greed for the last time back in October 2021.
BTC landscape
A further delve into the Bitcoin technical data reveals that the price push has created a large movement in technical indicators. One of them – the Relative Strength Index, or RSI – has reached its highest level for four years on the daily timeframes.
Experts, however, are considering such a shift in RSI to be a sign of an incoming correction, as all of the prior RSI boosts returned massive price drops.
On the other hand, some experts are looking at the data with an optimistic stance, as a solid weekly close has led some to believe the momentum will continue.
"Any idiot can make wild guesses about markets, so here is my dunce-hat prediction. In reality, nobody has a clue what any given market will do. $BTC." Professional trader and chart guru, Peter Brandt, added, as the current situation is harder than ever to predict.
Bitcoin
Cryptocurrency
btc
Bitcoin price
bitcoin news
cryptocurrency news
crypto news
technical
analysis
data
Crypto Price