20 Jul 2020
Argentinian Telecom Allegedly Hacked, Cybercriminals Demanded $7,5 Million Worth Of Monero
Telecom SA, Argentina's Largest Telecommunications Company, May Be A Victim Of A Vast Ransomware Cyber Attack
---
Despite the rather calm weekend for the world of cryptocurrencies, privacy-oriented altcoin Monero (XMR) was at the forefront of an alleged ransomware cyberattack on Argentina's largest telecom. Hackers reportedly demanded Telecom SA to transfer an estimated $7,5 million worth of XMR coins. However, as of press time, the telecom has not made any announcements regarding the ransomware attack.
The rumors about the attack were first made public by Argentinian news outlet El Periodista on July 19, 2020. In its announcement, El Periodista stated that numerous of Telecom SA employees had restricted access to the company's VPN tunnel. The restricted VPN usage disabled the employees to access the Personal, Arnet, Telecom and Fibertel databases.
The connection between the troubles of Telecom SA and the Monero ransomware was made by economist and crypto commentator Alex Kruger. Kruger posted a message on Twitter, stating that "Argentina's major telephone company, Telecom, just got hacked. Hackers requesting a ransom of $7.5 million in Monero XMR."
Kruger even attached a screenshot of what appears to be the attackers' demands. They wanted a 109,000 XMR coins ransomware fee to decrypt the infected devices, and the deadline for receiving the ransom was set to July 21.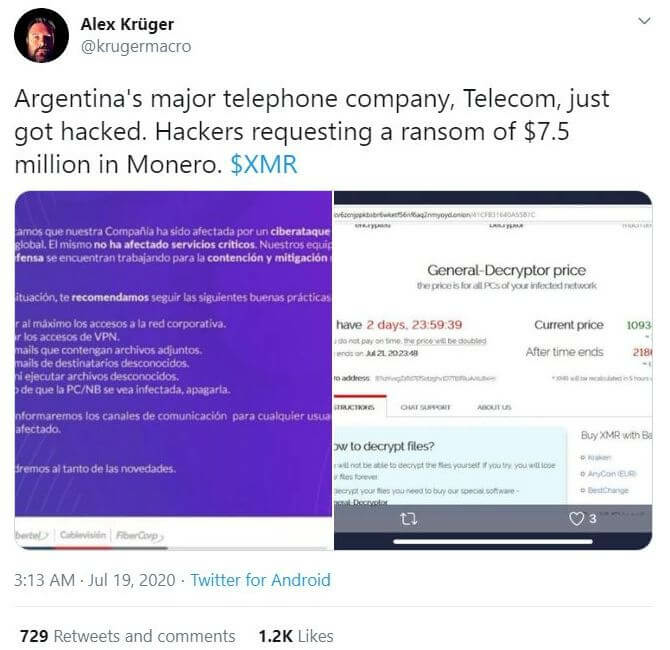 Source: Twitter
Kruger, however, later explained that his observations are partly due to rumors on WhatsApp and El Periodista's news. Kruger continued his explanation, adding that he: "Should have added "seemingly" to the tweet. All circulating via WhatsApp. It would be a corporate hack with no impact on users. Thus, odds of the company talking about it publicly are dim. I will see if something else comes up."
Meanwhile, Telecom SA's VPN trouble began on Wednesday, July 15, according to El Periodista. Anonymous users reported a "very bad" connection to the internal Siebel system. Despite Telecom SA's silence regarding the rumored ransomware cyber attack, the telecom's tech support team sent strict instructions to their colleagues not to open any files or emails. The tech support even urged some employees "to disconnect" in order to protect the network from further damage.
The Twitter society quickly followed up, splitting into two opposite sectors – ones are cheering up the privacy-oriented coin as a go-to coin-of-choice for crypto hacks, while others promoted banning all privacy-related crypto projects, as they may be used for such attacks. Interestingly, a vast majority of crypto users are making a discussion about hackers using Monero instead of Bitcoin.
"Crypto scammers want Bitcoin, hackers demand Monero" were some of the comments, moments after Kruger announced the alleged cyber attack.
Monero
Cryptocurrency
Scam News
Crypto Market
crypto
crypto market monitoring
cryptocurrency news
market
scam
scammer
Hacks
Cybersecurity
Cybercrime
xmr