13 Oct 2021 Josphat Kariuki
Binance Launches A $1 Billion BSC Ecosystem Development Fund
Meanwhile, Binance Coin Whales Accumulated Over 412,000 BNB In The Past Two Weeks
---
One of the leading crypto exchanges to date, Binance, announced what may be the largest ever announced accelerator program in the crypto space, which aims to expand the capabilities of the Binance Smart Chain ecosystem, as well as boosting fintech adoption.
The funding program would be split into four categories - Talent Development, Liquidity Incentive Program, Builder Program, and Investment & Incubator Program. Binance is setting $100 million funds for each of the first two categories, while the latter two would receive $300 million and $500 million, respectively.
The Talent Development category strives to promote various development-oriented areas such as mentoring developer communities, educating new crypto investors, providing academic scholarships to universities, running boot camps, and supporting R&D on cutting-edge blockchain innovations around cryptography. Also, Binance would help the research and development of high-performance consensus protocols, cross-chain & multi-chain infrastructure, RegTech & Deep Analytics, and more.
The Liquidity Incentive is focused on providing liquidity rewards to the specific protocols based on Innovation, TVL, active users, or trading volumes.
The Builder Program focuses on bug bounties, hackathons, developer conferences, and supporting existing mainstream development programs.
The Investment program, according to the announcement, has its main focus on multi-chain expansion, including various metaverses, gaming, virtual reality, and artificial intelligence.
Furthermore, the exchange noted that they expect an increase in the interoperability between Web 3.0 infrastructures and traditional web applications.
"With collaborations from industry-leading organizations, the investment fund will target scaling blockchain technology for real-life use cases and will bridge the gap between crypto-blockchain and the current technical-financial sectors." the announcement reads.
This is not Binance's first funding program. The first fund of this kind, the $100 million BSC Accelerator Fund, was launched with the BSC mainnet over a year ago. The fund, according to Binance, financed over 40 projects with up to $1 million. Furthermore, over 60 projects have received Binance's help under the Most Valuable Builder Program.
Meanwhile, the news about the fund seems to have awakened the crypto whales, as Binance's native BNB coin skyrocketed 15 percent after a week of consolidation around $400. The third-largest crypto based on market cap spiked from $392.57 all the way up to a weekly high of $467.25 before retracting to a current price level of $458.66 per BNB.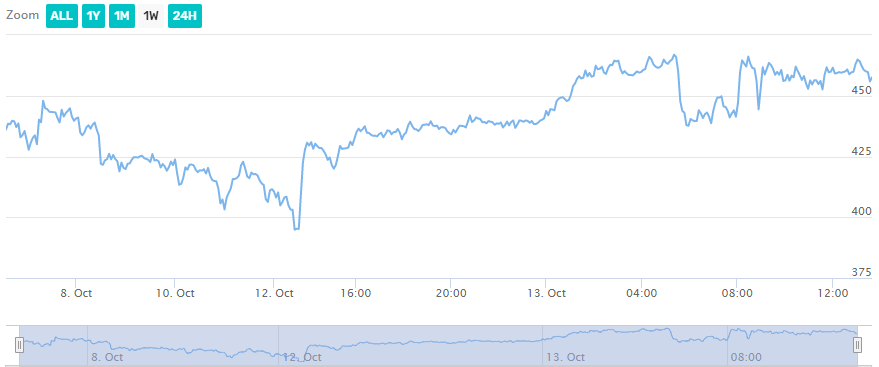 Source: CryptoBrowser
As per the whale accumulation, data from Santiment, a behavior analysis platform, suggest that whales have been active at accumulating BNB over the past couple of weeks, which coincides with a technical breakout.
"Binance Coin (BNB) is on a temporary breakout and the accumulation from its millionaire holders appears to be paying dividends. Holders with 10k to 100k BNB have accumulated 412k $BNB in the past two weeks, adding 8.7% more coins to their total holdings." Santiment tweeted.
Cryptocurrency exchange
Binance
Exchanges News
Binance Exchange
exchange
bnb
cryptocurrency news
crypto news
Crypto Price