16 Feb 2023 Marsha Tusk
Bitcoin Adds 10% To Its Market Cap, Here Is Why
It Turns Out That The Recent Pump Secured The Sector's Market Cap Comfortably Above $1 Trillion
---
Bitcoin's sideways price action was canceled on Thursday after the biggest crypto to date surged over 10 percent to a 90-day high of $24,769.24 per BTC before cooling down to a current price point of $24,420.38 per coin.
Ethereum followed suit and also spiked 10%, which drove the rest of the crypto sector up, securing the crypto sector a market capitalization well above $1 trillion. The increase, according to data from Santiment, seems to coincide with BTC holders' accumulation in the 100 to 1000 BTC range, indicating increased key stakeholder confidence.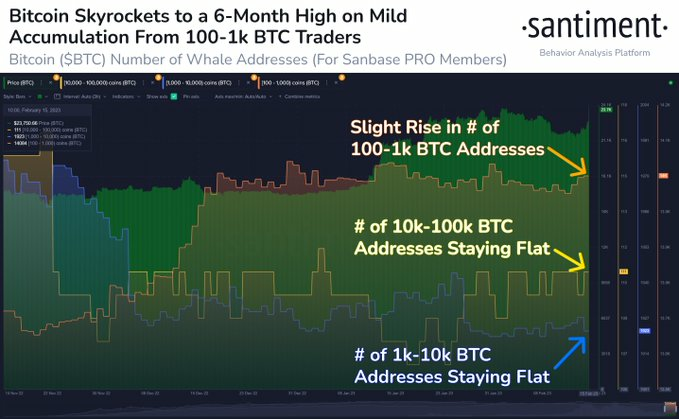 Source: Santiment
Furthermore, experts are considering the massive price increase to be the end of the bearish season for the crypto sector, expressing confidence after Bitcoin formed a new high on the charts.
Indeed, the short-term price pump seems to be fueled by BTC recording a double-bottom reversal pattern formed on the 4-hour price chart.
What about Binance?
However, other subjects may be the catalyst for the recent crypto market share expansion. This spike has likely been driven by news that Binance is preparing to pay penalties to settle investigations by US regulators. Patrick Hillman, chief strategy officer of Binance, hinted at such probability in an Interview on February 15.
Hillman noted that the top cryptocurrency exchange, which was initially started by software engineers, was missing out on the regulations governing offenses including money laundering and violating trade embargoes. Binance is likely preparing itself to make amends for the mistakes and that is cooperating with regulators to settle the case.
The firm and the larger crypto sector would benefit greatly from ending the investigation on Binance. As the biggest cryptocurrency exchange, it frequently has a negative influence on the market due to fear, confusion, and doubt.
Meanwhile, Binance's stablecoin – BinanceUSD (BUSD), and its future are still in no man's land after regulators prohibited the stablecoin's issuer Paxos to mint new coins. As part of a wider crackdown on the troubled digital assets market, New York's top financial regulator has ordered Paxos to stop minting new BUSD
Paxos announced that it will stop minting the token on February 21 with the tokens that are currently in use being backed 1:1 by US dollar reserves, according to the company.
Customers will be able to redeem their BUSD through February 2024, with the option to do so in US dollars or by converting their tokens into Pax Dollars.
Binance's CEO Changpeng "CZ" Zhao wrote a series of tweets describing the situation, confirming that Binance would seek other stablecoin options.
The stress around BUSD saw massive amounts of value being transferred to other cryptos, which can be also a part of the Bitcoin boom equation.
Bitcoin
Ethereum
Cryptocurrency exchange
Binance
Crypto Market
btc
eth
crypto market monitoring
Ethereum news
Bitcoin price
exchange
bitcoin news
cryptocurrency news
crypto news
Crypto Price
Ethereum Price
Market Capitalization
Regulations