21 Oct 2020 Samantha McLauren
Bitcoin Breaks Above $12,000, Ethereum Trades Sideways
Crypto Analysts Are Confident That Bitcoin Will Experience Another Bullish Wave
---
Bitcoin, the crypto industry's top-performing asset made another move above $12,000 levels, in contrast to the rest of the crypto market, which remains relatively calm. Bitcoin's price surged by 3,66% in the past 24 hours, reaching $12,305.08, which is the current monthly high. Market capitalization also surged - from $218 billion to $226 billion as of press time. Altcoins, however, mark little to no price movement whatsoever.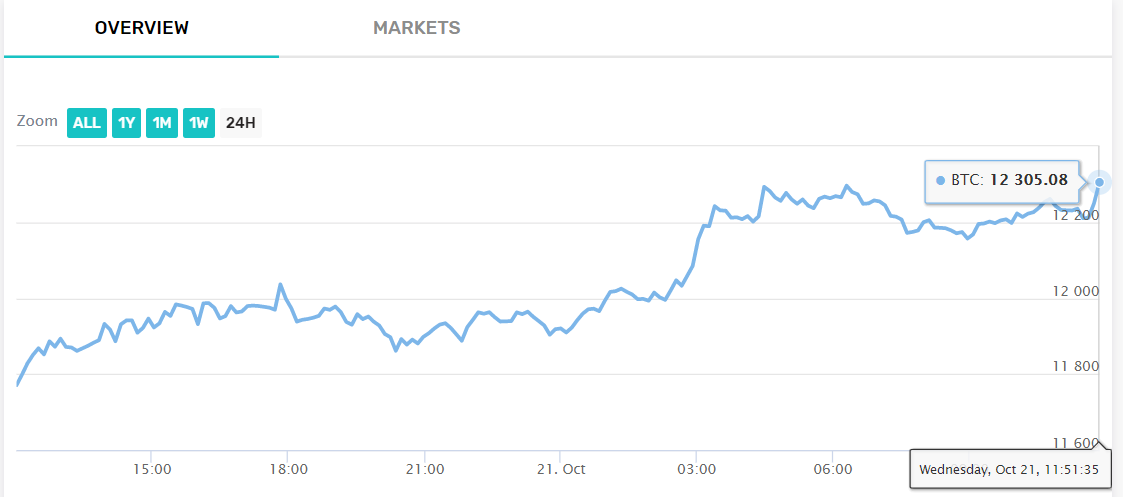 Source: CryptoBrowser.io
Bitcoin trading experts emphasized that looking at the charts, Bitcoin managed to close above $12,000 for the third time this year. The crypto community quickly tapped into the break above $12,000, as crypto traders point Bitcoin's price detachment from the traditional stock market as a key bullish sentiment. For example, experienced crypto trader Cheds stated that the detachment could be a historical milestone. Cheds also noted that since bullish sentiment for Bitcoin is strong, "more and more new investors are entering the market to not miss another possible price increase".
Crypto analyst and Twitter user "il Capo of Crypto" further noted that the current monetary policies of central banks are in support of the current trend "as billions of new fiat money are pumped into the market". The analyst believes the altcoin market would soon follow Bitcoin's price movement.
"I have no doubt that $ETH will perform better than $BTC in the next bull cycle", the analyst tweeted.
Meanwhile, the rise in Bitcoin's price was accompanied by Binance and Coinbase marking records in trading volumes. Furthermore, Chicago Mercantile Exchange (CME) traders continued their bullish stance, as more and more institutional investors are shifting focus on the leading cryptocurrency. The increased interest in institutional investors led to an all-time high in institutional long positions as well.
Looking at the technical levels, Bitcoin's next resistance target is $13,000, whilst forming solid support zones in the $12,500 region. Traders consider a break above $13,000 to result in an all-time high for Bitcoin.
A break above $13,000 may occur sooner than expected, as U.S. President Donald Trump is ready with yet another stimulus package, due to the ongoing COVID-19-related economy crisis.
"Nancy Pelosi couldn't care less about the American People or the great American Worker. She should approve needed STIMULUS now. Most other Dems agree. Republicans are ready to go, I am ready to sign!!!," Donald Trump tweeted.
However, major index Dow Jones (DOW) closed 100 points higher than expected as Speaker of the United States House of Representatives, Nancy Pelosi, showed positive signs about a stimulus agreement with Donald Trump.
Bitcoin is also seeing boosts in transaction volumes, as the average value of Bitcoin transactions increased five-fold since July 2020 to reach as high as $151,000 per transfer, as opposed to $25,000 per transaction in July.
Bitcoin
Ethereum
Coinbase
Altcoin News
Cryptocurrency
Binance
crypto
Bitcoin price
cryptocurrencies
altcoins
cryptocurrency news
market
USA
Volatility
Donald Trump
Dow Jones
cryptocurrency market