20 Oct 2020 Josphat Kariuki
Bitcoin Levels Of Volatility Above $10,000 Reach An All-Time Low
Decreased Volatility May Result In An Immense Price Turbulence As We Head Into November
---
Bitcoin's price movement has been rather calm over the past months, with volatility levels decreasing to a historical low – this is what data from the online analytics company Skew shows. However, the analytics company warns that the outlook for November is increasing volatility taking place as Bitcoin enters a new phase of more significant value appreciation jumps and surges.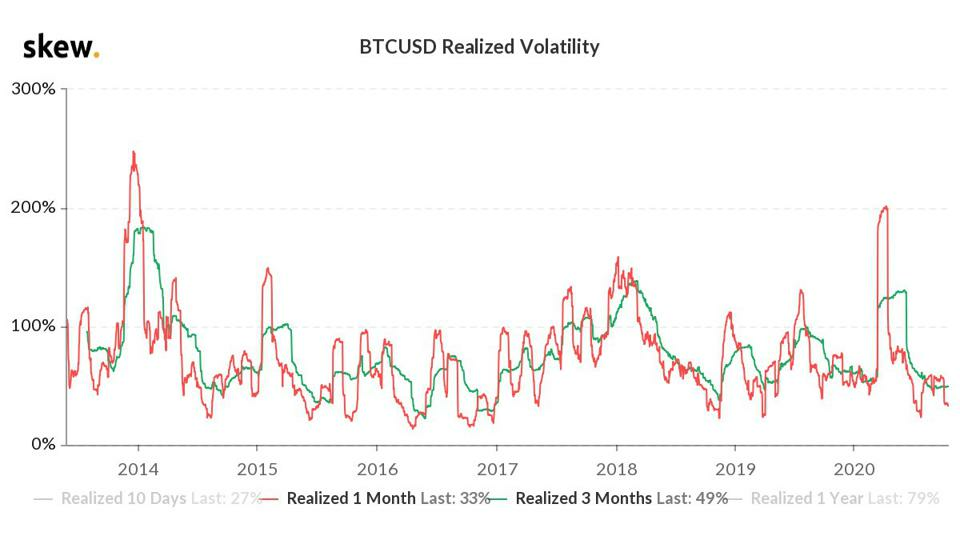 Source: Skew
Examining the historical data on Bitcoin volatility, the spikes above $10,000 usually led to periods of large rallies or a bearish sentiment. However, the past couple of months saw Bitcoin's price fluctuating between $10,500 and $12,000, which indicates a strong support at $10,000.
The volatility decrease makes large-scale investors and asset managers may consider that Bitcoin's price could take a turn in the green, rather than a plunge downwards. Crypto analysts also consider the detachment of Bitcoin's price from the traditional stock market to be a catalyst for the world's biggest cryptocurrency. Since the COVID-19-related market crash in March, both Bitcoin and the stock markets moved in parallel, but in the past week, the crypto leader price movements were independent.
"Bitcoin rallies to almost $12k while stocks stumble as the cryptocurrency is emerging as a relative oasis of calm and outperformance. Crypto fans are closely watching the $12,000 level as a major hurdle to cross before it can embark on a bigger rally", market analyst Holger Zschaepitz stated.
Long-term Bitcoin investors, like the Winklevoss twins, are also optimistic about Bitcoin's upwards price action in the future. The co-founder and CEO of Gemini, Tyler Winklevoss, highlighted that Bitcoin is in a consolidation period "within striking distance of $12,000". Consolidation trading below a key resistance value is typically considered as a medium-term bullish stance.
However, Bitcoin's upwards rally may be stopped by "old hands sell-off" – when investors are cashing out large profits.
Crypto enthusiast and analyst Willy Woo noted that "old hands" tend to sell Bitcoin at major resistance levels, which may result in price slippage and volatility.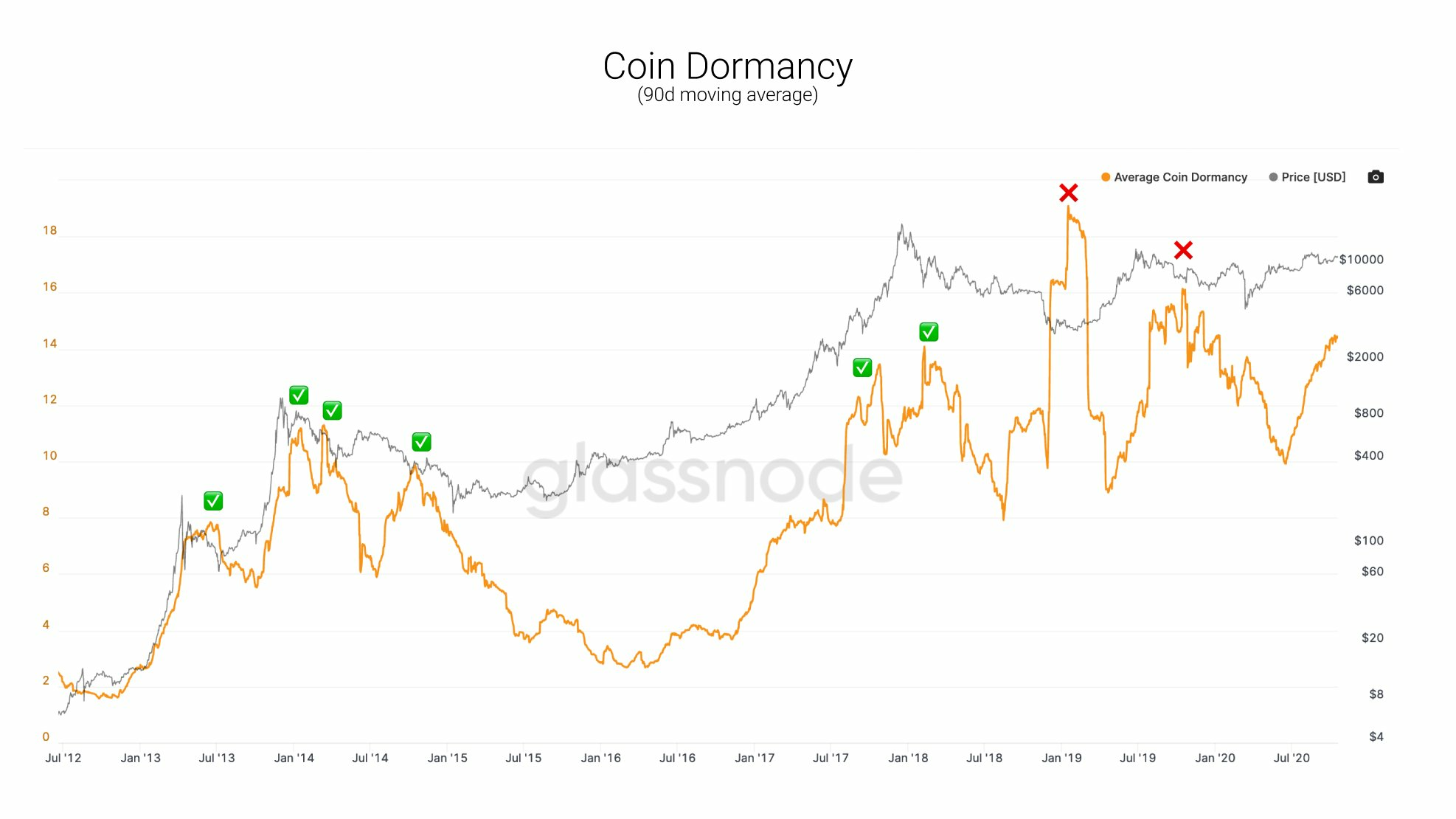 Source: Glassnode
"Specifically, dormancy is the weighting of 'old hands' vs 'new hands' involved in the coins that are transacted per day. My interpretation of the chart is that old hands are not always the smartest participants anymore. Smarter money has arrived", explained Woo.
Meanwhile, Bitcoin still sees major appetite from tech giants and institutional investors. Just in the past two months, Bitcoin saw investments of over $585 million. Square announced a $50 million investment, while MicroStrateg and Stone Ridge invested $425 million, and $110 million, respectively, in the crypto industry leader. In addition, Grayscale Bitcoin Trust reported the firm`s largest quarterly inflow to date with $719.3 million in Bitcoin raised for the third quarter of 2020.
Bitcoin
Cryptocurrency
Crypto Market
btc
Bitcoin price
cryptocurrencies
price
cryptocurrency news
market
Prices
Coronavirus
cryptocurrency market