24 Apr 2020 Josphat Kariuki
Bitcoin Breaks U.S. Stocks Correlation Amid Failed COVID-19 Medicines
Bitcoin Skyrocketed Past $7,500, While The Stock Market Took Another Substantial Hit
---
Bitcoin and the world of stocks had a pronounced price correlation during the whole month of March. Some of the crypto experts even claimed Bitcoin to have "failed to serve as a safe haven asset like gold." Bitcoin's behavior, like a risk-on asset, followed the price swings of major US indices precisely. The latest pump came shortly after the Federal Reserve announcing $2 trillion in stimulus packages.
However, the trend finally has been broken, as Bitcoin passed the critical $7,500 resistance level on trading at $7,525.63 as of press time.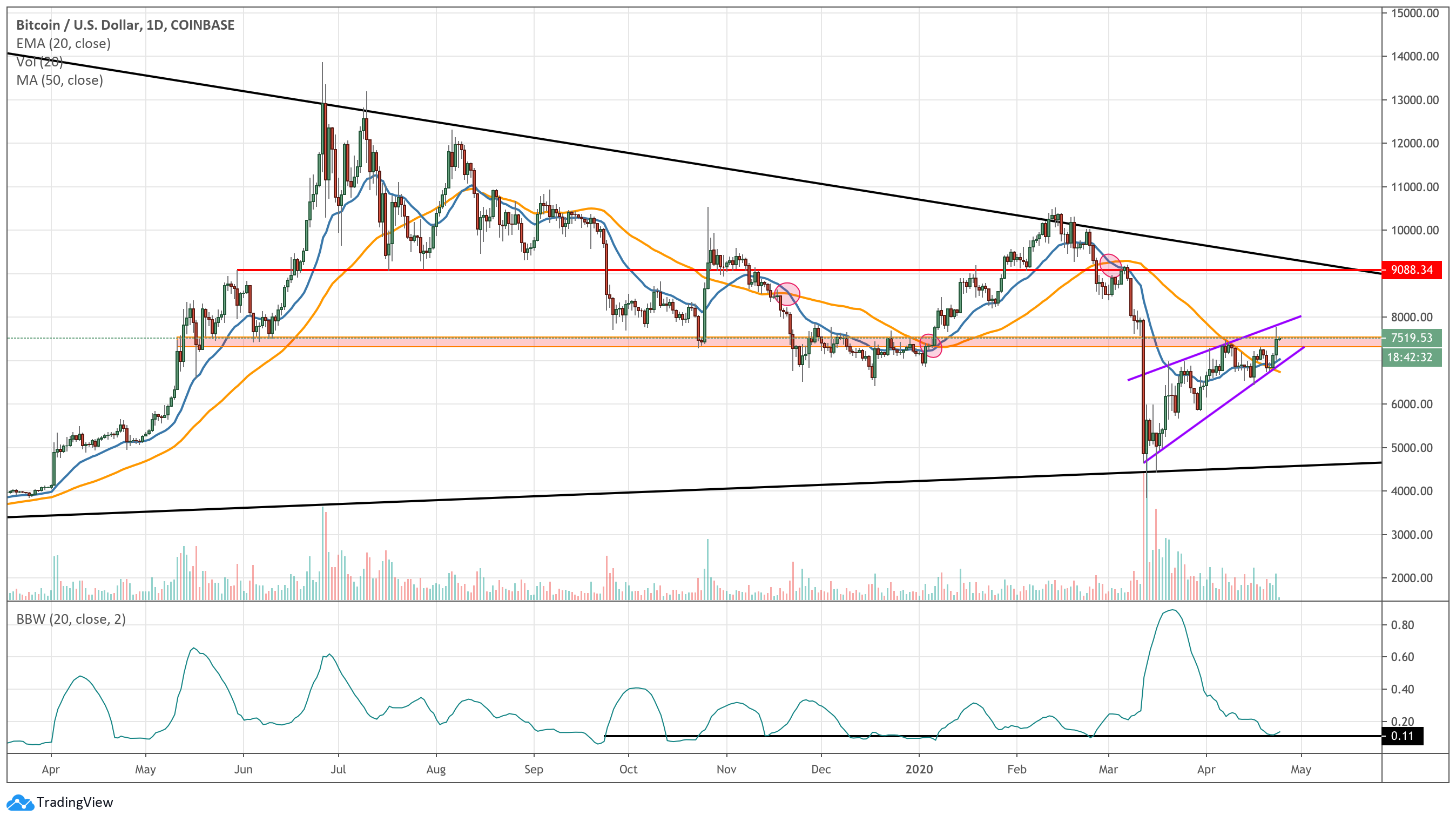 Source: TradingView; Coinbase
Meanwhile, the stock market suffered from yet another downward spiral. DOW managed to stay at a mere 0.2 percent upwards momentum, while Nasdaq Composite and S&P 500 fell with one percent.
The primary reason for the correction in U.S. indices is Financial Times (FT) reporting Gilead Sciences failed in the tests of their antiviral Remdesivir COVID-19 drug. The drug failed clinical trials. The information, according to the FT, came from a leaked Gilead Report to the World Health Organization.
Investors hoped that а successful vaccine trial would allow the global economy to bounce back to life and form a v-shaped pattern. However, experts consider the stimulus relief packages by the U.S. government are only artificially pumping the numbers. Also, the results from the stimulus pump may pop every moment, while the healthcare crisis intensifies.
However, Bitcoin's upwards price movement, acting against the stock market, regained some of the trust BTC being a security asset. Global trader Joel Kruger published an animation, showing BTC's definite price increase, which correlates with traditional haven assets such as Gold. However, Gold didn't perform as well as BTC.
Another possible reason behind Bitcoin's peak is researcher Mike Glone's report on Bloomberg. Glone emphasized on Bitcoin and Gold being into a strong bullish run. He even claimed that "2020 would confirm Bitcoin transforming from a risk asset to a safe haven asset."
Also, the correlation breakage may be due to the Bitcoin world preparing to undergo its third halving procedure. The mining reward cut is scheduled for block 690,000, which, according to estimations, would occur in mid-May 2020. Some analysts are on the opinion that the supply rate cut would boost Bitcoin's price to over $100,000 by 2021.
Bitcoin
Coinbase
Cryptocurrency
Crypto Market
btc
trading
stocks
bitcoin news
bitcoin news today
tradingview
stock
dollar
Stock Exchange
us economy
Tradings
USA
Coronavirus