26 Nov 2020 Morgan Hayze
Bitcoin Drops 11% As Whales Move BTC To Exchanges
Large-Scale Investor Probably Tried To Make A Profit On Bitcoin`s Way To $20,000
---
The world of cryptocurrencies finally managed to witness the long-anticipated by some experts Bitcoin price correction. The day before the correction, Bitcoin price fluctuated sideways, but at 4 pm on November, 25th Bitcoin's price went below $19,000, which in turn sparked the correction to a low of $16,623 according to data from Cryptobrowser.io.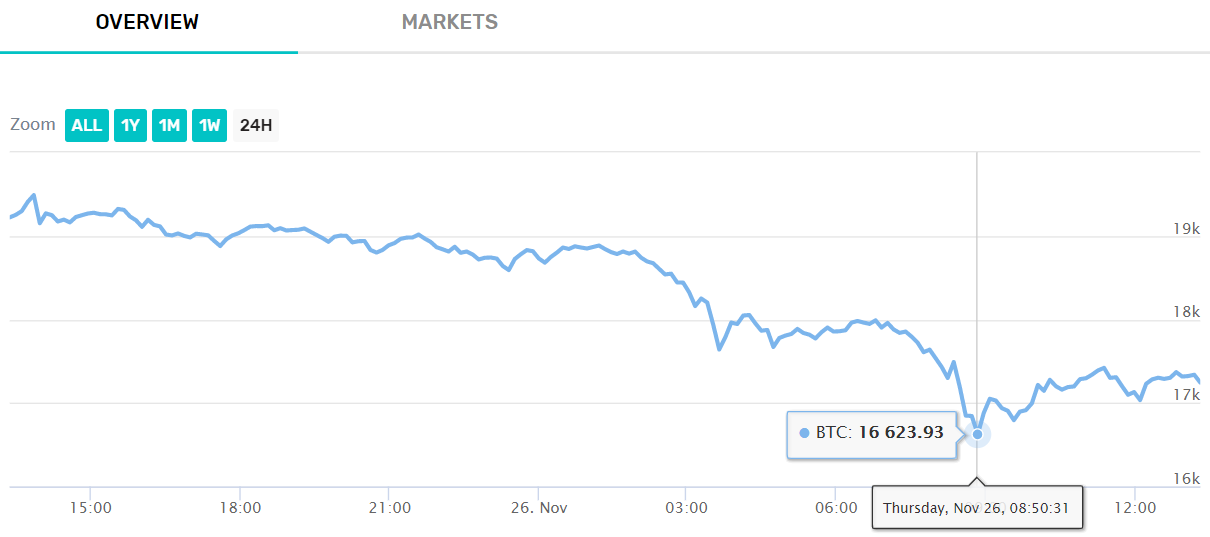 Source: CryptoBrowser.io
However, despite the quick bounce after the huge sell-off, the top cryptocurrency to date lost 11% of its value.
Many analysts and crypto experts waved flags of concern over the past week, regarding Bitcoin's price rally. Experts claimed the gains were due to see a massive downwards price action. Crypto trader Tone Vays and CNBC host Brian Kelly also opted in for a huge correction, forecasting a slump to around $14,000. The opinions by Vays and Kelly were also supported by several key metrics which suggested a downward price movement. One of the key metrics is the Crypto Fear and Greed Index, which remained at record high levels throughout November.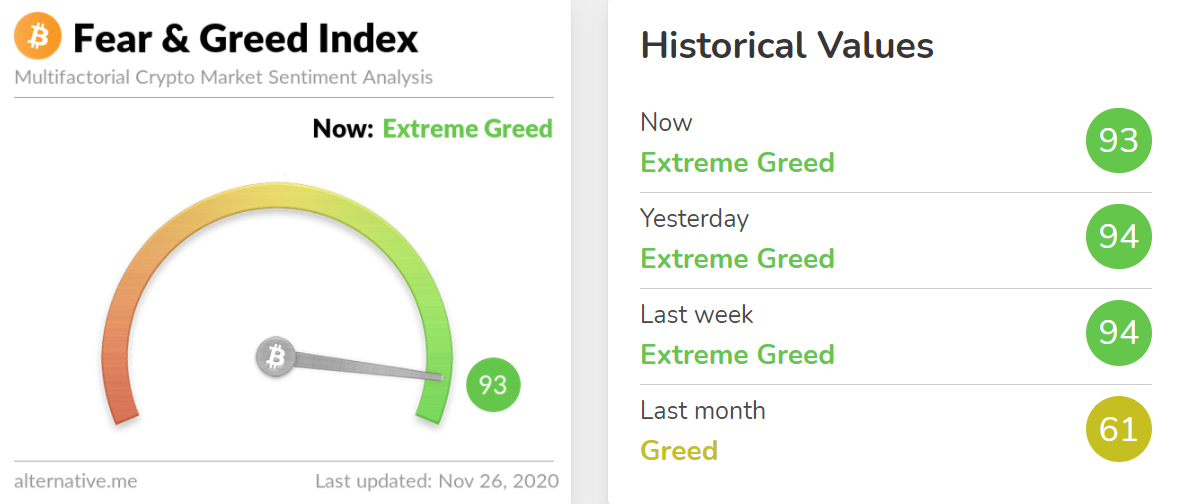 Source: Alternative.Me
One of the primary reasons for the massive price drop may be the fact that large-scale Bitcoin investors decided to transfer their Bitcoin on exchanges, presumably with the idea of making profits from Bitcoin's push towards $20,000.
"All Exchanges Inflow Mean increased a few hours ago. It indicates that whales, relatively speaking, deposited $BTC to exchanges," the creator of analytics tool CryptoQuant noted, adding that "long-term on-chain indicators say the buying pressure prevails...... and (Bitcoin) can break 20k in a few days."
Meanwhile, the altcoin sector continues to flourish despite Bitcoin's drop. On a weekly basis, most of the top altcoins recorded double-digit price increases, while the market concussion from November 26th didn't inflict much damage.
Ethereum, for example, is up 11% from last week, despite a daily drop of twelve percent to trade at $524.21. Ripple's price peak from November 25th now seems to be corrected, but still, the price per XRP token is up by 88.45%. One of the biggest gainers, however, is Stellar (XLM), which managed to double its value in just a week's span, despite losing almost a quarter of its price on November 26th.
Market-wise, Bitcoin's dominance has shrunk to 62,5%, while the total market capitalization of the crypto sector plunged by $60 billion to be at $514,112,616,843 as of press time. Trading volumes increased slightly due to the price correction and currently $289,171,419,240 worth of cryptocurrencies were traded over the past 24 hours.
Bitcoin
Ethereum
Cryptocurrency
Exchanges News
Ripple
Stellar
XRP
trading
bitcoins
cryptocurrencies
exchange
bitcoin news
cryptocurrency news
bitcoin news today
Market Capitalization