30 Jul 2021 Jane Whitmoore
Bitcoin On Exchanges Plunges To 2018 Levels
The Massive Outflows Happened Within Just 24 Hours
---
The largest crypto to date, Bitcoin, is coming off exchanges and into holders' hands, according to data from Glassnode. As it turns out, the number of Bitcoin held on exchanges fell drastically within the past 24 hours, with levels reaching those of the winter of 2018.
Market analysts like Will Clemente emphasized the fact that there were two massive outflows, rather than many small ones.
"Two massive outflows today: one worth 23,530 BTC this morning and another batch worth 40,181 BTC about a half-hour ago.", Clemente noted.
Cryptos leaving centralized exchanges are considered a bullish trendsetter, as Bitcoin, for example, may be moved towards custodial services, cold wallets, or swapped at decentralized exchanges.
In contrast, when cryptos accumulate on exchanges, traders usually consider it as a bearish trend, as investors are preparing to liquidate.
Data from Glassnode shows that April and May were among the months in 2021 where a lot of BTC moved from custody to exchanges. The move coincides with Bitcoin's negative price trend since its all-time high of $64,800. However, things for the crypto market can shift towards the green if the current trend continues.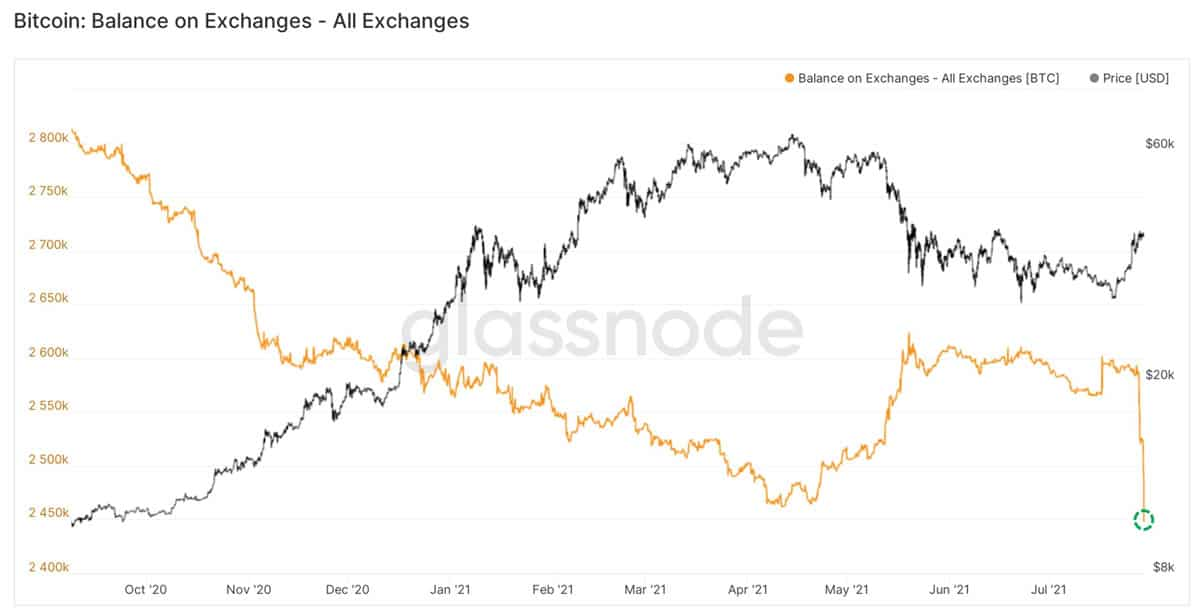 Source: Glassnode
Meanwhile, Twitter-based transaction tracker WhaleAlert detected almost 50 large transactions for a week. In the 50 transactions, whales moved 465,000 BTC worth a whopping $18.5 billion at current prices.
However, despite the wave of positivity for the world's largest crypto to date, Bitcoin still struggles to overcome the $40,000 barrier. Bitcoin's price movement stayed almost the same, with a minor 2% downwards push on July 30 to a current price point of $38,779.67. Looking at the weekly chart, Bitcoin is still up almost 20 percent, dragging the rest of the sector up.
Meanwhile, analyst and crypto YouTuber Lark Davis emphasized on Bitcoin closing its ninth straight day of green candles but warned that a red one is near.
"#bitcoin just closed its 9th straight day of green candles! Nice! Although that makes a red day more likely to be coming very soon!", Davis commented on Twitter.
Davis joins crypto analyst Pentoshi, who noted that a push down is necessary for Bitcoin to continue growing further pricewise.
"I think the market needs to go down to put in an HL before continuing up. To put it simply. Been bullish from 29.6k into resistance but today to me signals need to go down for higher low.", Pentoshi added.
Bitcoin
Cryptocurrency exchange
Bitcoin price
exchange
bitcoin news
cryptocurrency news
crypto news