26 May 2021 Morgan Hayze
Bitcoin Pollutes Less Than Banks, A Recent Study Shows
It Turns Out Banking Giants Are Putting Over $1 Trillion Into Fossil Fuel Exploitation
---
In the wake of entrepreneurs and public figures like Elon Musk claiming that Bitcoin mining is polluting the atmosphere, a study by activist groups Greenpeace and WWF found out that British banks are funding projects, which emit 805 million tonnes of carbon dioxide (CO2) emissions in 2019 alone.
The figures are shocking, as in comparison, the United Kingdom generated almost two times fewer carbon emissions, sitting at 455 million tonnes, excluding commercial aviation and shipping. The UK also sits among the top-20 countries by CO2 pollution, with China and the United States at the front by a wide margin.
"In the five years since the Paris Agreement, the world's 60 biggest banks have financed fossil fuels to the tune of $3.8 trillion," the study shows.
Meanwhile, a report dubbed "Banking on Climate Chaos" highlighted that globally, the investment of the big banks in the exploitation of fossil fuels has only been increasing. Banking giants like JP Morgan, Citi, Wells Fargo, and Bank of America are leading "The dirty dozen" of banks, with JPMorgan Chase alone contributing $317 billion in funding for fossil fuel exploitation. Not surprisingly, almost half of the twelve banks operate from the United States.
Among the banks is also the UK-based Barclays bank, which funded $145 billion worth of fossil fuel activities.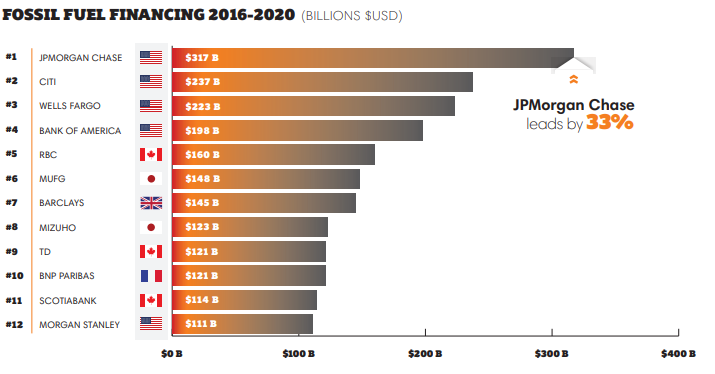 Source: Banking on Climate Chaos
The study comes just a couple of weeks after self-confessed bitcoin lover Elon Musk announced that his automotive brand – Tesla, would stop accepting Bitcoin as a payment method, due to "Bitcoin's heavy dependence on dirty energy." Musk's announcement put the crypto community into a shock, causing one of Bitcoin's most severe price crashes to date. Amid the crash, Bitcoin lost nearly 50% of its price, dragging the rest of the crypto sector down. Bitcoin went from its peak price point of $65000 to lows of $30,000 in just a few days.
Meanwhile, Musk used his Twitter profile to lift the curtain on some interesting news. The entrepreneur announced that his team is working with several Dogecoin (DOGE) developers to improve system transaction efficiency and make it suitable for global adoption.
Musk pinpointed one of DOGE's main advantages over Bitcoin – its consensus algorithm is less energy demanding, thus much more environmentally friendly than Bitcoin's.
"Ideally, Doge speeds up block time 10X, increases block size 10X & drops fee 100X. Then it wins hands down," Musk tweeted.
Following Musk's announcement, MicroStrategy CEO Michael Saylor managed to bring Elon Musk closer to a group of miners to create the Bitcoin Mining Council. The new organization aims to promote renewable and cheap energy for mining purposes in order to cut down Bitcoin's carbon footprint. However, experts estimated that Bitcoin's carbon footprint comes at around 57 million metric tonnes, which is almost 15 times lower than the carbon footprint of bank-funded fossil fuel activities.
Bitcoin
mining
dogecoin
Bitcoin mining
Bitcoin price
china
bank
doge
bitcoin news
United States
JPMorgan
United Kingdom
Banks
Bank of America
Barclays
carbonfootprint