30 Jun 2020 Anthony Lehrman
Bitcoin ROI Increases With 3,500% Compared To Traditional Assets Amid Bullish Lookout
The Return-On-Investment For Bitcoin Surpasses The Performance Of Traditional Assets 70 Times In Times When BTC Is Anticipated To Pass The $10,000 Line
---
Blockchain analyst Justinas Baltrusaitis stated that Bitcoin's investment returns from June 26, 2015, to June 26, 2020, have increased with over 3,500%, which outperforms the traditional market performance over seventy times.
Baltrusaitis published his report on Buy Shares, citing that the biggest cryptocurrency to date managed to gain over 70 times the performance of major indices like Dow Jones, S&P 500, Nikkei, Nasdaq, and Financial Times Stock Exchange 100 (FTSE 100).
"During the five-year span of the report, Bitcoin recorded a 3,456.98% return on investment. In June 2015, the price per Bitcoin sat at $257.06, while five years later it rose to $9,143.58. On the other hand, major indices marked an average ROI value of 49.27%", Baltrusaitis noted.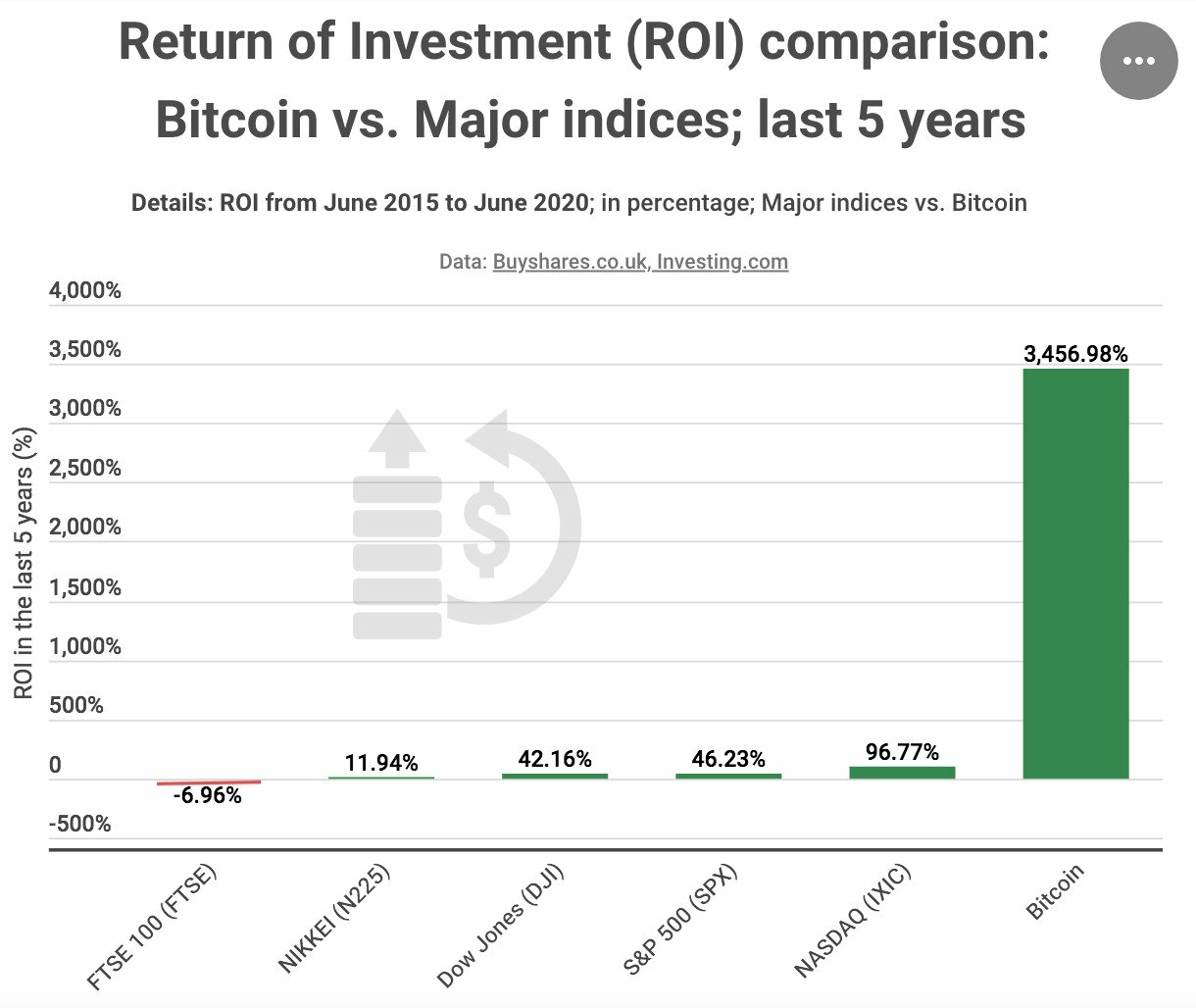 Source: Buyshares
For instance, FTSE 100 stayed in red, with a 6.96% ROI decline, while Nikkei rose with 11.94%, Dow Jones marked a 42.16% ROI increase, S&P 500 is slightly in front of Dow Jones with 46.23%. Nasdaq marked the highest five-year ROI, with 96.77%.
Baltrusaitis clarified that ROI is calculated with a base price when crypto holders bought Bitcoin, compared to current prices. Any Bitcoin purchases before December 2017 should see massive ROI gains, Baltrusaitis added.
According to the crypto analyst, regulations and the recent coronavirus pandemic may have impacted the ROI scores. Also, Baltrusaitis emphasized on how users now perceive Bitcoin "as a store of value, rather than a speculative asset, especially amid the most recent stock market crash".
"Over the past five years, Bitcoin faced increasing popularity, mostly due to its maiden cryptocurrency status in the eyes of crypto newcomers. These factors largely contributed to Bitcoin's high return on investment. However, the ROI comes despite the widespread opinion Bitcoin and crypto holding involve a high degree of risk." Baltrusaitis concluded.
On the other hand, as CryptoBrowser reported, there is a substantial correlation between the prices of Bitcoin and traditional stock markets in the face of the S&P 500. Any price volatility in the traditional sector may cause Bitcoin's price to peak or dip, just like in the March market wipeout.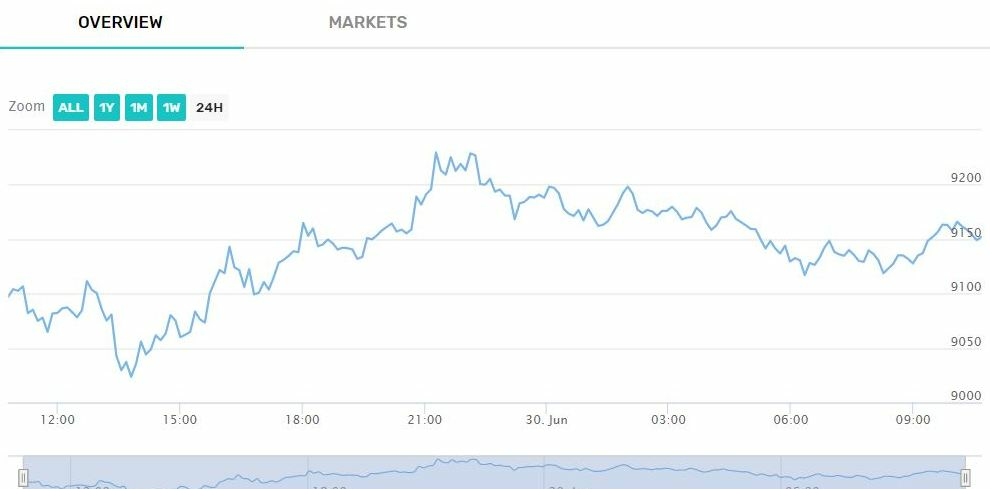 Source: CryptoBrowser
Meanwhile, Bitcoin bulls still stay shy of pushing, as the price per BTC stays around $9,200, which is below its 20-day Moving Average. If bulls are to flip the $9,200–$9,500 resistance zone this could clear the path for Bitcoin to reach $10,000. The current situation, however, implies that if Bitcoin can't support a close of over $10,400, its price may tumble to the $8,800 support zone.
Bitcoin
Cryptocurrency
Crypto Market
crypto
crypto bitcoin
Bitcoin price
bitcoins
stocks
investing
industry
cryptocoins
bitcoin news
cryptocurrency news
investment
market
invest
bitcoin news today
stock
Stock Exchange