25 Feb 2021 Marsha Tusk
Bitcoin Support Zone At $47,000, Will Тhere Be A New All-Time High?
Since The $58,330.57 All-Time High On February 21, Bitcoin Settled Around $50,000 With Bulls And Bears Switching Places
---
Bitcoin, the world's largest cryptocurrency, entered into a calm session after the rise to $58,330.57 past Sunday and the market wipeout from February 22, which pushed Bitcoin prices down to a weekly low of $45,290.59. Despite the turbulence, the biggest crypto to date recovered and currently sits 13.58% below its all-time high.
However, the constant battle between Bitcoin bulls and bears resulted in a strong $44,800 support zone and tough resistance above $51,400. Over the past 48 hours, crypto analysts saw several attempts to break the resistance, but with no success. On the flip side, the downwards push faced a fierce bullish reaction, and prices remain afloat – over the $46,000 and $44,800 psychological support zones.
The price point of Bitcoin above $50,000 is a starting point for Bitcoin bulls, as prices are slowly climbing up. Analysts are consolidating on the opinion that if Bitcoin's price reaches higher than the $50,600 to $51,400 resistance area, the #1 crypto may revisit its highest levels in the next few days. However, if Bitcoin slips below $50,000 in a bearish push, prices may tumble and retreat below $45,000.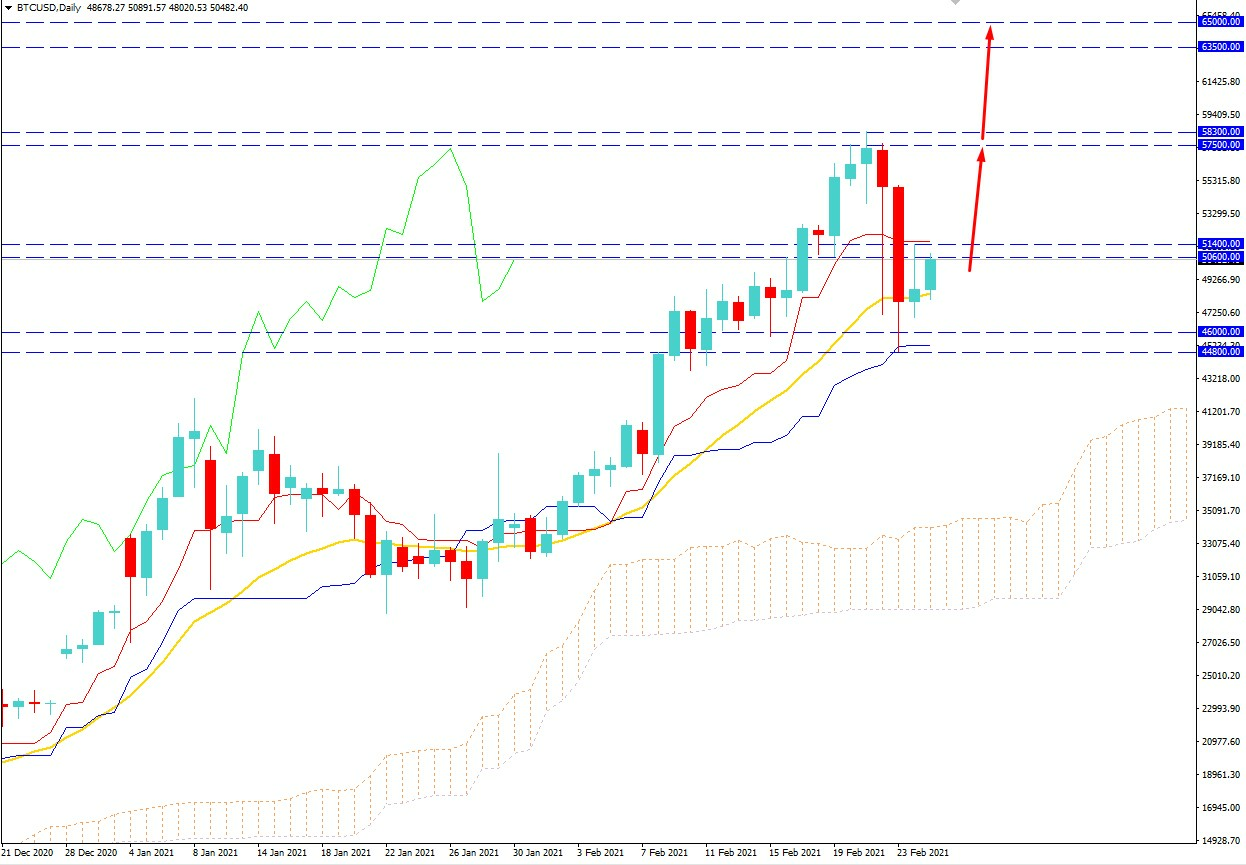 Source: Bitcoin Daily Chart
According to the BTC daily chart, Bitcoin bulls seem optimistic. However, their push has to overcome the $51,400 area. If such an event occurs, the next possible resistances would be $58,300 and $63,500.
Furthermore, the dynamic 20 EMA level is still below Bitcoin's price, which is yet another bullish sign. Dynamic levels are considered as strong support for a bullish push upwards.
Meanwhile, the rest of the crypto sector is yet to recover from the February 22 market crash. Ethereum, for example, is still struggling to find solid ground, as its price slipped four percent to trade at a current price point of $1,627.93. Looking at the weekly charts, Ethereum plunged 15% from its February 21 all-time high of $2,036.29.
The same scenario appears in almost all of the top 20 cryptocurrencies, with only Cardano (ADA), Litecoin (LTC), Dogecoin (DOGE), Solana (SOL), Bitcoin SV (BSV), and TRON (TRX) recording minor daily gains, which is a sign of recovery for the sector.
Marketwise, the total market capitalization of the crypto sector is in a recovery mode, after a downfall from $1.763 trillion to a weekly low of $1.374 trillion, currently sitting at $1.529 trillion. Trading volumes normalized after increasing almost 100% amid the market crash. Currently, the 24-hour trading volume of the crypto sector is $146 billion, with Bitcoin remaining with a 61,5% dominance over the other cryptocurrencies.
Bitcoin
Cryptocurrency
Crypto Market
crypto
btc
crypto market monitoring
bitcoin news
bitcoin news today