09 Aug 2021 Jane Whitmoore
Bitcoin's Price Exceeds $45,000 Amid July Inflation Report
However, The Price Of The Crypto Leader May Be Awaiting A Downwards Correction
---
Bitcoin is continuing its upwards momentum, as the largest cryptocurrency to date added 1.65%, climbing over the $45,000 mark, which is the highest level in more than two months.
Looking at the weekly charts, Bitcoin is seeing strong bullish sentiment, as the number one crypto spiked from a seven-day low of $37,458.00 to a monthly high of $46,016.83.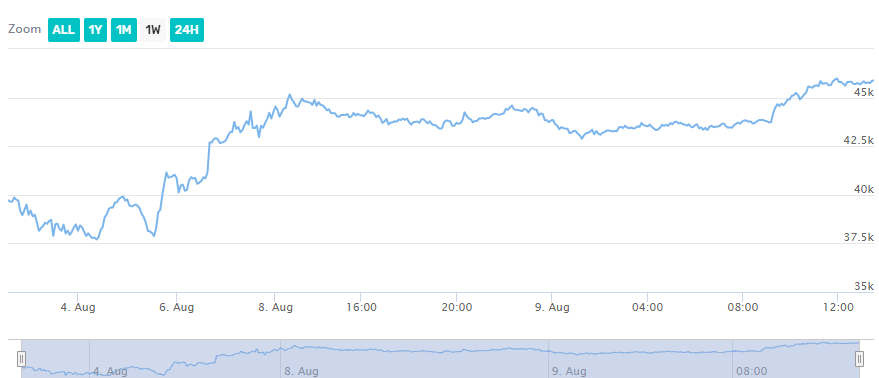 Source: CryptoBrowser
Bitcoin's positive price change transferred on the rest of the crypto sector, as Ethereum also added 30% to its price from last week - from $2,630 on Tuesday, August 3, to $3,100 on Sunday, August 8. However, Ethereum's price increase is also fueled by the EIP-1559 network update, which introduced fee burning and a deflationary status for the second-largest crypto to date.
Meanwhile, the United States Bureau of Labor Statistics is scheduled to release July's inflation report, with market analysts predicting a 0.5% spike. Market indicators like the consumer price index (CPI) spiked to 5.4% year-over-year in June, which is its biggest increase in 13 years.
The inflation increase possibility helped Bitcoin bulls push the crypto industry leader to its current price state. Furthermore, bulls managed to keep Bitcoin from tumbling below $30,000 after the May 19 market wipe. The push eventually pushed prices past $40,000, leading to the current price break above $45,000.
The bullish sentiment also comes with dramatic spikes in entities entering the Bitcoin network, matching the growth with the rising BTC/USD rates. Lex Moskovski, chief investment officer of Moskovski Capital, noted that the "amount of new Bitcoin entities continues to hit an all-time high."
On-chain analyst Willy Woo joined Moskovski with Woo claiming that the ongoing Bitcoin momentum should push its prices above $50,000, due to a supply-and-demand imbalance in the market.
"Fundamentals do not predict short-term price, but given enough time price discovery reverts to fundamentals. The exact value is $53.2k today, with a standard deviation band between $39.6k - $66.8k (68.5% confidence).", Woo commented.
However, analysts are concerned that the recent spike may turn out to be a dead cat bounce, referring to previous top-to-bottom Fibonacci retracement fractals. Historically, Bitcoin has the tendency to correct toward its 200-week exponential moving average, only to bottom out and increase to a new bullish cycle.
Keith Wareing, however, noted that the imminent bullish crossover between Bitcoin's two weekly moving averages is possibly the beginning of a multi-month bull run. Commonly known as the moving average convergence divergence (MACD), the metric predicted the 2020 bull run.
"The weekly MACD is due to cross bullish on Bitcoin after tonight's close", Wareing noted.
Bitcoin
Ethereum
Ethereum news
Bitcoin price
bitcoin news
cryptocurrency news
crypto news
Crypto Price
Ethereum Price