22 Feb 2023 Jane Whitmoore
Blockchain Gaming Made Up 48% Of All DApp Activity In January, According To A Report
It Turns Out That January Brought A New Rise In Blockchain Gaming With Top Gaming Tokens Increasing By 122% On Average
---
While the crypto sector seems to be recovering from the concussions in 2022, there was little to no big news. However, data from DappRadar shows that January saw a massive increase in blockchain-related gaming activities, with gaming making up 48% of the total blockchain activity at the start of 2023.
Interestingly, the market capitalization for the top gaming tokens skyrocketed and doubled in value, with Gala (GALA), the digital utility token of the Gala Games ecosystem, surging by 218%.
The research paper claims that as industry chatter reaches general audiences, demand for these gaming tokens is increasing. For instance, Gala Games gained momentum after acquiring a new mobile gaming company with 15 titles and $20 million in assets managed.
Sara Gherghelas, a blockchain analyst at DappRadar, commented that it is safe to anticipate that blockchain gaming will continue to be a big area in the industry based on on-chain data from the previous two years.
"This is because blockchain gaming is already a vertical in the traditional industry. As blockchain gains more traction, it will bring more adoption to Web3 games which will become mainstream."
Meanwhile, with 331,000 unique active wallets, the Wax blockchain sees the greatest gaming activity.
Except for the BNB Chain, the top three blockchain gaming ecosystems all experienced growth in gaming protocols from the end of 2022 to the beginning of 2023.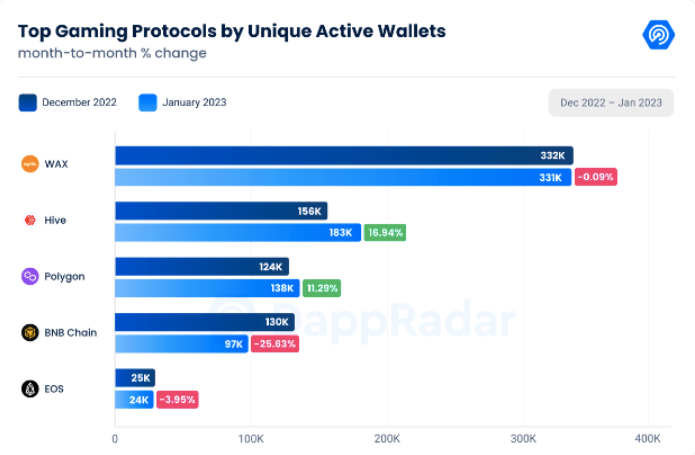 Source: DappRadar
The start of 2023 saw greater activity as reliable funding prepared the ground for what many consider to be the "building" year for blockchain gaming.
According to Gherghelas, investments in this sector are "increasing significantly," with total investment expected to reach $7.6 billion in 2022, a 105% increase from 2021. In January alone, around $156 million found their way as investments in the blockchain gaming sector.
The report also emphasized the impact of the Metaverse on this year's increase in blockchain gaming activities. According to the data, virtual world-related game trading in January totaled $44.5 million, an increase of 114% over the previous month.
The success of large Metaverse platforms like The Sandbox and Decentraland, which saw increases in trading volume of 114% and 83%, respectively, are among the leading culprits for the total growth even though sales declined by 19%.
Blockchain
Blockchain Gaming
tokens
cryptocurrency news
blockchain game
crypto news
Dapps
Market Capitalization