31 May 2021 Simon Briggs
Cardano (ADA) Adds 15% To Its Price After Smart Contracts Rollout Plan Update
Meanwhile, Cardano Reached One Million Active ADA Wallets
---
Crypto trading over the weekend saw many projects lose ground and tumble down, but Cardano added close to 15% to its token price amid the bearish price push. The token managed to reach $1.70 on Sunday, regaining its fourth position in front of Binance coin (BNB).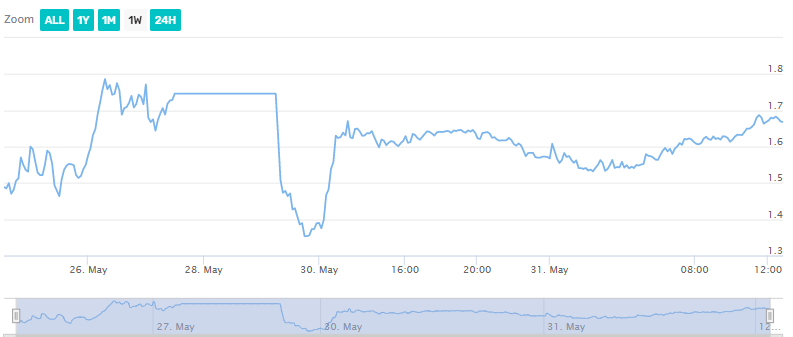 Source: CryptoBrowser
The bullish momentum, however, comes after the massive price correction over the past two weeks. Many of the crypto projects followed suit with Bitcoin's price action, losing almost 50% of their prices. The crypto market managed to go as low as $1.19 trillion in terms of market capitalization, after reaching an all-time high of $2.57 trillion, which is a 53% market cap decline.
The primary reason for ADA's upwards momentum is due to Cardano recently announcing its plans for its smart contract rollout, called Alonzo. There would be numerous smart contract plans, with a 30-60-90-day rollout.
The series of color-coded smart contract rollout updates will start with Alonzo Blue and will finish with Alonzo Purple. The estimated time schedule for the updates suggests Alonzo Purple would continue until September 2021.
According to Cardano officials, Alonzo Purple is the heaviest network overhaul, since it would be fully public and coming with all of the key update functionalities. One of the biggest improvements that Alonso brings is the new smart contract development process, which would come with greater predictability.
Meanwhile, Cardano's popularity increase over the past five months has influenced a massive wave of growth. ADA's latest achievement was the one million ADA wallets milestone. Furthermore, other notable upgrades to the network include the project's upcoming ERC20 converter, aiming to provide real competition against Ethereum, which still suffers from scalability issues. In addition, Cardano now has over 2,500 active pools, which have $33.95 billion in ADA staked in them.
Meanwhile, the rest of the crypto sector is also seemingly starting to recover from the latest price crash. Bitcoin, for example, is up three percent, reaching a price point of $37,122.57. However, the crypto leader is still down two percent weekly. Ethereum is also on the rise, adding almost 6% to its price over the past 24 hours and nine percent since last week. One of the biggest price gainers is Ripple, as the currency settled above $1 to a current level of $1.02, which is a 13% daily price increase.
Bitcoin
Ethereum
Ripple
Ethereum news
Bitcoin price
Cardano
ADA coin
Cardano Price
binance coin
bitcoin news
cryptocurrency news
crypto news
Crypto Price
Ethereum Price
Ripple Price