02 Sep 2021 Jane Whitmoore
Cardano Shoots Above $3 Per Token, Following Network Update Announcement
ADA Market Capitalization Soared Twice As Much As The Nigerian Stock Market
---
Cardano (ADA), now the third-largest crypto to date, made a massive bullish spike, increasing its price by almost 18% weekly, surpassing the $3 mark. The latest price increase made ADA's market capitalization to surpass both Tether (USDT) and Binance Coin (BNB), reaching a current value of $96.9 billion. In contrast, the Nigerian Stock Exchange currently values its market at $49.8 billion, which is almost half of Cardano's market cap.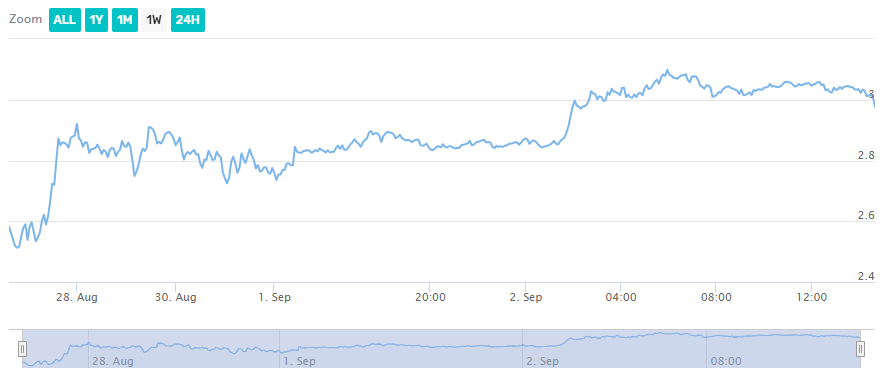 Source: Crypto Browser
The primary reason for ADA's price rally is that smart contracts functionality has been rolled out on Cardano's testnet, which would open the doors for the third-largest crypto to eat some of Ethereum's users.
The smart contract deployment is part of the preparations for the Alonzo hard fork, which would enable anyone to create and execute smart contracts on the Cardano blockchain, making ADA the best-performing Ethereum rival to date.
Launching the smart contract functionality on Cardano's testnet gives developers the chance to build decentralized applications, test them and streamline them for public release.
"Yesterday, we upgraded the #Cardano testnet, successfully deploying #Plutus #smartcontracts capability. The focus now is on final component testing & exchange integrations, ahead of the #Alonzo mainnet upgrade, still on track for deployment on 12 September," Cardano's parent company, Input Output, wrote on Twitter.
The Alonzo hard fork may shift the paradigm in decentralized finance, as Ethereum is currently dominating the $95 billion DeFi sector. Protocols like Aave, Maker, Curve, Uniswap, and Compound are still running on Ethereum's blockchain.
The ever-increasing in popularity NFT market also relies on Ethereum, but crypto projects like Tron (TRX) and EOS are looking to grab a piece of Ethereum's market too, so Cardano's smart contract deployment may turn pivotal for the development of the altcoin sector.
Meanwhile, the entire crypto sector is seeing a positive price increase sentiment. Bitcoin, for example, is back above the $50,000 mark, trading at $50,024.84, currently. Ethereum is up with seven percent daily, reaching a current price of around $3,802.65
Almost all of the top 50 crypto projects are seeing anywhere around two and ten percent price increase, with FTX token (FTT) being the biggest gainer - 21.47% price increase and a current price of $68 per token.
Ethereum
Cardano
ADA coin
Cardano Price
cryptocurrency news
crypto news
Crypto Price