01 Sep 2021 Samantha McLauren
NFT Market Growth Pushes Ethereum Demand And Decreasing Issuance
Meanwhile, EIP-1559 And Long-Term ETH Holders Contribute To The Deflationary Status Of The Network
---
Ethereum seems to be receiving a welcoming boost in its network activity, as the NFT market on Ethereum's blockchain is continuing its growth.
For instance, OpenSea, the largest NFT marketplace on Ethereum, made over 3,000x year over year growth, reaching volumes of more than $3.3 billion in August. The NFT craze in the past year affected both the demand and supply of Ethereum.
However, since Ethereum is still limited by its transaction throughput, the increased interest in NFTs made fees to transact on Ethereum rise significantly. The rise of gas fees on Ethereum is substantial, as transaction costs skyrocketed from under 20 gwei 10 days ago to over 300 gwei on multiple occasions throughout the last few days. Uniswap transactions, which are more gas-consuming, have risen to approximately $65 at an average gas fee of 100 gwei.
Nevertheless, Ethereum holders do not seem concerned about the skyrocketing gas fees. In fact, the number of addresses that have been holding ETH for over one year continues to reach new highs.
Data from IntoTheBlock confirm the findings, as it turns out over 62% of all addresses holding ETH have been holding the asset for over a year. One of the main reasons behind the long-term ETH hold was the much-anticipated EIP-1559 network update or the London upgrade. London would also act as a gas fee correction mechanism since part of transaction fees are now burned, effectively removing the corresponding ETH from circulation.
The London upgrade, combined with the increased demand for Ethereum-based NFTs has led to a decrease in ETH issuance. The main goal of London, according to the improvement proposal documentation, was to make Ethereum a deflationary asset, meaning that new supply would eventually be lower than the burned ETH.
Despite the EIP-1559 is live for less than a month, evidence of Ethereum's deflationary status starts to appear, as more ETH was burned than issued on 23 different hourly intervals.
Pricewise, Ethereum is up with three percent on September 1, 2021, and trades for around $3,537.76, according to data from CryptoBrowser.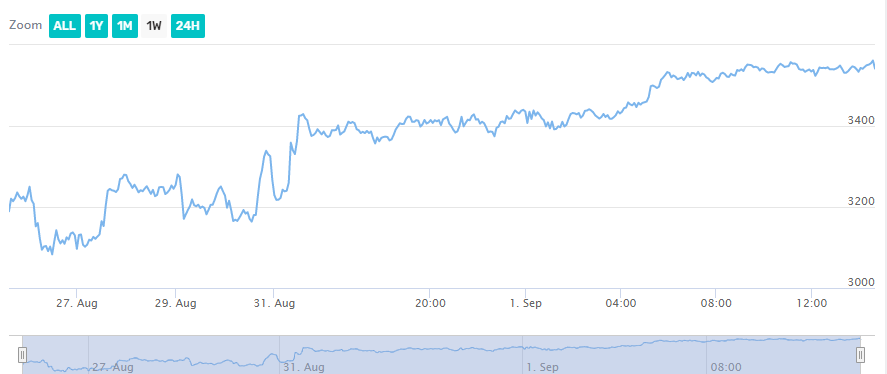 Source: CryptoBrowser
Daily trading volumes are slowly increasing over the past seven days, reaching $28,6 billion. The latest push makes Ethereum among the top weekly gainers with a 13% positive price change.
Ethereum
eth
Ethereum news
crypto news
Ethereum Price
Uniswap
NFT
non-fungible token