22 Mar 2023 Arjun Agarwal
CBDC Adoption In Nigeria Skyrockets Amid Fiat Currency Deficit
Nigeria's Central Bank Decided To Replace Aged Bank Notes With Bigger Denominations To Battle Rising Inflation
---
Nigeria is seeing an increased acceptance of the CBDC nearly 18 months after introducing its own central bank digital currency (CBDC), the eNaira, as the country struggles with significant scarcities of public fiat reserves.
Nigeria suffered a severe cash deficit as a result of the central bank's decision to switch out lower denomination bills for larger ones in response to the rising inflation.
Although developing countries were among the first to recognize the significance of a CBDC in streamlining fiat capabilities, the notion has not yet been enforced. Yet, Nigerians were forced to use the eNaira due to a failure of their native currency.
According to a Bloomberg report, the value of eNaira transactions soared 63% to 22 billion nairas ($47.7 million) in a nation where cash still represents nearly 90% of deals. Likewise, the overall number of CBDC wallets has increased over 12 times since October 2022, according to Godwin Emefiele, governor of the Central Bank of Nigeria, and is now at 13 million.
The quantity of fiat cash in circulation fell from 3.2 trillion nairas to 1 trillion nairas as a result of the demonetization.
Nigeria chased further than 10 billion eNairas to neutralize this decline. The government's action and social programs that pay out in eNaira also aid in the growth of CBDC operations.
CBDCs managed to give developing nations a means of mitigating the problems caused by the fiat inflation problems, like lowering operating costs and bolstering anti-money laundering programs.
"The eNaira has surfaced as the electronic payment channel of choice for fiscal inclusion and executing social interventions," Emefiele added.
Nigerians now have another way to buy cryptocurrency in the midst of cash failure.
ConsenSys, the parent company of MetaMask, just unveiled a new MoonPay connection that enables Nigerians to buy cryptocurrency using bank transfers.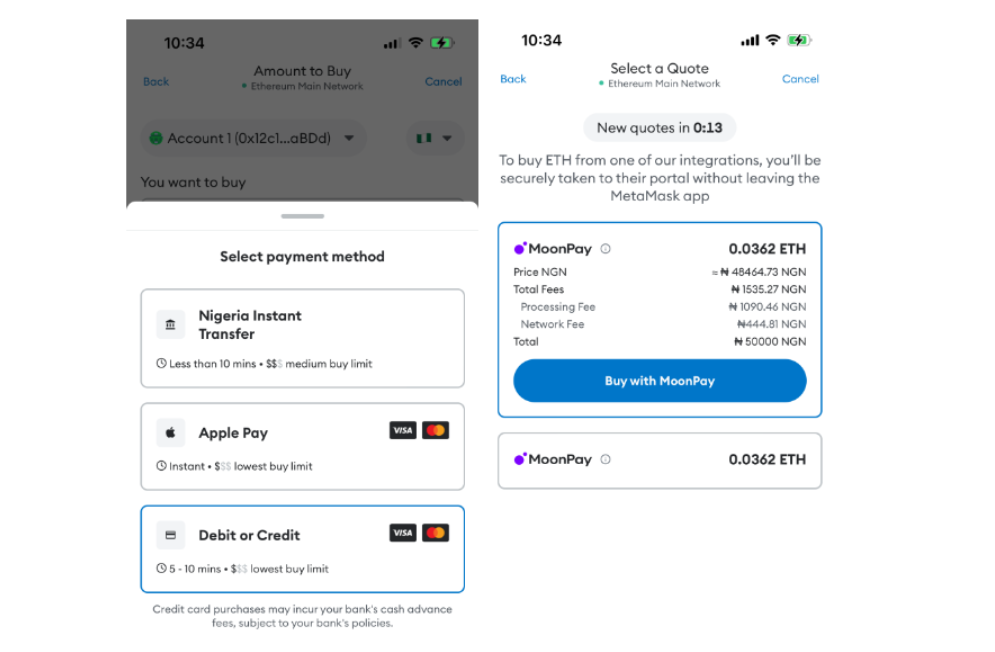 Source: ConsenSys
The new capability, which is available in the MetaMask mobile app and Portfolio DApp, makes it a lot easier to buy cryptocurrency in Nigeria without using credit or debit cards.
money
central banks
bank
cryptocurrency news
crypto news
digital
CBDC