09 Jun 2020 Arjun Agarwal
Changpeng Zhao Reveals Wash Trading Secrets Amid CoinMarketCap's Intense Controversy
The CEO Of The Biggest Crypto Exchange To Date, Binance, Admitted That Most Crypto Exchanges Mark 1 BTC Trading Volume As 2 BTC Exchanged
---
One of the biggest crypto data aggregators, CoinMarketCap (CMC), received a wave of controversy about the truthfulness of reported data amid the recent acquisition by Binance. The recent changes in CoinMarketCap's exchange performance algorithms caused several of the biggest exchanges to fall down in the exchange list.
However, the importance of CoinMarketCap`s algorithm may lead to essential changes in the sector. Positions shuffling of the exchanges has recently positioned Binance as a sole leader, which sparked a wave of criticism about whether the data is real or not.
Changpeng "CZ" Zhao responded to the accusations by revealing a shocking secret – most crypto exchanges report a single Bitcoin trade as two trades – one buy and one sell trade. Thus, the volumes of most crypto exchanges are inflated by 100%.
Zhao noted that "Binance reports trades in the traditional way".
"Also, we chose to "hide" our trading volumes to prevent Binance to be seen as much bigger than it is. As per the trade washing accusations – do we do wash trading? No", Zhao added.
However, even with Binance reporting effectively half of the trading volumes it sees, the exchange still records the highest trading volumes in the market, while Binance's Futures platform is establishing itself as a leading derivatives trading platform.
The controversy happened as CoinMarketCap applied a new metrics algorithm, which resulted in one of Binance's most prominent rivals like BitMEX, to fall down as low as #175 in CoinMarketCap's list. BitMEX currently holds the leadership in crypto derivatives trading. However, CoinMarketCap's new algorithm reports zero liquidity for the exchange, thus – bringing it beyond the middle of the chart.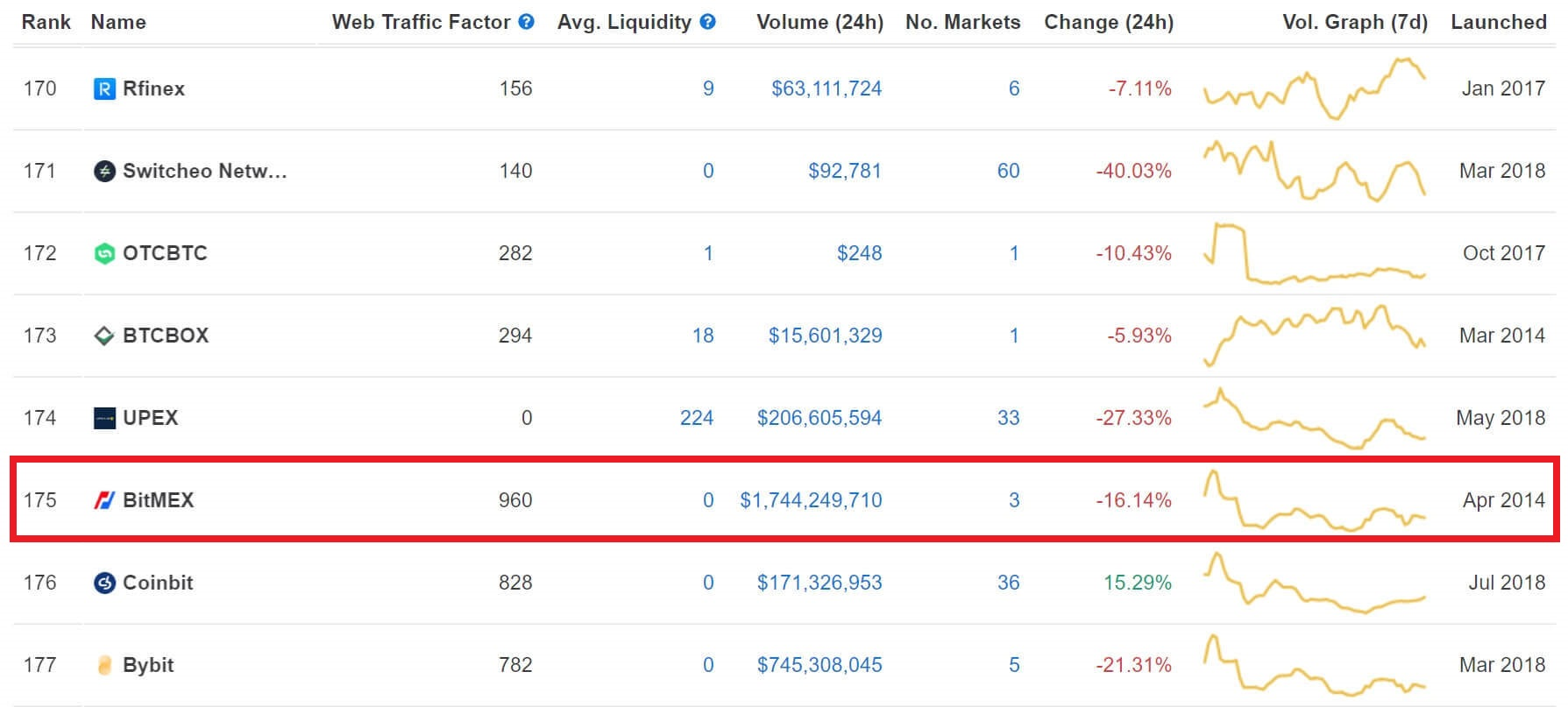 Source: CoinMarketCap
The case with BitMEX also applies for crypto exchanges Deribit and Bybit, as they both mark zero liquidity on CMC's ranking.
Meanwhile, the team at CMC responded to the accusations, stating that crypto derivatives platforms do not fall under the radar of the new metrics. Crypto enthusiasts and traders immediately questioned CMC's integrity and data honesty. The team at CMC clarified that the new metrics apply only to crypto spot trading and exchanging. For crypto derivatives, CMC considers opening a brand new tab in CoinMarketCap's ranking.
Scam News
Binance
Crypto Market
Exchanges News
crypto market monitoring
Derivative market
Binance Exchange
trading
exchange
cz
scam
Exchanges
Regulation
Tradings
BitMEX