01 Aug 2022 Anthony Lehrman
Charles Schwab Launches Its First Crypto ETF
Meanwhile, The SEC Still Has Not Approved A Bitcoin Spot ETF Despite Approving Several Bitcoin-Futures ETFs
---
Schwab Asset Management, the asset management subsidiary of The Charles Schwab Corp., is getting ready to launch its first crypto-related exchange-traded fund (ETF) on the NYSE Arca exchange.
The major US brokerage, banking, and financial services company, currently has over $655 billion in assets under management in its Schwab Asset Management subsidiary, making it the third largest provider of index mutual funds and the fifth largest provider of exchange-traded funds (ETFs).
Such a move from one of the largest players in the US financial sector is welcomed by institutional investors, who seek to gain indirect access to the $1 trillion crypto sector.
"The fund is designed to track Schwab Asset Management's new proprietary index, the Schwab Crypto Thematic Index." the banking giant wrote when announcing that the first day of trading for the Schwab Crypto Thematic ETF is expected to be on or about August 4.
The Schwab Crypto Thematic ETF which is the company behind it adds, it is "designed to deliver global exposure to companies that may benefit from the development or utilization of cryptocurrencies (including bitcoin) and other digital assets, and the business activities connected to blockchain and other distributed ledger technology."
Under the Schwab Crypto Thematic Index are some of the biggest crypto players like Microstrategy, Marathon Digital Holdings, Riot Blockchain, Silvergate Capital, Coinbase Global, Robinhood Markets, Interactive Brokers, and Nvidia, for example.
The list also includes CME Group, Bitfarms, Hut 8 Mining, International Exchange, PayPal, SBI Holdings, Block Inc., Monex Group, Hive Blockchain, Internet Initiative Japan, Bakkt Holdings, NCR Corp., and Bancolombia. The weighting index`s constituents can be seen in the image below.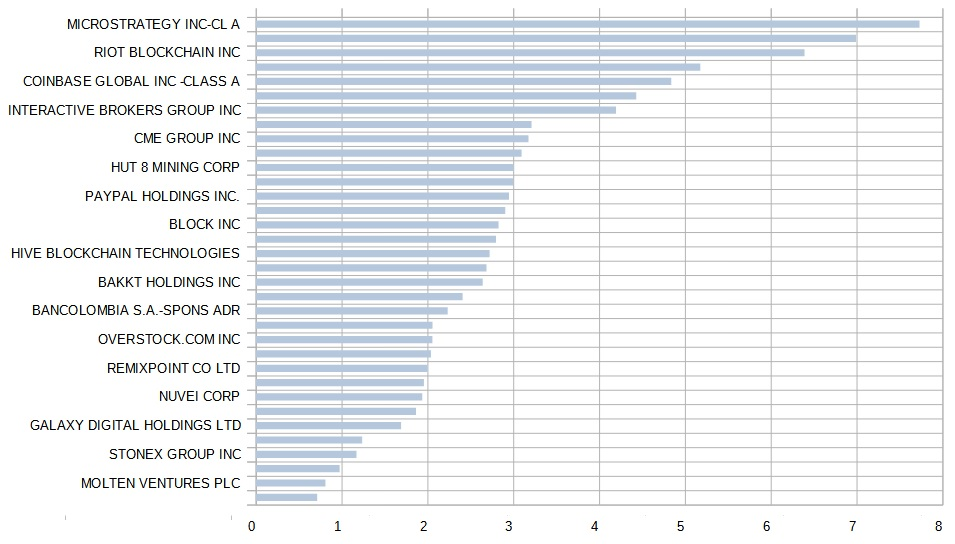 Source: Bitcoin.com
SEC still halts Bitcoin spot ETFs
And while yet another futures ETF gets approved by the Securities and Exchange Commission (SEC), there is still no sign of the regulator dropping its guard about a spot ETF. Grayscale Investments, the world's largest digital asset manager tried to convert its flagship bitcoin trust, GBTC, into a spot bitcoin ETF, which many considered to be the breakthrough in SEC's position, but to no avail.
However, Grayscale immediately filed a lawsuit against the SEC, challenging the securities regulator's decision to reject its application to convert the Grayscale Bitcoin Trust to a spot bitcoin exchange-traded fund (ETF).
"We believe American investors overwhelmingly voiced a desire to see GBTC convert to a spot bitcoin ETF, which would unlock billions of dollars of investor capital while bringing the world's largest bitcoin fund further into the U.S. regulatory perimeter." Grayscale's CEO Michael Sonnenshein commented, adding that the company disagrees with the SEC's decision to continue to deny that spot Bitcoin ETFs are coming to the U.S. market.
Cryptocurrency
SEC
Crypto Market
crypto market monitoring
Financial service
cryptocurrencies
SEC
US
Financial institution
Hedge Fund