29 Jan 2021 Simon Briggs
Grayscale Expands To DeFi, Whilst On A Bitcoin Buying Spree
The Asset Management Company Filed For Adding Five New Crypto Assets To Grayscale's Trust Portfolio
---
The largest crypto asset management company to date, Grayscale, announced its plans of further crypto expansion by filing for five more crypto projects to be added to Delaware's Division of Corporations registry. Two of the projects are directly DeFi-related, so Grayscale's move could shift the scene in the decentralized finance ecosystem.
However, the filings do not automatically mean Grayscale would certainly launch new trusts – it rather shows the asset management company has an interest in the DeFi realm.
Grayscale filed for five crypto projects to be added to its assets-under-management (AUM) portfolio - Aave (AAVE), Polkadot (DOT), Monero (XMR), Cardano (ADA), and Cosmos (ATOM). Those projects will sit right next to the Bitcoin (BTC) and Ethereum (ETH) trusts, as well as Litecoin (LTC), Bitcoin Cash (BCH), Stellar Lumens (XLM), Ethereum Classic (ETC), Zcash (ZCH), Chainlink (LINK), Basic Attention Token (BAT), Decentraland (MANA), Tezos (XTZ), Filecoin (FIL), and Livepeer.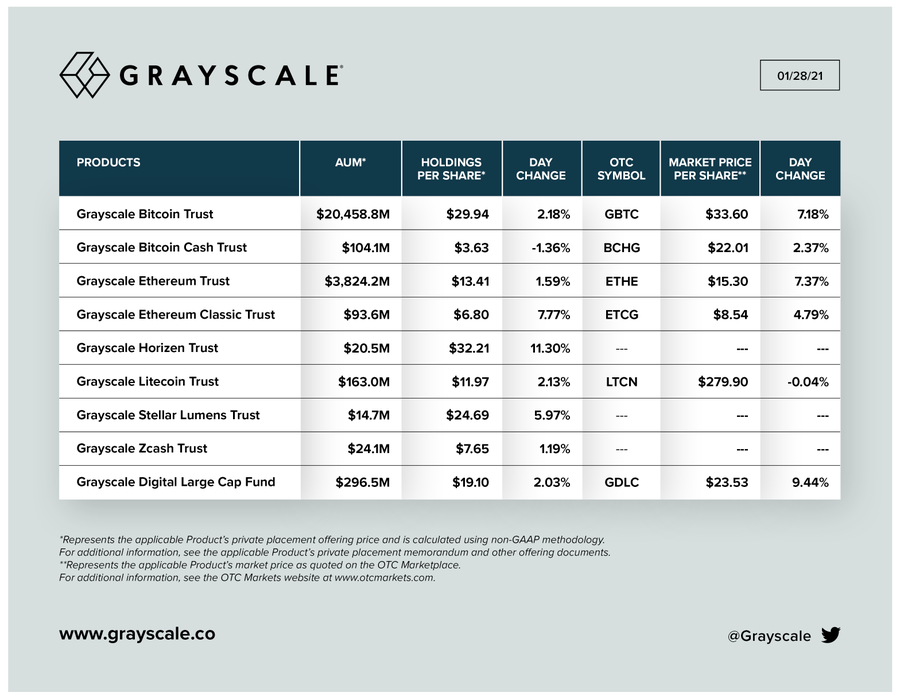 Source: Grayscale
Bitcoin dominates Grayscale's trusts, with 80%, or $20.4 billion of the total AUM made from Bitcoin. Ethereum occupies the second hand with 15% of the AUM value, which is $3.8 billion.
Meanwhile, Grayscale reported that the company is back above $25 billion in assets under management. Also, numerous reports show that Grayscale is on a heavy Bitcoin buying spree. Since the start of 2021 Grayscale accumulated over 40,000 BTC, while only 26,000 BTC have been mined so far in 2021, which means Grayscale purchases Bitcoin at a 54% larger rate than Bitcoin's production rate.
Analysts are predicting that if Grayscale continues on its buying spree until the end of 2021, the asset management company would have 912,500 BTC under management, which is 5% of the entire Bitcoin supply. For 2020, Grayscale purchased over $5 billion worth of Bitcoin, with the company recording $251 million weekly accumulation in the last quarter of 2020.
Grayscale also has an impact on the price of Bitcoin, as the value of the largest cryptocurrency to date spiked 20% in just 24 hours, after the re-setting operations of the Bitcoin Trust on January 13th. However, price actions from January 18 saw Bitcoin to correct from $35,000 to $34,000 despite Grayscale's ongoing Bitcoin buying.
Cryptocurrency
Crypto Market
crypto market monitoring
decentralization
digital asset
decentralized
Defi
Decentralized Finance