15 Mar 2023 Marsha Tusk
ChatGPT Updates, Causing Massive Spikes In AI Token Prices
Meanwhile, The New And Updated Language Model Is Already Helping The Crypto Community By Showing Vulnerabilities In Smart Contracts
---
Over the years, AI has gained significant attention, but 2023 is expected to be one of the most crucial years ever. The cryptocurrency sector has followed suit, and several projects have seen fresh new development since the year's beginning.
With OpenAI announcing the introduction of GPT-4, a new model with significant improvements, ChatGPT is still ruling the IT world, as GPT-4, according to OpenAI, delivers higher dependability, creativity, and processing of subtle commands than its predecessor GPT-3.5.
CryptoGPT price skyrockets from the ChatGPT Mania
One of the most popular topics of 2023 is ChatGPT, and the new model that the Microsoft-backed company just released will undoubtedly boost the app's hype. Some cryptocurrency initiatives, most notably CryptoGPT, have even started to capitalize on the situation.
The startup claims that CryptoGPT is a ZK Layer-2 platform, which enables users to monetize their AI data and "transform every action of your daily life into a source of money."
CryptoGPT is set to monetize on AI data from daily tasks like exercising, dating, entertainment, and education. After it was launched on exchanges, the coin has grown significantly during the last several days, increasing by 1703%.
Prices for AI tokens are rising dramatically
Naturally, after the ChatGPT craze hit the news, the value of several other AI-focused projects' tokens soared. And, despite these tokens having been on the market for a while, ChatGPT's success has given them new life and their current price tags reflect that.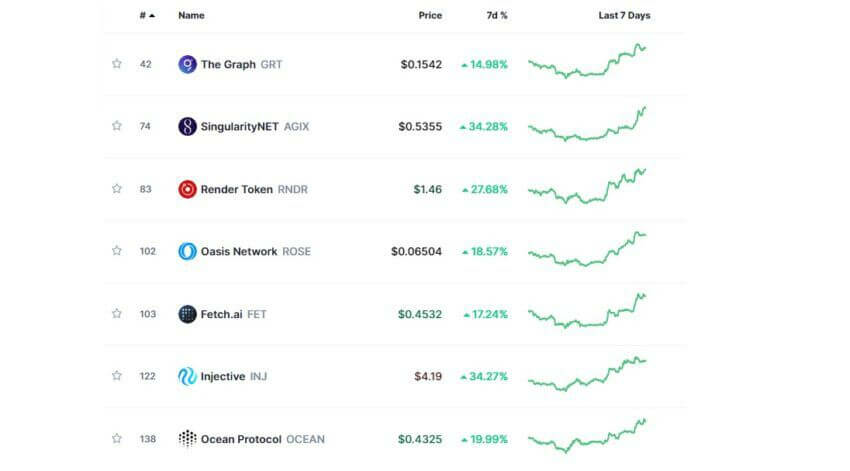 Source: CoinMarketCap
The Graph (GRT), SingularityNET (AGIX), Render Token (RNDR), Fetch.ai (FET), and Oasis Network (ROSE) are some of the most popular tokens right now, as almost all of these tokens have seen price growth in the double digits, with AGIX seeing a 24-hour price spike of as much as 36%.
However, these tokens have grown steadily throughout the previous week as well, so the growth isn't just a spike in value, which shows that AI tokens may be currently experiencing a breakthrough phase.
ChatGPT to help smart contracts
Meanwhile, ChatGPT found its way into the crypto sector in a rather strange manner – as a potential problem solver and QA for smart contracts. Indeed, Conor Grogan, a former director of Coinbase, said that after inserting a working Ethereum smart contract into GPT-4, the newest version of ChatGPT, the chatbot immediately identified multiple "security weaknesses" and described potential exploits for the code.
"I dumped a live Ethereum contract into GPT-4. In an instant, it highlighted a number of security vulnerabilities and pointed out surface areas where the contract could be exploited. It then verified a specific way I could exploit the contract." Grogan wrote on Twitter.
Ethereum
eth
cryptocurrency news
chat
ai
crypto news
Crypto Price