27 Sep 2021 Josphat Kariuki
China's Crypto Ban Finally Kicks In; Crypto Exchanges Restrict New Mainland Registrations
Meanwhile, The Ban Seems To Have Redirected Investors Towards The DeFi Ecosystem
---
After authorities finally imposing a ban on all crypto trading and mining in mainland China, crypto exchanges and crypto services providers are franticly closing doors to Chinese customers and severing ties with mainland Chinese clients.
China's ordeal with banning cryptos began a few years ago, but this time, under the pressure from 10 powerful Chinese government bodies including the central bank, the blanket ban seems to be permanent. Also, government bodies pushed out the statement that such actions are helping to jointly root out "illegal" cryptocurrency activities.
Two of the largest crypto exchanges to date, Binance, and Huobi Global, already stopped mainland Chinese users from registering on their platforms, with Huobi going the extra mile of closing down all Chinese accounts until the end of 2021.
"On the very day we saw the notice, we started to take corrective measures," Huobi's co-founder, Du Jun, announced, without disclosing how many of its users would be affected.
Crypto wallet provider TokenPocket also announced that it would stop delivering its services to mainland Chinese clients, as well as "actively embracing" China's regulatory policies.
The ban also pushed the price of shares in crypto-related firms down, with Huobi Tech plunging 23 percent and OKG Technology Holdings Ltd losing 12 percent.
Meanwhile, the outflow, which started back in 2017 with China's first ban on converting legal tender into cryptocurrencies and vice versa, now has a safe haven in the face of the decentralized finance (DeFi) ecosystem.
Colin Wu, a Chinese journalist, first rang the bell about the investor redirection, and one logical place is DeFi platforms, which saw a big surge in activity from Chinese traders.
"The market has soared in the last hour. ETH rose 9% and returned to $3,000. The actions of China's CEX exchange triggered leading DeFi projects to lead the rise," the journalist announced on Twitter.
Indeed, the total market capitalization of DeFi platforms increased by 5% on September 27, which equals to over $100 billion in fresh funds for the ecosystem. Ethereum, being a DeFi token backbone, saw a massive price spike of over 10%, only to regain its positions above $3,000 per ETH, reaching as high as $3,163.67 on the day. However, most of Ethereum's momentum perished, leaving the second-largest crypto to date with a price tag of $3,050.27 per ETH, currently.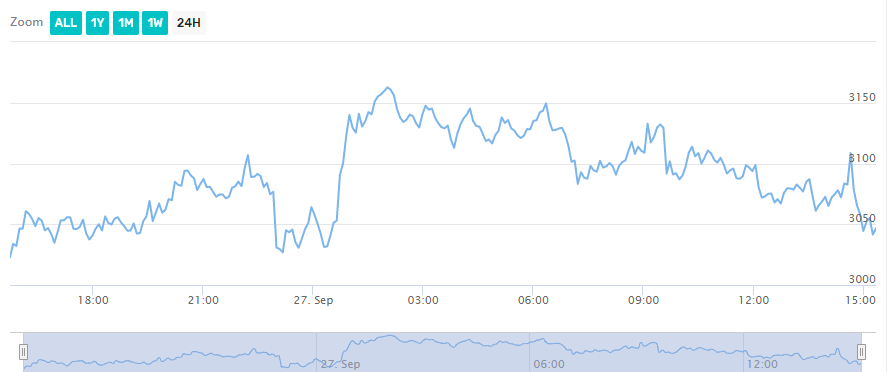 Source: CryptoBrowser
DeFi tokens received the most upwards price attention, with DYDX surging 44% to hit an all-time high of $21.44 in the early hours of September 27. Uniswap's UNI governance token also made a substantial push into the green, marking a 34% price increase and a price tag of over $25.
cryptocurrency mining
Cryptocurrency exchange
Cryptocurrency Regulations
Huobi
Binance
mining
trading
china
crypto trading
cryptocurrency news
crypto news
Exchanges
Regulations