18 Nov 2021 Jane Whitmoore
Crypto Exchanges Are Entering The Sports Realm
Binance Loses Ground To Crypto.com, Coinbase, And FTX, Due To Sports Deals Frenzy
---
Cryptocurrencies are stepping into the sports realm rapidly, and the last series of sports teams collaborating with crypto exchanges proves just that.
After FTX bought the naming rights to the home of Miami Heat and rebranded it to FTX Arena, Crypto.com is following closely, signing a $700 million 20-year contract and the naming rights to the Los Angeles arena formerly known as the Staples Center, and home to the Los Angeles Lakers.
The naming rights acquisition caused Crypto.com's native CRO coin to spike 50% in its price.
This is not Crypto.com's first interaction with sports teams, as the Hong Kong-based crypto exchange made a deal with the Philadelphia 76ers basketball team to add a branded patch to their jerseys for the next six years. Also, the crypto exchange secured a five-year deal with Formula 1, worth $100 million, which ensures Crypto.com brand presence at all F1 events and NFT partnership. Also, Crypto.com entered the fighting industry by signing a five-year contract with the Ultimate Fighting Championship (UFC).
Crypto.com followed FTX and Coinbase, which already have been dealing with their own sports marketing contracts. The sports sponsorship frenzy might actually be a working thing, as data from Decrypt suggests that Binance is losing its dominance amid other crypto exchanges' marketing spending sprees.
It turns out Binance tumbled down from 58% exchange volume dominance among the top five exchanges to a current level of 45%, while its direct competition Coinbase, Crypto.com, and FTX had all gained in volume.
"When someone's looking to get involved in crypto for the first time, we've found that they haven't heard of FTX," the exchange's CEO Sam Bankman-Fried, adding that this is a big part of the reason his company has spent as much as it has on sports marketing.
Meanwhile, a recent survey by Morning Consult suggests that 39% of all adults say they have some familiarity with cryptocurrencies. However, that number jumps to 47% among sports fans. Furthermore, 27% of sports fans admit they have some sort of cryptocurrency ownership.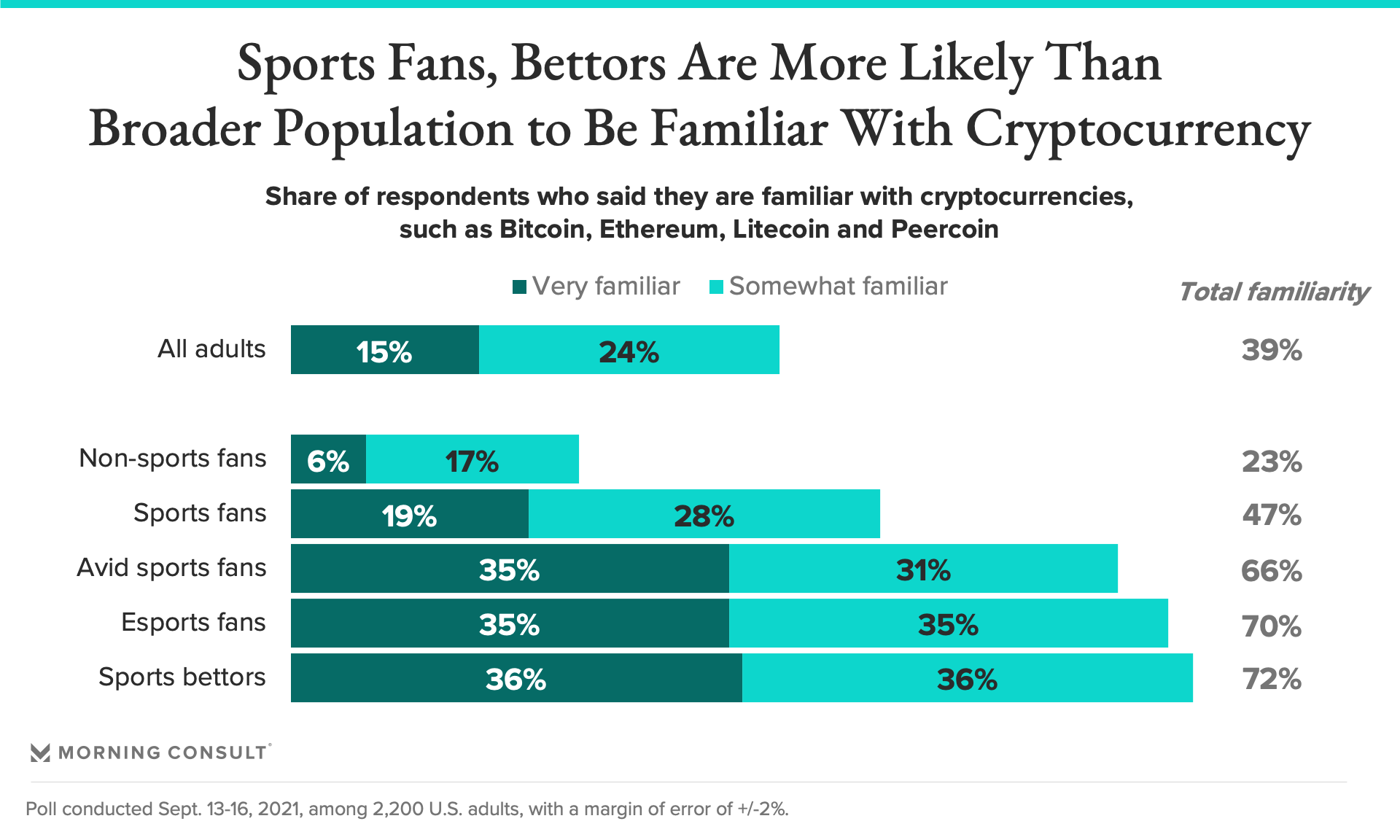 Source: Morning Consult
Ben Ziffren, director of business development at Wasserman, commented on the sports fans' crypto recognition, emphasizing on the fact that the interest in cryptos over the past six months has grown tremendously.
"We've seen a combination of new companies that are coming up in this space and are very crypto-focused, and some more traditional companies in the financial services space that now have this as an additional offering," Ziffren added.
Cryptocurrency exchange
Coinbase
Binance
Exchanges News
Binance Exchange
cryptocurrency news
crypto news
Exchanges